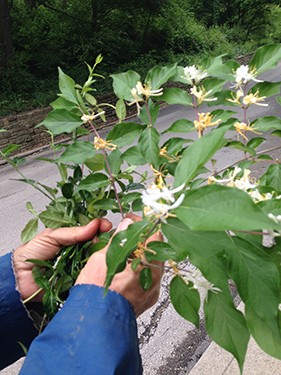 UC Professor Works to Bring Native Plants Back to Cincinnati
Cincinnati is being invaded! But not by monsters or zombies. Rather, the city is being invaded by several kinds of invasive plants that are killing off the native species in local parks such as Burnet Woods. The invasive plants include Amur honeysuckle, Japanese honeysuckle, winter creeper euonymus, English ivy, garlic mustard, Callery pear, lesser celandine, common periwinkle and others.
2
Hoffman Honors Scholars honor University of Cincinnati alumnus
December 4, 2023
The estate of Hugh Hoffman, MBA '63, has established a new scholarship program at three University of Cincinnati colleges. A $56 million gift will create the Hoffman Honors Scholars Program and support student-athletes with an extraordinary endowment.
3
What is UC's 4 + 1 program?
December 4, 2023
You may be a UC student thinking about taking your education to the next level — UC's College of Arts and Sciences has a pathway to help you do just that. A&S has no fewer than 15 five-year programs — from biological sciences to Spanish to psychology — where you can earn both your bachelor's and master's degrees in just five years, versus the traditional six-year track. The Bachelors and Master's 4 + 1 Program is designed to increase your marketability and deepen your understanding of the subject matter. And in an increasingly competitive job market, you may want to investigate an additional year of study.
Debug
Query for this