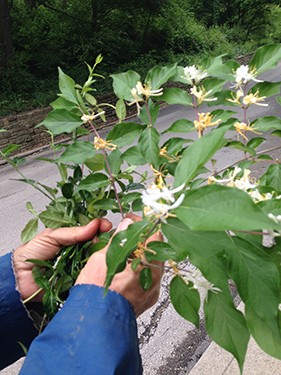 UC Professor Works to Bring Native Plants Back to Cincinnati
Cincinnati is being invaded! But not by monsters or zombies. Rather, the city is being invaded by several kinds of invasive plants that are killing off the native species in local parks such as Burnet Woods. The invasive plants include Amur honeysuckle, Japanese honeysuckle, winter creeper euonymus, English ivy, garlic mustard, Callery pear, lesser celandine, common periwinkle and others.
1
WVXU: Tech CEOs talk AI with lawmakers
September 22, 2023
Professor Richard Harknett is a guest speaker on WVXU's Cincinnati Edition on the topic of AI and the need, or lack thereof, for government regulations. Professor Harknett is the head of UC's School of Public and International Affairs and is an often sought out media resource on technology, cybersecurity and governmental affairs.
3
Clifton Court Hall grand opening garners detailed media coverage
September 20, 2023
The University of Cincinnati celebrated the opening of Clifton Court Hall on Tuesday, Sept. 19, with a ribbon cutting, attended by approximately 200 administrators, faculty, staff and students. The event was covered by multiple media outlets.
Debug
Query for this