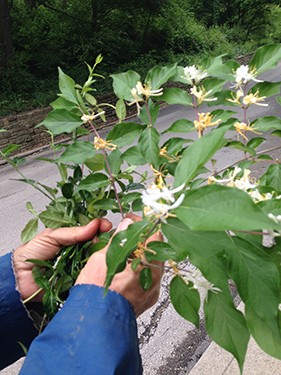 UC Professor Works to Bring Native Plants Back to Cincinnati
Cincinnati is being invaded! But not by monsters or zombies. Rather, the city is being invaded by several kinds of invasive plants that are killing off the native species in local parks such as Burnet Woods. The invasive plants include Amur honeysuckle, Japanese honeysuckle, winter creeper euonymus, English ivy, garlic mustard, Callery pear, lesser celandine, common periwinkle and others.
3
Engineering student aims to develop a more sustainable world
November 20, 2023
As an aspiring power engineer, University of Cincinnati student Matt Smeal hopes to contribute to a more sustainable world by working towards better energy solutions. Smeal is a fifth-year electrical engineering student at the College of Engineering and Applied Sciences (CEAS) specializing in electric energy systems with a minor in environmental studies. Currently, he serves as vice president for Clean Up Cincy, a volunteer litter clean-up organization, and is a member of Beta Theta Pi fraternity and Theta Tau engineering fraternity. He is also one of the first students to enroll in CEAS's new Master of Engineering in Sustainable Energy, through the ACCEND program. ACCEND enables undergraduate students to earn bachelor's and master's degrees concurrently.
Debug
Query for this