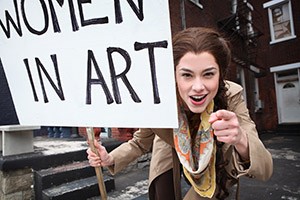 CCM's Mainstage Series Presents the Tony Award- and Pulitzer Prize-Winning Play, 'The Heidi Chronicles'
The University of Cincinnati College-Conservatory of Music's (CCM) Department of Drama opens its spring Mainstage Series with its debut of Wendy Wasserstein's
The Heidi Chronicles
, running
Feb. 11 through Feb. 15
, in the
Patricia Corbett Theater
.
An examination of feminism and its evolution from the 1960s through the late 1980s,
The Heidi Chronicles
follows Heidi Holland, a successful art historian, who tries to find her true self in a rapidly changing world as the roles of women were being redefined.
Students and audience members alike will get the chance to witness a piece of history on stage as
director Richard E. Hess, A.B., Dolly, Ralph and Julia Cohen Chair of Dramatic Performance
, attempts to make connections between a generation who lived through the '60s, '70s and '80s and students who are now products of this age.
Hess asks a thought-provoking and timely question: "What would Wendy think of life in America in 2015, where we still must deeply question this country's commitment to racial and gender equality?"
Wasserstein was the first woman playwright to receive a Tony Award for Best Play for
The Heidi Chronicles
. Her work also earned her prestigious awards including the 1989 Pulitzer Prize, a New York Drama Critics Circle Award and a Drama Desk Award, among others.
Hess says that Wasserstein liked to create characters "who struggled with the shifting demands and definitions of self, unique to a time and place." This struggle rings true even today.
Second-year Theater Design and Production graduate student Jillian Coratti
serves as
costume designer
for this production. She talked with Hess at the beginning of rehearsals about his vision for the look and feel of the production. "The hardest part about this production was making it look real," she explains. "This show is dramatic and thoughtful, but very rarely flashy. The characters are real and contemporary, so I didn't want to make anything come across as overly theatrical."
Coratti did a great deal of research in magazines and blogs, even pulling out older family photo albums. Her uncles grew up as members of the "baby boomer" generation, so she was able to find looks from the 70s and 80s in their wedding albums. Since each scene in
The Heidi Chronicles
is set in a new time period, there are a lot of quick costume changes. Heidi alone has 13 changes!
But the easiest and most rewarding part has been the fittings. Coratti says, "The actors are so eager and willing to see their costumes because they can connect with these clothes. They're very similar to what we wear everyday, yet some come from our parents closets."

The Heidi Chronicles Cast List:
Sarah Davenport as Heidi Holland
Clare Combest as Susan Johnston
Colin Edgar as Peter Patron
Connor Lawrence as Scoop Rosenbaum
Ryan Garrett as Chris Boxer/Steve/Waiter
Katie McDonald as Jill/Sandra Zucker-Hall
AC Horton as Fran
Julia Netzer as Becky
Rachel Baumgarten as Debbie
Owen Alderson as 1968 Hippie/Mark/Dr. Ray
Michaela Tropeano as Molly McBride/Clara
Alice Skok as Lisa
Carli Rhoades as Betsy
Sydney Ashe as Denise
Katie Langham as April
About The Heidi Chronicles
After its initial opening in November 1988 Off-Broadway,
The Heidi Chronicles
was praised by the
New York Daily News
as "witty, hilarious…not just a funny play, but a wise one…I doubt we'll see a better play this season." Even
Variety
raved, "Not many plays manage Heidi's feat of inducing almost continuous laughter while forcing the audience to examine its preconceptions." In March of 1989,
The Heidi Chronicles
was transferred to Broadway and became a long-running success with an impressive 622 performances when it closed in September of 1990.
Comprised of a series of interrelated scenes, the play traces the coming of age of Heidi Holland, a successful art historian, as she tries to find her bearings in a rapidly changing world. Gradually distancing herself from her friends, she watches them move from the idealism and political radicalism of their college years through militant feminism and, eventually, back to the materialism that they had sought to reject in the first place. Eventually Heidi comes to accept the fact that liberation can be achieved only if one is true to oneself, with goals that come out of need rather than circumstance.
Performance Times
8 p.m. Wednesday, Feb. 11 (preview)
8 p.m. Thursday, Feb. 12
8 p.m. Friday, Feb. 13
2 and 8 p.m. Saturday, Feb. 14
2 p.m. Sunday, Feb. 15
Location
Patricia Corbett Theater, CCM Village
University of Cincinnati

Purchasing Tickets
Tickets to
The Heidi Chronicles
are $27-31 for adults, $17-20 for non-UC students and $15-18 for UC students with a valid ID. Saturday matinee student rush discount tickets are available beginning at 1 p.m. on Saturday, Feb. 14 and are $12-15. Tickets to the Feb. 11 preview performance are just $12.
Tickets can be purchased in person at the CCM Box Office, over the telephone at 513-556-4183 or online at
ccm.uc.edu/boxoffice/heidi-chronicles-mainstage
.
Parking and Directions
Parking is available in the CCM Garage (located at the base of Corry Boulevard off Jefferson Avenue) and additional garages throughout the UC campus. Please visit
for more information on parking rates.
For detailed maps and directions, please visit
. Additional parking is available off-campus at the new U Square complex on Calhoun Street and other neighboring lots.
For directions to CCM Village, visit
.
____
CCM Season Presenting Sponsor and Musical Theatre Program Sponsor: The Otto M. Budig Family Foundation

Mainstage Season Production Sponsor: Macy's

Community Partner: ArtsWave
1
Playbill: CCM ranks in top 10 most represented colleges on...
September 25, 2023
The University of Cincinnati College-Conservatory of Music has once again been named as one of Playbill's "Big 10." Ranked as one of the top star-producing institutions in the nation, CCM was represented by at least 24 alumni performing on Broadway stages during the '22-23 season.
3
'Sweet Charity' musical rom-com runs Sept. 28-30 at CCM
Event: September 28, 2023 12:00 AM
University of Cincinnati College-Conservatory of Music (CCM) Musical Theatre opens its 2023-24 season with Sweet Charity, a zany romp through the ups-and-downs of the life of a dance hall hostess in New York City. The musical, which premiered on Broadway in 1966 and was later adapted into a movie starring Shirley MacLaine, runs September 28-30 in the Patricia Corbett Theater. Tickets are on sale now through the CCM Box Office.
Debug
Query for this