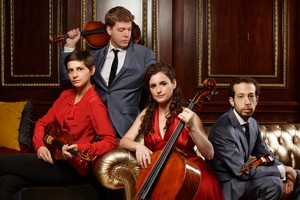 The Ariel Quartet's CCM Concert Series Continues on Jan. 27
The internationally acclaimed Ariel Quartet continues its concert series at the University of Cincinnati College-Conservatory of Music (CCM) on Tuesday, Jan. 27, with a performance featuring works by Schubert, Stravinsky and Schulhoff. Tickets for this performance are on sale now.
The Ariel Quartet is comprised of Alexandra Kazovsky, violin; Amit Even-Tov, cello; Gershon Gerchikov, violin; and Jan Grüning, viola. The Quartet was formed in Israel 16 years ago when its members were young students, and they have been playing together ever since. Recently awarded the prestigious Cleveland Quartet Award, the Quartet serves as the string quartet-in-residence at CCM, where they direct the chamber music program and perform their own annual series of concerts – a remarkable achievement for an ensemble so young.
Last season, the Quartet performed its first complete Beethoven Cycle at CCM, a feat that the
Cincinnati Enquirer
's Janelle Gelfand characterized as "a challenge like climbing Mount Everest, and you could only marvel at their musicianship each step of the way." You can watch excerpts from last season's concert series by visiting
.
"The Cycle" proved so popular that the Ariel Quartet was invited to perform another complete cycle of Beethoven's string quartets for New York City audiences at the SubCulture music venue on Bleeker Street.
Last month, the
Wall Street Journal
's Barrymore Laurence Scherer praised the Quartet members for their "vigorous aplomb" and their "palpable
joie de vivre
born of understanding and affection for the works channeled through their own consummate musicianship."
Repertoire
SCHULHOFF: Divertimento for String Quartet, Op. 14
STRAVINSKY:
Three Pieces for String Quartet
SCHUBERT: String Quartet in G Major, D. 887
Performance Time

8 p.m. Tuesday, Jan. 27


Location
Corbett Auditorium, CCM Village
University of Cincinnati
Purchasing Tickets
Tickets are $20 for general admission, $15 for non-UC students and FREE for UC students with valid ID.
Tickets can be purchased in person at the CCM Box Office, over the telephone at 513-556-4183 or online now through our e-Box Office! Visit
for CCM Box Office hours and location.
Parking and Directions
Parking is available in the CCM Garage (located at the base of Corry Boulevard off Jefferson Avenue) and additional garages throughout the UC campus. Please visit
for more information on parking rates.
For detailed maps and directions, please visit
. Additional parking is available off-campus at the new U Square complex on Calhoun Street and other neighboring lots.
For directions to CCM Village, visit
.
____________________
CCM Season Presenting Sponsor and Musical Theatre Program Sponsor: The Otto M. Budig Family Foundation

Community Partner: ArtsWave
The Ariel Quartet's 2014-15 CCM concert series is made possible by the generous contributions of The Corbett Foundation, Dr. & Mrs. Randolph L. Wadsworth, Mr. & Mrs. William A. Friedlander, Mr. & Mrs. Harry H. Santen, Mr. & Mrs. Thomas E. Stegman and Mr. & Mrs. J. David Rosenberg.
1
WCPO: Asian American and Pacific Islander Heritage Month series
May 28, 2023
Two faculty members and one student have been profiled by WCPO-TV as part of a series celebrating May as Asian American and Pacific Islander Heritage Month (AAPI). These segments feature the stories of UC Law's Dr. Jenn Dye, CCM's Dr. Thomas Gamboa and fourth-year student Aashka Raval.
3
UC students: Enroll now for CCM's fall 2023 arts electives
May 22, 2023
UC's College-Conservatory of Music offers dozens of different general studies and arts elective courses in fall 2023. These credit-granting courses are open to all UC students and cover a wide range of topics including dance, movies and media, music and theatre arts!
Debug
Query for this