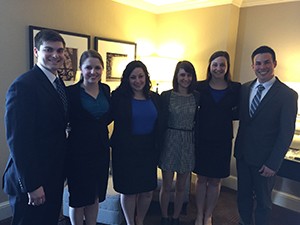 Lindner College of Business Students Win Third Place in AMA International Collegiate Case Competition
Six UC students from Carl H. Lindner College of Business and UC's College of Design, Architecture, Art and Planning won third place in the
American Marketing Association's (AMA) Collegiate Case Competition
as they presented their marketing plan to judges on March 19th in New Orleans at the AMA International Collegiate Conference.
For the first time, the UC team made it to the final round and was among eight teams competing for $3,000 against students from British Columbia Institute of Technology, Ferris State University, Texas State University, University of Arizona– Tucson, University of Nevada, Las Vegas, University of Pennsylvania and University of Wisconsin-Whitewater.
Although University of Pennsylvania edged ahead to win first place, UC team captain Brendan O'Brien, BBA '15, and team members Stephanie Neiheisel, BBA, 15, Meredith Cook, BBA '15, Grace Schottelkotte, DAAP 15, Kenny Day, BBA '15, and Gabi Schneider, BBA 15, placed third among 85 colleges and universities with this year's challenge: How can vitaminwater® kindle its brand relevance and preference among young consumers, specifically 18-24 year olds?
Along with winning third place, the UC team also brought home two awards of excellence – one for Outstanding Chapter Planning and an Honorable Mention for Outstanding Marketing Week.
Ric Sweeney, assistant professor-educator of marketing at Lindner and faculty advisor of UC's AMA chapter, is proud of the accomplishment.
"It shows the fortitude of education and abilities UC Lindner College of Business provides to be able to compete, place and win on an international scale," he says.
Since 1986, the AMA's annual Collegiate Case Competition brings together top marketing students to work on a marketing challenge submitted by a sponsoring organization.  In return, AMA collegiate members gain real-world experience in working together as a team to create a strategy and execute a plan.