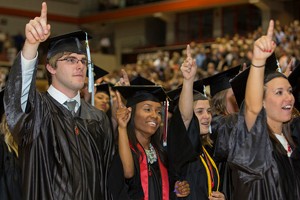 Google's Boss of Branding Addresses UC Class of May 2015
It was a big day all around at the University of Cincinnati. One of the leaders of the biggest brands in the world offered advice to graduates at UC's biggest Spring Commencement.
UC alumnus Kirk Perry, president of brand solutions at Google and a former Procter & Gamble executive, gave the commencement address at UC's Undergraduate Commencement Ceremonies on May 2 at Fifth Third Arena. The Doctoral Hooding and Master's Recognition Ceremony was held May 1. This spring's celebration set a UC record for total degrees conferred.
Google's Perry, the former president of global family care at P&G, also was given an honorary doctorate, the university's highest honor. He challenged students to live uncomfortably, for those moments in life in which we're uncomfortable often result in ones that we remember with the most pride. He also encouraged the students to run with the pack. 
"It goes against what society tells us, but few things are you able to do on your own," Perry said. "A pack helps get things done. Never run alone."

Now that's Cincinnati Smart.

The class of May 2015 is highlighted by 6,335 students eligible to graduate. They are earning 659 associate degrees, 3,663 bachelor's degrees, 1,564 master's degrees and 296 doctoral degrees for a total of 6,445 (some students earn multiple degrees). It's a record number of degrees being conferred at UC, exceeding the previous high set last spring.

UC President Santa J. Ono welcomed bachelor's and associate degree recipients Saturday. In his remarks, he compared the academic journey to a fast-paced action movie filled with deadline pressure and obstacles to navigate. He reminded the students that though many challenges remain ahead, their UC education is the key to the future and that will always be with them.

As many of these graduates step off campus and into their careers, their new UC degree will be a big help. Data collected by UC's Career Development Center in its spring 2014 Destination Report for bachelor's degree students show that UC graduates transition well into the workforce. Based on responses in the report:

UC bachelor's degree graduates' average starting salary was $44,057.
94 percent accepted a position related to their field of study.
63 percent participated in a co-op or internship before graduating.
69 percent who participated in a co-op or internship have full-time jobs after graduating.
79 Fortune 500 companies hired UC graduates.
COMMENCEMENT BY THE NUMBERS

Take a statistical look at UC's class of May 2015 online.

COMMENCEMENT PHOTO GALLERY

Get a vivid glimpse of this year's ceremonies.

STAND-OUT STUDENT STORIES

Read in-depth about some of this spring's graduates:

HONORARY DEGREES AND AWARDS
UC bestowed four honorary doctorates, its highest award, and one President's Award for Excellence during Spring Commencement. Recipients are:
MOMENTS CAPTURED
1
Supporting the holistic student
April 28, 2023
Christy Wolfram, is the first embedded clinician within the College of Allied Health Sciences and the College of Pharmacy. She joins the University of Cincinnati's efforts to better support the holistic student. Wolfram aims to provide solution-focused counseling services to the students of CAHS.
2
UC Serves 2023 underscores university's commitment to Cincinnati...
April 27, 2023
This year, the university is celebrating the return of UC Serves – a day for staff and faculty to share the experience of intentional, focused service to the communities surrounding the University of Cincinnati campuses and beyond. The day of service helps connect UC with community neighbors and build stronger connections among university employees. UC Serves brings staff and faculty to the front lines in supporting UC's institutional commitment to service and community impact in support of our local non-profit partners.
Debug
Query for this