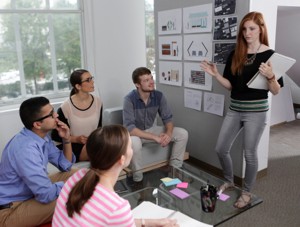 UC DAAP Fine Arts Students Frame New Co-op Program as a Win-Win
The University of Cincinnati's College of Design, Architecture, Art and Planning (DAAP) will add its Fine Arts Department to the list of successful cooperative education programs, beginning with the incoming class for fall 2015.
As a mandatory part of the curriculum, fine arts students will alternate terms of full-time work with full-time classes and will graduate with substantial experience on their resume. This new endeavor aligns with
philosophy of pairing classroom study with real-world experiential learning.
In addition to gaining valuable experience, students earn a salary while they contribute their own unique talents in any number of design or fine arts positions. A program goal that Kate Bonansinga, professor and head of the DAAP Fine Arts Department listed as a priority when she first came to UC in 2012.
"When I applied for the job as director of the school of art, one of the things I had on my agenda was to start this co-op program," says Bonansinga. "I think it will be a real asset to the quality of students who want to come and study art here because there's no program like it in the nation.
"It makes so much sense too because UC is already so well known for co-op and so is DAAP, so why shouldn't the school of art be part of that?"
In 1906, the University of Cincinnati charted the course for cooperative education when 27 engineering students alternated time spent at school with professional work experience. Now, 110 years later DAAP's fine arts students will join UC's generations of students who have crossed the bridge uniting the university's ivory tower and industry's smokestack, which coincidentally is a
in 2006 with the same name.
"The enrollment target for the upcoming class of 2015-16 is 100 students in the bachelor's of fine arts program," says Cindy Damschroder, assistant professor in UC's Division of Professional Practice and Experiential Learning (ProPEL). "This will be the only fine arts program at a public university in the U.S.
"The incoming freshmen will do their first co-op in the fall of 2017, and will take a professional development preparation class in the fall of 2016."
To help spearhead this project, ProPEL is compiling the list of employers who will participate in the co-op program for the fine arts students.
"We plan to actively begin job development by spring of 2016," Damschroder says. "We are, of course, speaking with our current co-op employers such as Rookwood Pottery, the Walt Disney Company and the Hallmark Company, to name a few.
"It is our goal for fine arts students to ultimately work with companies ranging from institutional and educational to those that construct and produce."
Fine arts students may also find themselves working alongside graphic, communication and industrial design students in the same company. This opportunity should further enhance the experience of working with a variety of creative talent within an organization.
While co-ops, by nature are usually paid positions, some co-op experiences are termed "experiential learning," meaning if students want to work for a nonprofit organization and that nonprofit is unable to pay them, then they have the option to take that position just for the experience.
Bonansinga points out that many of the museums will be in that arena, especially since they have historically been so accustomed to unpaid interns. But eventually, as this new program unfolds, she feels that the museums will value the expertise of the students enough to pay them.
UC's fine arts students will be engaged in a mandatory cooperative curriculum and pedagogy for the first time ever. But as of yet, it will not impact the other programs within the school of art such as art history, the master's of art history or art education programs; just fine arts at this point.
The first two years of this new program will be filled with regular academic course work, as well as a classroom course focusing on resume writing, interviewing skills and career planning. Then in the fall of their third year, fine arts students will begin to enjoy the off-site experience of working for a local or international company.
Currently, in the school of design there are five co-op experiences within five semesters where students are off campus working for an employer. For architecture there are three co-op semesters, and
since fine arts follows the architecture model, this curriculum will consist of three semesters of co-op and eight semesters of academic course work.
The biggest difference is that it is now a
, with three co-op positions and two breaks built in. The number of credit hours will remain the same –– as there are no credits received for co-op –– but Bonansinga says the experiential learning benefits far outweigh the extended time.
Cooperative Education is offered to UC undergraduate and graduate students in the following programs:
College of Engineering and Applied Science (mandatory)
College of Design, Architecture, Art, and Planning (mandatory)
McMicken College of Arts & Sciences (optional)
College of Education, Criminal Justice, and Human Services (mandatory for Information Technology)
Lindner College of Business ("Lindner Professional Experiences" strongly encourages all undergrads and grad business students to complete at least one paid part-time internship or co-op experience related to their major before graduation)
In the 2013-14 academic year UC reached the $50 million threshold for collective student co-op earnings for the first time, averaging $65,000 per student before graduation.
Some of the top local co-op employers for UC students include GE Aviation, Kroger Company, Duke Energy, LPK, Intelligrated Systems, Great American Insurance Group, Kinetic Vision, GBBN and L-3 Communications.

RELATED LINKS:
•    
Earning while Learning: UC Co-op Student Earnings Hit $50 Million
•    
UC's Professional Practice and Experiential Learning (ProPEL)
•