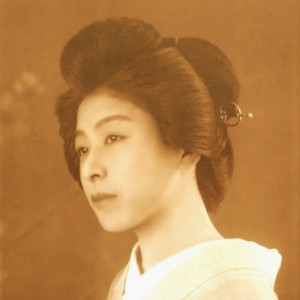 Nov. 4 Lecture & Film Screening Dispels Geisha Stereotypes
For decades, Hollywood films and Western literature have perpetuated and stereotyped images of Japanese geisha as demure women with flawless, white complexions –– often as colorful living dolls to be seen and not heard. But, did you know that geisha were actually classically trained practitioners of the arts and music, and that the original geisha entertainers were men?
To help dispel common misconceptions about Japanese geisha, two internationally esteemed Japanese scholars from Rikkyo University in Tokyo, will visit the University of Cincinnati in November. Kenji Watanabe, professor emeritus, and Makoto Yasuhara, professor and filmmaker, will help shed light on the incredible talents within this 400-year-old tradition.
As part of a
cross-disciplinary Japanese Studies Lecture Series: The Arts of the Geisha
, Watanabe and Yasuhara will present a lecture, discussion and an exclusive film screening of "The Last Geisha Madame Minako," followed by a reception, from
5:30-7:30 p.m., Nov. 4 in the College of Design, Architecture, Art and Planning's (DAAP) Aronoff Center, Room 4400.  The event is free to students, faculty and the general public.
Bringing the lecture series to life are UC faculty co-organizers Mikiko Hirayama and Gergana Ivanova.
Hirayama is an associate professor and director of Asian studies in a joint appointment with UC's DAAP and McMicken College of Arts and Sciences.  Ivanova is an assistant professor in the Asian Studies Program within the Department of German studies at McMicken.
As part of a prestigious four-part North American tour this fall, Watanabe and Yasuhara have included UC into the lecture series with the University of British Columbia in Canada, followed by UCLA and the University of Michigan in Ann Arbor.
"All of the other three universities are internationally known universities for Asian and Japanese studies, so it's a real honor to have these scholars come here," says Hirayama. "And they are coming here in large part because of professor Ivanova and her presence in the field of Japanese and women's studies."
After spending a year in Japan studying with Watanabe at Rikkyo University ––  where she also met Yasuhara –– Ivanova developed a keen understanding of the culture surrounding the licensed pleasure quarter in early modern Japan's capital.
"I am looking forward to this lecture to help dispel the misconceptions about the Japanese geisha as prostitutes or courtesans," says Ivanova. "The various geisha stereotypes have been central to inaccurate perceptions and attitudes by people of the U.S. towards East Asian women and Asian American women for decades.
"Through the expertise of professors Watanabe and Yasuhara during this discussion, we will focus on the many diverse arts and talents of the geisha."
Included as a unique part of the lecture, the documentary film skillfully illustrates the life and training of Madame Minako, the last geisha of Yoshiwara, which was the licensed entertainment district in Edo (present day Tokyo). The film was directed, edited and produced by guest speaker Yasuhara and focuses on Madame Minako's life as a geisha, highlighting her musical talents playing the shamisen (Japanese guitar). The documentary also includes live testimony from 2005 until her death in 2010 and has not been screened in North America yet.
PRESERVING A LEGACY
In the film, Yasuhara helps Madame Minako recreate the special atmosphere of a Yoshiwara banquet as she demonstrates her musical skills playing the guitar-like shamisen. Minako's career began as a child during her formal training in the traditional arts of music and dance. And though she sacrificed the typical home life of most Japanese girls her age, she developed a full and intensely independent career for almost 80 years in Yoshiwara as a classically trained geisha entertainer before, during and after World War II.
From the 17th to 19th centuries, Yoshiwara was the only officially licensed prostitution and entertainment quarter in the city of Edo, and the line between the role of geisha and courtesans (prostitutes) was often blurred in the eyes of Westerners. There were many licensed pleasure quarters in Japan, but only one in Edo.
"It is important to point out the elasticity of the term geisha," says Ivanova. "When you talk about geisha you need to specify the particular historical period and geographical location you refer to.
"Geisha have historically had completely different experiences depending on whether they were working in Tokyo or Kyoto (the old capital) within or outside the licensed entertainment districts. And their careers were greatly impacted by their place within the geisha hierarchy."
Ivanova and Hirayama further describe the role and character of geisha when they first emerged:
The original geisha entertainers that appeared in the licensed pleasure quarter of Edo were men.
When women became geisha, they were forbidden to wear flamboyant kimonos or have combs or jeweled pins in their hair or they would have competed with the courtesans (prostitutes). 
Geisha had to minimize any flash or flare and were not allowed to sit next to a client because that spot was reserved for a courtesan.

These, and other details will be discussed at the Nov. 4 Japanese Lecture Series and film screening.

About the Co-organizers:
In her joint appointment as director of Asian Studies within DAAP art history and A&S, Hirayama has aligned her goals with UC's Third Century Initiative and UC Forward by pairing students and faculty with external experts –– all from differing perspectives.

Ivanova's work in Women's Studies will also add a feminist perspective to the lecture series and the topic of geisha.  

Through the efforts of the Japanese Lecture Series held each semester, Hirayama and Ivanova continue to enhance the collaboration between art history, Asian Studies, Women's Studies, Japanese Literature and the German Department's respected Film Studies.

FUNDING:
UC's fall '15 Japanese Lecture Series is funded by the Japan Foundation, the Charles Phelps Taft Research Center, UC's Office of the Provost and anonymous donors.

RELATED LINKS:
•    The Last Geisha Madame Minako (1:17 min. trailer/English)
•    About the film and producer, Yasuhara Makoto

1
College Matters. Alma Matters: UC grad and UC faculty featured...
September 29, 2023
College Matters. Alma Matters. podcast features molecular geneticist Dr. Anil Menon, associate dean of undergraduate education and director of the undergraduate program in biomedical sciences in the UC College of Medicine and Pateek Raj, graduate of SPIA.
2
NatGeo: Pompeii has secrets to uncover — should we keep digging?
September 28, 2023
UC Classics Associate Professor Steven Ellis talks to National Geographic about the controversial topic of excavations at Pompeii. Some researchers say there is more to learn by unearthing the city. Ellis said preserving what is there is key.
3
Finding an unexpected passion at UC
September 27, 2023
Lane Bokros '25, grew up in a household that showcased what intelligence and a strong work ethic can do. Today, Bokros is following in the family tradition of success, but with a difference: He is a first-generation college student who aspires to post-graduate education and a career in medicine.
Debug
Query for this