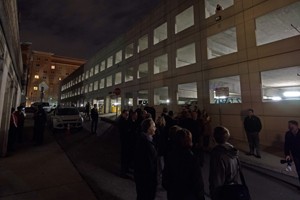 Phase II Lighting Improvements Around UC's Uptown Campus Underway
The University of Cincinnati, in partnership with the City of Cincinnati and Duke Energy, is upgrading 396 city street lights surrounding UC's Uptown campus during Phase II of its lighting enhancement initiative to improve safety. More than 300 lights were upgraded during Phase I.
Yellow lights are being replaced with white LED lights that shine twice as bright to the human eye. Lighting will be improved along 30 streets during Phase II. Phase I included 33 streets.
"Research has proven that crime can be reduced through enhanced street lighting," said Robin Engel, UC's Vice President for Safety and Reform. "When you combine street lighting enhancements with other crime reduction strategies results can be significant."
Crime around UC's Uptown campus is at a 10-year low. Total crime has decreased about 30 percent from 2004 to 2014. Violent crime is down 55 percent during that same time period, while robberies have decreased by 57 percent and property crime by 28 percent.
Crime reduction in areas surrounding the university, including enhanced street lighting, can be attributed to several initiatives:
UCPD and Cincinnati Police meet bi-monthly to collaboratively review crime data and implement policing strategies based on statistical trends.
Daily second shift supervisor meeting between CPD and UCPD to discuss patrol strategies
Expanded police presence. UCPD has added 33 officers since April of 2014.
UC Safety Ambassadors – patrol off campus areas between 6 p.m. and 2:30 a.m. and serve as extra eyes and ears for police.
NightRide – Free evening shuttle service that provides transportation to and from locations within a one mile radius around campus. Students, faculty and staff can call 513-556-RIDE (7433).
In the spring of 2013 UC developed a strategic plan to guide the university's public safety priorities and planning.
"New, enhanced street lighting, along with other safety initiatives, are critical to the safety and vitality of the Uptown area and the university," said Engel. "We will continue to engage our city and community partners and identify ways that we can work together to improve the livability of our neighborhoods."
"We are pleased to continue the second phase our partnership with the University of Cincinnati and the City of Cincinnati on the LED lighting project," said Jim Henning, president of Duke Energy Ohio and Kentucky. "Commitment to safety is our top priority, and brightening the streets on and around campus helps enhance the safety of our community."
Street lights along the below streets will be upgraded with white LED lights. Phase II installation began Oct. 12.
Ada Street
Atkinson Street
Bosley Street
Calhoun Street
Cassat Avenue
Chickasaw Street
City View Place
Clifton Avenue (west side between McMillan & MLK)
Conklin Street

Coon Street

Detzel Place
Elysian Place
Emming Street
Flora Street
Graham Street

Jefferson Avenue (east side from Corry to MLK)
Lyon Street
McMillan Street
Moerlein Avenue
Ohio Avenue
Parker Street
Ravine Street
Rohs Street
Sauer Avenue
Stratford Avenue
Victor Street
Volkert Avenue
Warner Street
West Clifton Avenue
Wheeler Street
For more information about UC's public safety department and additional safety tools and resources, visit
.
1
Accreditation assessment team invites public to comment
October 27, 2023
A team of assessors from the International Association of Campus Law Enforcement Administrators will start on Nov. 5 an assessment to examine all aspects of the University of Cincinnati Police Division and procedures, management, operation, and support services. University members, agency employees and the public are invited to offer comments on Nov. 6.
2
Plan ahead for UC Homecoming activities
October 6, 2023
Around the University of Cincinnati campus, some streets will close during the early-morning hours on Saturday, Oct. 14, while traffic and parking on other nearby streets will be restricted.
3
UC Serves 2023 underscores university's commitment to Cincinnati...
April 27, 2023
This year, the university is celebrating the return of UC Serves – a day for staff and faculty to share the experience of intentional, focused service to the communities surrounding the University of Cincinnati campuses and beyond. The day of service helps connect UC with community neighbors and build stronger connections among university employees. UC Serves brings staff and faculty to the front lines in supporting UC's institutional commitment to service and community impact in support of our local non-profit partners.
Debug
Query for this