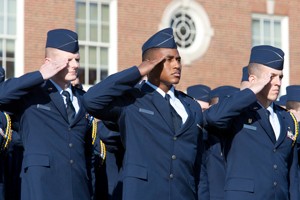 Tuskegee Airman Executive Honored Guest at UC's Veterans Day Ceremony
Area veterans and distinguished guests will join the University of Cincinnati community in paying tribute to the country's military veterans at a special ceremony Tuesday, Nov. 10.
The formal Veterans Day Ceremony, led by UC Provost and Senior Vice President for Academic Affairs Beverly Davenport, begins at 9 a.m. on McMicken Commons. The tribute includes a musical performance by the UC Bearcat Band, presentation of colors by the ROTC Color Guard and remarks by guest speaker retired U.S. Air Force Chief Master Sgt. James Shaw, president of the Greater Cincinnati Chapter of the Tuskegee Airmen.
Shaw enlisted in the Air Force in 1955. During his 30-year military career, Shaw served in Vietnam and earned numerous special decorations, medals, citations and campaign ribbons. After retiring from service, he continued to work as an ROTC instructor and aerospace science instructor.
Shaw now serves as chief executive officer for the local chapter of the Tuskegee Airmen and is chair of the executive committee. The original Tuskegee Airmen were the U.S. military's first racially integrated group of pilots, navigators, mechanics and other aviation support personnel, renowned for their prowess during World War II.
The Honor Guard American Legion Post 530 will conclude UC's ceremony with three volleys of rifle fire, and buglers stationed in the McMicken Hall and Tangeman University Center towers will play "Taps."
Veterans in attendance will be presented with a commemorative gift following the ceremony.
UC's ceremony will be held in advance of the national Veterans Day observance on Wednesday, Nov. 11, the anniversary of the signing of the armistice that ended World War I in 1918.
The event is free and open to the community (
), and refreshments will be available.
VETERANS FAIR
A Veterans Fair will begin shortly after the conclusion of the ceremony. The fair will feature more than a dozen local and regional veteran-oriented groups, including representation from: Cincinnati Veterans Affairs, Disabled American Veterans, Easter Seals TriState, Ohio AMVETS and Tristate Veterans Community Alliance.
UC's
Office of Veterans Programs & Services
is coordinating additional veteran-themed activities to be held throughout the week and beyond. Among the planned events:
Nov. 9
Noon: UC's ADVANCE student organization will host Maj. Gen. Craig Timberlake a the African American Cultural & Resource Center. Timberlake will present "The Mark of a Leader: Lessons in Leadership" and discuss his journey toward becoming one of the top African-Americans in the U.S. Marine Corps. Lunch will be provided. For more information, contact Arthur Walton at waltonab@ucmail.uc.edu.
Nov. 14
9 a.m.: The UC community is invited to participate in a "life march" around campus. Participants can bring a backpack or ruck filled with canned goods or paper goods. The donations will be delivered to the St. George Food Pantry.
7:30 p.m.: military appreciation night at the Bearcats vs. Tulsa University football game at Nippert Stadium
Nov. 25
11 a.m.: VetSuccess and the Veterans Affairs Medical Center will host a health benefits expo from 11 a.m. to 2 p.m. in Tangeman University Center, Room 423. UC veterans (students and staff) and their families are invited to attend a one-stop shop to learn about all the programs and services available at the Cincinnati VA Medical Center.  Attendees can meet individually with VA health care experts to address a variety of needs. 

The University of Cincinnati has close to 1,500 student veterans enrolled – one of the largest populations of student veterans in Ohio – and
has been named a Military Friendly School
by Victory Media. For more information, contact Veterans Programs & Services at 513-556-6811 or vetcert@uc.edu.
Note: Retired U.S. Air Force Staff Sgt. Leslie Edwards, a member of the original Tuskegee Airmen, is unable to attend the ceremony.
2
College Matters. Alma Matters: UC grad and UC faculty featured...
September 29, 2023
College Matters. Alma Matters. podcast features molecular geneticist Dr. Anil Menon, associate dean of undergraduate education and director of the undergraduate program in biomedical sciences in the UC College of Medicine and Pateek Raj, graduate of SPIA.
3
Everything you need to know about UC alum Travis Kelce
September 29, 2023
Cincinnati went wild for Taylor Swift when she brought her Eras Tour to the Queen City this summer. Now her ties to Cincinnati grow as she's been linked to University of Cincinnati alum and NFL star Travis Kelce. Swifties everywhere are asking: Who is Travis Kelce? Here's everything you need to know about Taylor's latest rumored romance.
Debug
Query for this