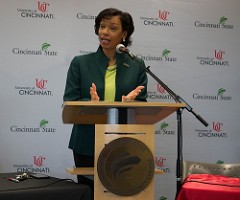 Cincinnati State and UC Team Up to Make Bachelor s Degrees More Affordable, Accessible for Area Students
The most affordable path to a University of Cincinnati bachelor's degree will start at Cincinnati State Technical and Community College. That's thanks to a renewed Institutional Articulation Agreement the two institutions signed on February 10.
The strongest agreement to date between UC and Cincinnati State – which is the single largest source of students transferring to UC – makes it easier than ever for students that complete Cincinnati State associate degree programs to seamlessly apply their credit hours toward earning a bachelor's degree at UC.
Cincinnati State President Monica Posey
and UC
Interim Provost Peter Landgren
signed the new, three-year Institutional Articulation Agreement at Cincinnati State's new Academic Transfer Center on Feb. 10. Other speakers included Ohio Sen. Cecil Thomas and Ohio Rep. Brigid Kelly.
"We are delighted to be working even more closely with UC to not only create expanded options for students to affordably earn degrees, but also to better address the workforce training needs of our region," Cincinnati State President Posey said. "It's one of our top priorities, which is why we placed the new Transfer Center in one of the most visible spots on our campus."
About 40 percent of graduates from UC during the 2014-15 academic year were transfer or transition students. More than 380 students transferred to UC's Main Campus from Cincinnati State in 2016. In addition, UC has awarded more than $150,000 in scholarships to Cincinnati State transfer students since 2013. This new agreement between the two institutions is expected to further strengthen these trends. "We've found that students who transfer to our main campus from Cincinnati State and other two-year colleges arrive prepared to do well," UC Interim Provost Landgren said. "This agreement is about more than transferring credits – it's about reinforcing a culture and environment where transfer students can succeed, with the ultimate outcome to improve the economy of our region through an educated workforce."
To that end, UC will offer additional welcome programming for new, incoming Cincinnati State and other transfer students to further ease the transfer process, including Transfer Welcome Days, Online Orientation, and a
.
Cincinnati State's new Transfer Center is designed to help students get connected and comfortable with bachelor's degree programs while they are still working on their associate's degree. It not only provides students with detailed information about transfer opportunities to bachelor's degree programs at UC and other universities, it also gives students a place to meet in-person with transfer advisors from the four-year schools.
The agreement also includes elements designed to strengthen the working relationships between the advisory staff of the two institutions. Cincinnati State will provide office space for UC employees at its Transfer Center. The
UC Center for Pathways Advising and Student Success
will serve as a central point of contact to handle questions from Cincinnati State students and advisers regarding credit evaluation and other transfer-related issues. UC has also agreed to provide Cincinnati State students and advisers access to Transferology, an online tool that provides course compatibility information.
Cincinnati State and UC already have several strong articulation agreements in place for specific programs, such as nursing, communications and social work. The new agreement is expected to expand that number. Per the agreement, "Articulation Guides" – program-to-program agreements between Cincinnati State and UC – will spell out the selective admission requirements, course equivalencies, and other information affecting students in a given program. These new Guides will provide students with a clear path from their first day at Cincinnati State to a UC bachelor's degree.


ABOUT CINCINNATI STATE
offers more than 130 associate degree and certificate programs in business technologies, health and public safety, engineering technologies, humanities and sciences and information technologies. It also offers a nationally recognized cooperative education program, and custom training through its Workforce Development Center.


ABOUT THE UNIVERSITY OF CINCINNATI
The
is a top 30 public research university with an enrollment of more than 44,000 students. U.S. News & World Report ranks UC 135th among America's Best National Universities and 64th among top public universities. UC offers more than 230 associate, bachelors, master's, doctoral and professional degree programs, with numerous programs ranked among the top 100 public universities in the nation. The university's academic programs are highlighted by experiential learning, including the world-renowned
, which provides professional experience along with classroom learning. UC's campus is world renowned for its architectural diversity and beauty.
1
Join the Information Security Outreach Roadshow
December 11, 2023
The UC Office of Information Security announces the Information Security Outreach Roadshows, interactive sessions designed to enhance cybersecurity skills university-wide. Starting January 2024, the program covers key topics like password management and phishing awareness, fostering a stronger digital security community at UC.
3
Local 12: UC stroke study aims to give patients more treatment...
December 8, 2023
The University of Cincinnati's Pooja Khatri and Eva Mistry spoke with Local 12 about the SISTER trial that will test a new drug to treat patients with strokes who are not eligible to receive traditional treatments due to timing factors or risk of complications.
Debug
Query for this