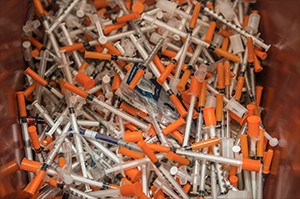 Attacking the Overdose Epidemic with Community Paramedicine, Quick Response Teams
From 9 a.m. to noon Thursday, March 16 at the Colerain Township Administration Office (4200 Springdale Road), major players in Ohio policy, police, fire and emergency services will convene to discuss this burgeoning technique of combating opioid addiction, how it is already being used and how to spread this model across Hamilton County, the state, the region and beyond. 
Community paramedicine is an emerging health care practice that provides follow-up and preventative services to those in need. This usually includes people in rural areas and frequent 911 callers — often uninsured people with chronic conditions and with barriers to regular medical care. Home visits by community paramedics are shown to help prevent repeated and non-emergency 911 calls and ER visits. 
In 2015, Colerain Township took the community paramedicine model and applied it to the heroin and opioid overdose epidemic, sending a team of police officers, firefighters/EMTs and addiction service professionals to the homes of overdose survivors. Called a Quick Response Team (QRT), these trios identify addicts in the community who have recently been revived by naloxone, also known as Narcan, after overdosing. The QRT makes home visits within one week of overdoses, provides assistance to addicts and their families and tries to link them to services. 
 Between the program's start in July 2015 and September 2016, more than 250 follow-ups were made to overdose patients with 79 percent of these patients in recovery, and there has been an overall drop in overdoses. Colerain's QRT has inspired similar efforts in the Cincinnati-area neighborhoods of Norwood, Green Township and as well as elsewhere in Ohio.  
Members of the media and the public are invited to attend Thursday's event, where Colerain Public Safety Director Daniel Meloy and Colerain Assistant Fire Chief/UC Fire Science adjunct professor Will Mueller will host a seminar on how the community paramedicine model can be applied successfully to narcotic overdose patients. There will be presentations by state and local officials and key individuals in the fields of fire, emergency medical services and criminal justice from across Ohio. This portion of the event will run 9-11 a.m.
Following those presentations, from 11 a.m. to noon, UC Fire Science and Emergency Management program chair Lawrence Bennett will host a panel discussion on the topic, focusing on how Hamilton County could implement a citywide QRT. The panel will include Hamilton County Sheriff Jim Neil, Cincinnati Fire Chief Richard Braun, a community outreach specialist for the Ohio Attorney General, representatives from area treatment services and even recovering addicts. Find the full lineup of speakers and presenters here.  
Thursday's open-to-the-public seminar is just a highlight of the weeklong three-credit community paramedicine course presented annually by UC Fire Science, as it focuses on a new application of the home visit model: helping opioid addicts get treatment and stay clean. See all course presenters here. 
UC colleges presenting at the one-week course include the College of Engineering & Applied Science (Fire Science), College of Medicine, College of Allied Health Sciences (Social Work), College of Nursing, College of Education, Criminal Justice & Human Services (Criminal Justice), UC Blue Ash (Nursing) and UC Clermont (Social Work).
1
CNN Business: Best Buy's simple strategy for beating shoplifting
November 30, 2023
The Best Buy approach to thwart shoplifting is to increase staffing. It's a move that UC criminologist John Eck says, in a CNN Business article, that makes perfect sense. It's also a different approach at a time when most retailers are reducing staff.
2
UC Learning Lab inspires College of Medicine to SIT
November 29, 2023
In a convergence of academic integration, the University of Cincinnati's renowned colleges — Design, Architecture, Art, and Planning, Lindner College of Business, College of Engineering and Applied Sciences and College of Medicine — recently joined forces at the 1819 Innovation Hub for an ideation session that exemplifies the institution's commitment to interdisciplinary collaboration.
Debug
Query for this