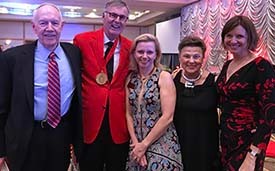 President s Award for Excellence Presented to Bob Fealy
He served 10 months as the interim UC Foundation president without pay. He just completed a four-year term as the Foundation board chair. And as a surprise to thank him for that and much more, UC President Neville Pinto presented to Bob Fealy the President's Award for Excellence at the 2017 George Rieveschl Dinner on October 13.
As a UC alumnus, Fealy has devoted years of service in support of his alma mater. In addition to serving on the Foundation board, he has helped to build UC's Illinois base of alumni donors and serves as a member of the Lindner College of Business Advisory Council.
While serving as Interim President of the UC Foundation during 2017, he traveled to UC, mostly by car and sometimes by air, without any reimbursement from the university. Running the Foundation while heading a national search for a new UC Foundation president, he traveled to campus for more than 100 days since January.
Before attending UC to earn his bachelor's degree in business, Fealy grew up on a small farm in Wilmington, north of Cincinnati. In a video shown at the Rieveschl dinner, Fealy said he was born and raised in Wilmington, "but I really grew up at the University of Cincinnati." Just moments before Pinto surprised Fealy with the Award for Excellence, the Foundation honored him with the
, an annual award. He also was awarded an honorary degree by UC in 2016.
In his presentation of the President's Award for Excellence medallion to Fealy, President Pinto said that Fealy's support and service to the UC over the years has made it clear "that he wants to give back what UC made possible for him."
"He is student centered to the core and wants to make sure the next generation has the same opportunities he had…to experience that time of discovery, to build lasting relationships and benefit from the values that a college education delivers," Pinto said.
Fealy served as co-chair of the Proudly Cincinnati campaign that raised more than $1 billion to support UC. He chaired the campaign in the Chicago region. Fealy and his wife, Rose, also created the Fealy Endowment for Entrepreneurship and the Bearcat Bridge.
The President's Award for Excellence is given at the discretion of the UC president to those who have made a significant contribution to the purposes and ideals of the university.
2
Cincinnati Opera and CCM announce details of next Opera Fusion:...
March 24, 2023
Cincinnati Opera and the University of Cincinnati College-Conservatory of Music (CCM) are pleased to announce the next events in their joint program, Opera Fusion: New Works. The two new operas—Robeson by Scott Davenport Richards and David Cote and The Righteous by Gregory Spears and Tracy K. Smith—will receive workshops this April and May, and the public is invited to attend a sneak peek.
Debug
Query for this