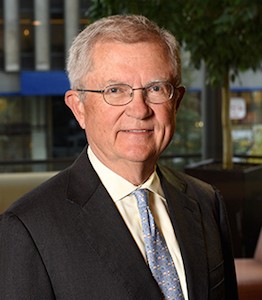 Former Children s Hospital CEO to Receive Honorary UC Doctorate
The University of Cincinnati will bestow its highest award, an honorary doctorate, to James M. Anderson during the University of Cincinnati's Commencement ceremony Dec. 8. UC President Neville Pinto will name Anderson an Honorary Doctor of Science at the ceremony. 
Anderson serves as Senior Strategic and External Affairs Advisor for Taft, Stettinius & Hollister LLP. Previously, he served as the president and CEO of Cincinnati Children's Hospital Medical Center from 1996 until his retirement in 2009. He was instrumental in shaping the extraordinary growth at Children's, which ranks No. 3 among the nation's best pediatric hospitals. His appointment as President and CEO at Children's followed 20 years of service to the Cincinnati Children's Board of Trustees, including four years as chairman. Since his retirement, the James M. Anderson Center for Health Systems Excellence has been named in his honor. 
Before joining Cincinnati Children's, Anderson was a partner in the Taft's general corporate department and president of U.S. operations at Xomox Corp., a publicly traded manufacturer of specialty process controls. He holds or has held other director- and officer-level positions with numerous corporations, including Meridian Bioscience Inc., Gateway Investment Trust and the UNIFI Companies. 
After serving many years as an independent director, he was appointed chairman of the board of the National Stock Exchange Inc. in October 2007. He joined the board of the Institute for Healthcare Improvement in May 2007. In January 2005, Jim was appointed chairman of the board of the Cincinnati branch of the Federal Reserve Bank of Cleveland. Later that year, he was appointed to a national advisory commission that helped identify reforms necessary to stabilize and strengthen the Medicaid system. From 2003 to 2008, he served on the Ohio Third Frontier Advisory Board, which provides strategic planning for investments administered by the Ohio Third Frontier Commission. 
His extensive civic involvement includes serving as a co-chair on the Regional Innovation Task Force, current chairman of the Board of Managers of CincyTech, and service to the Dan Beard Council of the Boy Scouts of America, Cincinnati Museum of Natural History and the College of Mount St. Joseph. In addition to serving on the board of the United Way of Greater Cincinnati, Mr. Anderson served as its 2006 campaign chair. 
Mr. Anderson is a graduate of Yale University (1963) and Vanderbilt School of Law (1966). He has been listed in the Best Lawyers in America, Who's Who in America and Who's Who in Finance and Industry. He is a decorated veteran of the Vietnam War, where he was a member of the 1st Infantry Division.