Prescription for success: UC Clermont helps launch twins' medical career dreams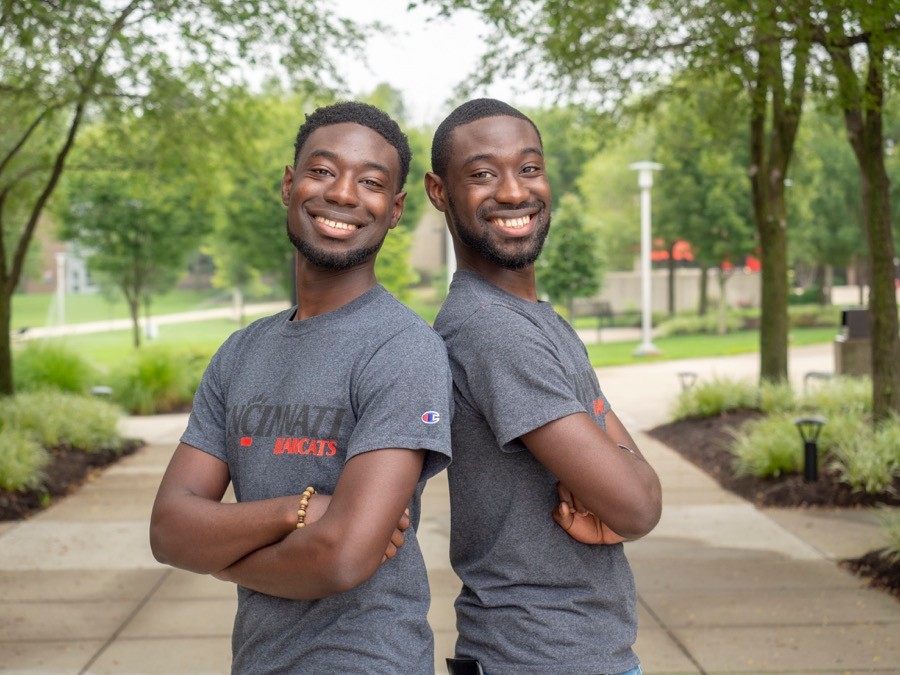 Growing up in Ghana, West Africa, Alfred and Godfred Mantey recognized the link between poverty and health early on. ""Being surrounded by these issues gave us the urge to help people through better healthcare,"" says Godfred. ""We have the opportunity to study here and feel like it is our responsibility to gain the knowledge and skills we need to help others back home.""
First, however, the identical twins had to get to the United States, and to the University of Cincinnati, a journey that was not easy nor quick. Their father immigrated to the US 12 years before they graduated from high school in Ghana. During that time, he worked and saved money so that his wife and four sons (Alfred's and Godfred's younger brothers are also twins) could join him. Finally, in 2014, the family was reunited in Cincinnati.
Alfred and Godfred arrived intent on pursing their healthcare career goals and immediately enrolled at UC Blue Ash. After a year, however, they heard about the smaller class sizes and other academic resources offered at UC Clermont College —and decided to head across town.
""With the smaller classes, professors can see your face and tell if you're not paying attention,"" Alfred says. ""You can''t hide, and that made me contribute more in class.""
With their eyes on medical and pharmacy school, they thought the more personalized attention would help them attain the strong foundation they needed in their pre-requisite science classes.
""The teachers knew us, and were always available anytime to talk and help during or after class,"" says Godfred, who adds that Professor of Chemistry Bozena Widanski helped him prepare for his pharmacy board test -- then shared in his success when he passed. ""We are so grateful we chose Clermont.""
Widanski acknowledged that she is pleased to see the twins succeed in their academic journeys. ""It feels very rewarding as a professor to cultivate a student''s education and watch them flourish and accomplish their dreams,"" she says.
The Mantey's' mother, Dorothy, enrolled at UC Clermont at the same time as her sons, eventually transferring to UC's College of Nursing. She now works full time as a nurse at UC Medical Center. Their younger brothers are also students at UC, one in pre-medicine/psychiatry and the other in engineering. Godfred is now a student in UC''s James L. Winkle College of Pharmacy, while Alfred is studying for the MCAT exam, conducting research at UC''s Academic Health Center and shadowing physicians on UC Medical Center's trauma team. But the Mantey twins -- and their mother -- credit UC Clermont as an integral beginning in a lifelong journey toward helping others through medicine.
""It''s hard to actually take the first step toward a dream,"" Alfred says. ""But the first step is the most important. Ours was UC Clermont.""
Read more of the Mantey family''s inspiring story.