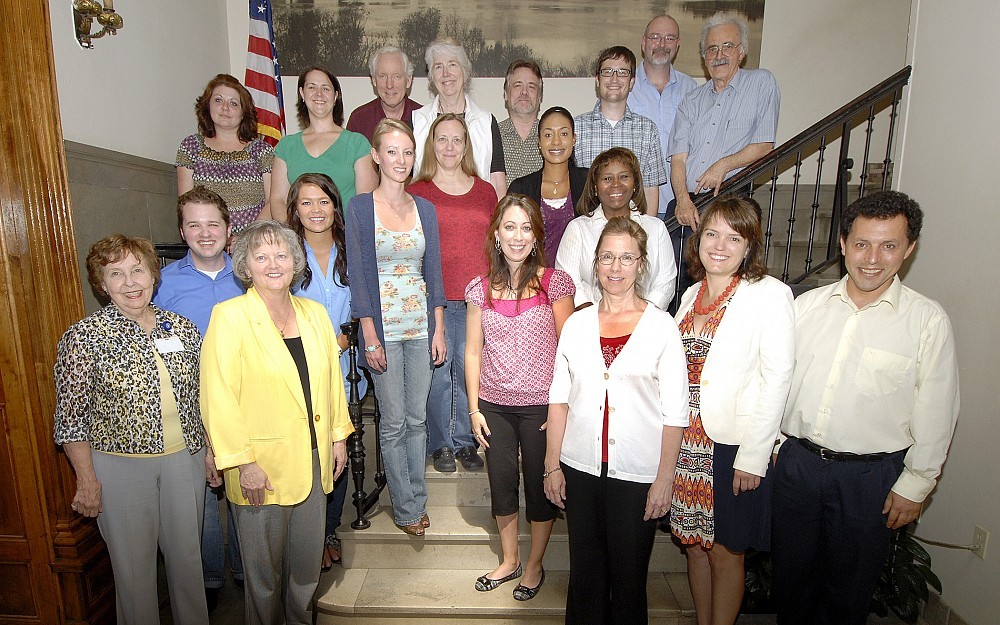 Somoza Presides Over Impressive Clinical Trials Operation
If you come around the curve on Jefferson Avenue too quickly, you're likely to miss it: an anonymous building just beyond the fringe of the UC medical campus that is home to one of the most extensive and successful clinical trials research centers in the nation.

Presiding over it all is a professor in the department of psychiatry and behavioral neuroscience who 50 years ago was spending the summer hitchhiking highways and hopping freight trains with his brother before settling down to launch a distinguished academic career that has been spent almost entirely at the UC College of Medicine and its affiliates.

"I was seriously considering joining the Marines," recalls Eugene "Gene" Somoza, MD, PhD, of the period following his graduation from the University of Chicago with a degree in physics. "But by the time I got back home, I figured I'd had as much adventure as I needed."

Nowadays, the sense of adventure comes from Somoza's involvement in substance abuse clinical trials at the Cincinnati Addiction Research Center (CinARC), which he has directed since its founding in 1995. (Theresa Winhusen, PhD, serves as associate director.) With offices in a building known as the Ice House (one of its former uses), CinARC conducts clinical trials in the Cincinnati and Dayton areas—the majority of them pharmacological trials for cocaine dependence.

In addition, CinARC established the Ohio Valley Node of the National Institute on Drug Abuse's (NIDA) Clinical Trials Network (CTN), which was created in 1999 as a partnership between community treatment providers and academic research centers.

The Ohio Valley Node, one of 13 nodes in the CTN, began in 2000 with six substance abuse community treatment programs in Ohio and three neighboring states. It now comprises 23 treatment programs in 15 states and is the largest CTN node.

"With our geographical, ethnic and cultural diversity—including three Native American tribes—we're almost the perfect site," Somoza says. "Take methamphetamine, for example. There is hardly any meth abuse in Cincinnati, but Iowa's full of it. So we can pick a treatment site there to work with.

"We also did a study on prescription opiate abuse. Our site in Indiana (East Indiana Treatment Center in Lawrenceburg) happens to be the biggest methadone maintenance clinic in the country, so we were far and away the highest recruiters. With so many treatment programs to choose from, we can usually find one that is a good fit for almost any clinical trial that comes up."

All of this research, with Somoza as the principal investigator, adds up to some impressive funding numbers. Over the 10-year period from Jan. 1, 2001, to Dec. 31, 2010, Somoza received over $36 million in National Institutes of Health (NIH) funding. (NIDA is an arm of the NIH.) During the most recent year for which data are available, CinARC was in the top 3 percent of NIH finding.

The Ohio Valley Node has been continuously funded by the NIH since its inception and in September 2010 this CTN grant was renewed by NIDA for an additional five years. The grant is not funded for a fixed amount; instead, funding depends on the activities of the node during the granting period. However, past experience indicates that the Ohio Valley Node is likely to receive $12 million to $14 million for its CTN-related activities during the five-year period of the current grant.

While Somoza modestly uses phrases like "largely luck" and "right place at the right time" when asked about his funding success, a more comprehensive explanation would give credit to the Ohio Valley Node's experienced scientific leadership, its ability to provide a variety of treatment programs as candidates for studies, a large patient population from which to recruit participants, expertise in all aspects of clinical trial management and strong support from CinARC's researchers for the site study staff—even when the site is located as far away as North Dakota.

"Dr. Somoza has been an international leader in the development of treatments for addictions," says Stephen Strakowski, MD, Stanley and Mickey Kaplan Professor and Chair of psychiatry and behavioral neuroscience and senior associate dean for research. "His outstanding work is widely recognized and puts the University of Cincinnati at the very top of this field. With over a decade of large grants brought into UC, his leadership and expertise, he is truly one of the university's best faculty and real gems."

So who better to ask than Somoza: With all the resources pitted against it, will society ever conquer cocaine addiction?

"That's a hard nut to crack," he says. "You can say the same thing about high blood pressure, or diabetes. We know how to treat it, but we can't cure it. And that's what's going on in substance abuse.

"We're understanding it better every day. We're certainly getting better treatments now," he adds, pointing to a current NIH-funded study on a cocaine vaccine and a recently completed phase-3 clinical trial with Titan Pharmaceuticals for implantable rods imbued with buprenorphine as treatment for opiate addiction. (The rods last six months, as opposed to methadone's daily maintenance dose.)

"What I'm hoping for," says Somoza," is we can make the switchover from putting addicts in jail to putting them in treatment.

"As state governments try to balance their budgets, it's a good time to point out that while putting someone in prison costs $28,000 a year, it doesn't cost nearly that much to treat them. Treatment would be a much better option for both the state and the individual."