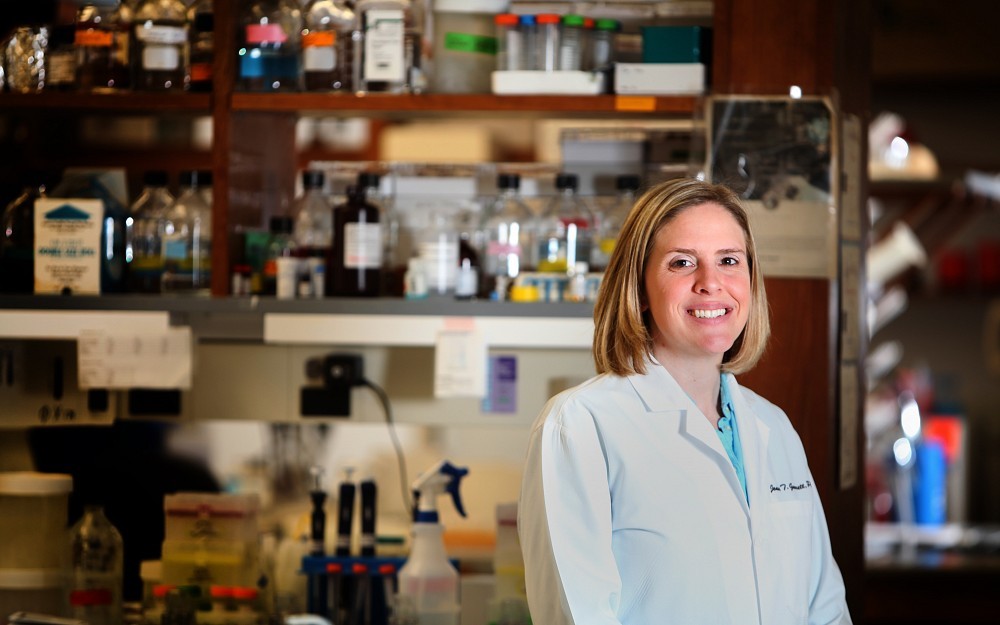 Focus on Faculty with Joan Garrett, PhD
The James L. Winkle College of Pharmacy Welcomes assistant professor Joan Garrett, PhD…
 
What is your role at the college?

My role is to perform research, teaching and service duties. The overarching aim of my research program is to better understand signal transduction pathways involved in cancer. I am personally committed to a career in mechanism-based translational research so that I can impact the lives of cancer patients. My role in teaching will be to generate a keen desire to learn in students, equip the students with the necessary tools to educate themselves and give the students the means and opportunity to take charge of their own learning. As a faculty member of the College of Pharmacy at the University of Cincinnati, I would like to contribute to the curriculum for the pharmacy students, particularly in the aspects of biochemistry and medicinal chemistry. My role in service will involve departmental administration and curriculum, personnel and policy committees or activities.
What is your academic background?

I obtained a PhD in chemistry from Ohio State University. There I investigated HER2 peptide vaccines that would elicit a similar response in patients as FDA-approved antibodies such as trastuzumab. I then accepted a postdoctoral position in the laboratory of Carlos Arteaga, MD, at Vanderbilt-Ingram Cancer Center. In my work at Vanderbilt, I published papers exploring the role of HER3 in HER2+ breast cancer and additionally examined the implications of PI3K pathway activation in breast cancer. 
Do you have a research specialty and how did you chose this specialty?

On a personal level, I am deeply committed to a career in breast cancer research.While in graduate school, I interacted with a number of cancer patients involved in a HER2 peptide vaccine clinical trial including Stefanie Spielman, who was diagnosed with HER2+ positive breast cancer at the age of 30. Stefanie was truly inspiring in her fight against breast cancer and her establishment of the Stefanie Spielman Fund for Breast Cancer Research, which has raised more than $10 million for research and breast cancer patients. More recently, a good friend's mother has been diagnosed with metastatic breast cancer and continues to work. Cumulatively, these experiences have made me committed to a career as an investigator that will impact these breast cancer patients and reduce the pain and suffering associated with this disease.
Are you working on any research projects now?

I am funded by a Susan G. Komen Career Catalyst Research grant. I will investigate the role of HER3 as a mechanism of resistance to breast cancer therapies. The HER family of receptor tyrosine kinases is one of the most rigorously studied pathways in breast cancer and there is accumulating evidence suggesting that HER3 is a critical signaling regulator, placed at the top of multiple signaling cascades that control cell growth and proliferation in breast cancer cells. I will assess how mutations in HER3 affect response of HER2+ or ER+ breast cancers to inhibitors of HER2 or ER, using naturally occurring HER3 mutants. I will also assess the frequency of HER3 mutations in clinical metastatic breast cancers, as there is evidence that HER3 may be more frequently mutated in metastatic versus primary breast cancers. Successful completion of the project could potentially lead to optimal treatment of breast cancer in the clinic.

Do you have any connections to Cincinnati?

I was born in Cincinnati and spent my childhood here. Both my husband and I grew up in Cincinnati and our families are still here. Cincinnati has changed and been modernized since I last lived here 16 years ago. I am very excited to be back in Cincinnati and close to family.
What do you like to do in your off time?

I keep busy raising my 4-year-old son and 2-year-old daughter along with the enormous help of my husband. We also have three dogs that make for a lively household. I like to run and have completed two half-marathons. I would like to do more and maybe even a full marathon if I have time.

2
A foundation of faith and philanthropy
January 25, 2023
Jerry Harris, JD '72, is not the fearsome litigator you expect when he opens the door to his home. His hair is shoulder-length; his feet are bare. He has two raucous (yet adorable) dogs on leashes and an adorable grandchild on the couch with his wife of 50-plus years, Carol.
3
Spectrum News: FDA proposes annual COVID boosters
January 25, 2023
The FDA is recommending an annual COVID-19 booster shot for most adults and children. Spectrum News interviewed Carl Fichtenbaum, MD, of the Division of Infectious Diseases at the UC College of Medicine to get his reaction to this recommendation.
Debug
Query for this