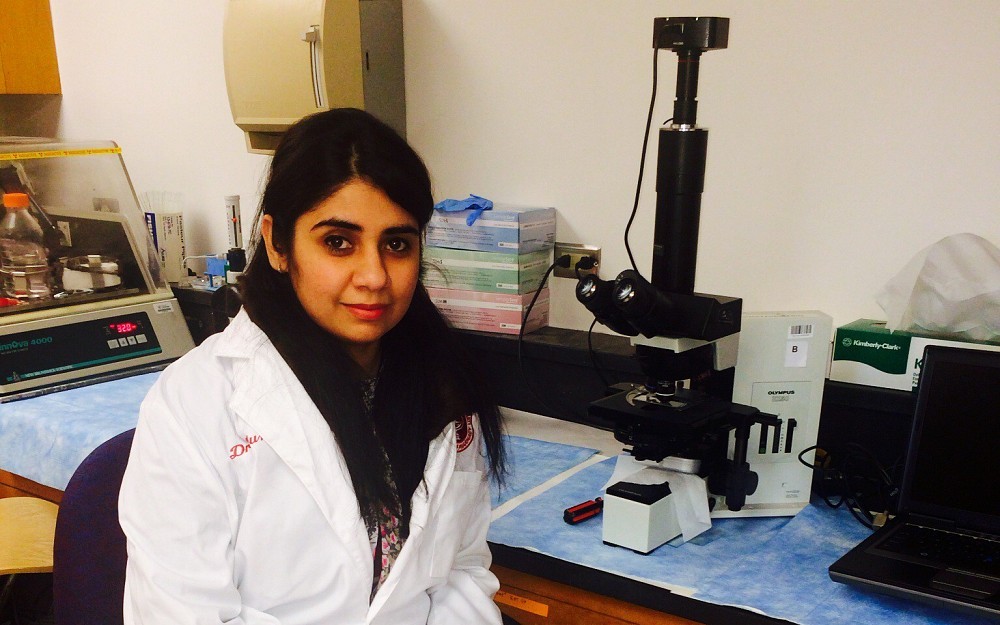 Focus On Faculty With Harshita Kumari, PhD
The James L. Winkle College of Pharmacy welcomes Harshita Kumari, PhD, to the college's division of pharmaceutical sciences…
How did you come to join the UC faculty?

"The unique cosmetic science program in the (James L. Winkle) College of Pharmacy intrigued my interest at UC. I have a background in cosmetic formulations and chemistry, and UC is one of the few universities worldwide that runs masters as well as doctoral programs in cosmetic science."
 
What is your academic background?

"I obtained my Bachelor of Science degree  in Cosmetic Science from Nagpur University, India, in 2005. During my undergrad, I did an internship at Dental Innovation Center, Unilever. The foundation laid, therein, propelled me to join industry as a full time employee at Global Technology Center-Oral Care Division of Unilever. After working in industry for about two years, I moved to the University of Missouri to pursue my PhD in supramolecular chemistry with Jerry L. Atwood, PhD. In 2011, I joined Carol A. Deakyne, PhD, as a postdoctoral fellow and later as a research associate at the University of Missouri. During postdoctoral work, my research was primarily focused on electronic structure calculations and neutron scattering. I worked as a foreign guest researcher at the National Institute of Standards and Technology, Gaithersburg, and Braggs Institute, ANSTO, Sydney, Australia, during my doctoral and postdoctoral term. In 2012, I received an RSC Journals Grant for International Authors and was invited to do research with Len Barbour, PhD, at Stellenbosch University, South AfricaI have published more than 30 refereed articles, reviewed more than a dozen articles and presented at various national and international conferences."
What are your roles at the college?

"In the current tenure-track position, I have roles in the areas of research, teaching and service. In the initial years, my efforts will be driven towards establishing a well-funded research laboratory with a focus on nanotechnology in cosmetics. This would involve extensive reviewing, grant and publication writing, and strategic and scientific technical direction for cosmetic/pharmaceutical projects. I intend to develop research opportunities and programs to enhance interest of women in sciences. As an educator, I am keen to teach, train and contribute to the development of young chemists—at the masters, doctoral and postdoctoral levels. In addition, I will be actively participating in doctoral committees, admission committees and other service committees at the Winkle College of Pharmacy."
What is your research specialty, and how did you choose it?

"I have always been fascinated by the selectivity in nature. The fact that molecules interact complementarily to form complex entities is the basis of most life processes. This is true for molecules, such as, DNA, haemoglobin, proteins and several other self-assembled entities. In order to understand interactions within these nano-scale molecules, it is generally necessary to have a detailed understanding of reactants. Although there is significant interest in the nanometric assemblies, little is known about their mechanisms of formation and action. My research specialty is to study the formation of nanoassemblies in solution and investigating their mechanisms of action/interconversions. Broadly, my research specialty is in the area of complex fluids, nanotechnology, microfluidics, neutron scattering and drug delivery. I combine experimental and theoretical approaches to develop novel nano-architectures with applications in the areas of sustainability, green chemistry, pharmaceuticals/drug encapsulation and delivery, surfactant and formulation science, gas sorption and material science."
What research projects are you working on?

"To develop cosmetics that are safe and effective on human skin, manufacturers must have a deep understanding and knowledge of the chemistry involved in the formulations and their mechanisms of action. My current research focuses on integrating principles of modern biophysics into materials that would define the next generation of this field. Extrapolating the basic science studies into applied chemistry towards the development of novel skin care, oral care and hair care research would answer the delivery and deposition mechanisms of products. My research projects will focus on understanding mechanisms of delivery and deposition of actives onto the skin/hair and elucidating the parameters to control them. In addition, my research will focus on developing methods to construct novel nanometric delivery vehicles, based on the principles of self-assembly and molecular recognition."
What are your interests outside of work?

"I like traveling, reading books, playing basketball and hiking."