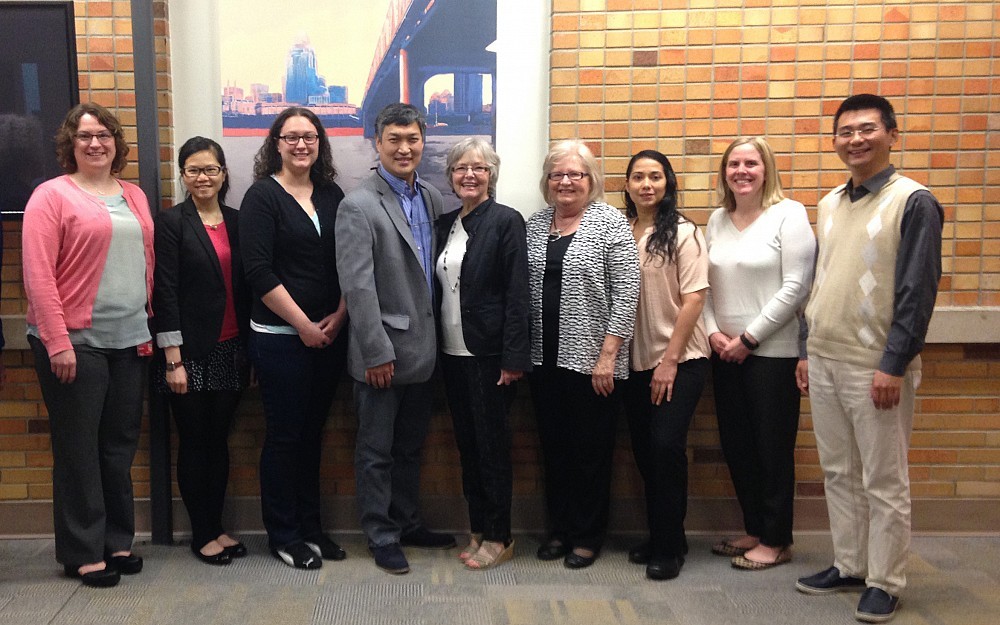 Endometriosis, Parkinson's Research Among CEG Career Development Awards
The Center for Environmental Genetics (CEG) has announced recipients of its 2016 Career Development Awards. 
Winners include five New Investigator Scholars (NIS) and three Next Generation Biomedical Investigators (NGBI) whose work focuses on understanding of gene-environment interactions and the developmental origins of human health and disease. 
The CEG, directed by Shuk-Mei Ho, PhD, Jacob G. Schmidlapp Professor and Chair of the Department of Environmental Health and Director of the Cincinnati Cancer Center, is housed in the University of Cincinnati's College of Medicine and is funded by the National Institute for Environmental Health Sciences (NIEHS P30 ES006096). 
Under the guidance of Grace LeMasters, PhD, and Daniel Woo, MD, the CEG Career Development Program identifies promising early stage investigators and assists in the development of their careers through interdisciplinary education, mentoring and research support. In so doing, the program works to advance environmental health science at UC and collaborating institutions. 
NIS awards support graduate students and postdoctoral fellows with interest in, and aptitude for, research focused on gene-environment interactions and the developmental origins of human health and disease. NGBI awards support full-time, junior level faculty members (research or tenure track) who show potential to conduct effective team science and achieve meaningful outcomes for individual and the public health community.
The CEG's 2016 New Investigator Scholars are: 
Sukanta Bhattacharya, PhD, a postdoctoral fellow in the Department of Environmental Health, Microbial Pathogenesis and Toxicogenomics Laboratory. Mentored by Jagjit Yadav, PhD, and Scott Langevin, PhD, Bhattacharya is studying the role of the oral microbiome in head and neck cancer associated with exposure to polycyclic aromatic hydrocarbons (PAHs). PAHs are a group of more than 100 different chemicals that are released from burning coal, oil, gasoline, trash, tobacco, wood or other organic substances such as charcoal-broiled meat. Approximately 60,000 new cases of head and neck cancers are diagnosed each year, and certain workers (firefighters, roofers, wood industry employees) appear to have both a higher incidence of this cancer and greater risk of occupational exposure to PAHs. 
Ana Cheong, PhD, a postdoctoral fellow in the Department of Environmental Health. Mentored by Shuk-Mei Ho, PhD, and Yuet-Kin (Ricky) Leung, PhD, Cheong is studying the effect of neonatal exposure to ethinyl benzoate and bisphenol A on adult prostate cancer risk. First named a CEG New Investigator Scholar in 2014, last year Cheong received a US Department of Defense Postdoctoral Training Award ($115,000 over two years) to study ways microRNA-765 may be used to stop the progression of prostate cancer. 
Mei Ling Bermúdez, MS, a PhD student in the Division of Environmental Genetics and Molecular Toxicology who is being mentored by Mary Beth Genter, PhD. Bermudez's funded work focuses on the intra-nasal administration of carnosine and its impact on disease progression in an animal model for Parkinson's Disease. This work has the potential to find a noninvasive, effective and safe route to target therapeutics to the brain.  
Catherine Forster, MD, a general pediatrics research fellow at Cincinnati Children's Hospital Medical Center and a new CEG awardee this year. Forster is being mentored by Joel Mortensen, Phd or MD, professor, Division of Pathology and Laboratory Medicine, Cincinnati Children's, and Elizabeth Jackson, PhD or MD, Associate Professor, Divisions of Nephrology and Urology, Cincinnati Children's. Forster is conducting a prospective study of Enterobacteriacea in children with clean intermittent catheterization and the genetic mechanisms leading to antibiotic resistance associated with extended spectrum β-lactamases and AmpC β-lactamases . 
Jessica Kendziorski, PhD, a postdoctoral fellow being mentored by Katherine Burns, PhD, assistant professor of environmental health. Kendziorski will test various proteins/molecules and MMP levels in the serum of women with and without endometriosis in the Fernald Medical Monitoring Program who were or were not exposed to uranium. 
The CEG's 2015 Next Generation Biomedical Investigators are:
Katherine Burns, PhD, assistant professor in the Department of Environmental Health. Burns investigates environmental exposures and mechanisms related to the development of endometriosis, a disease that affects approximately 5.5 million American women each year. Her funded work will explore the mechanisms by which curcumin, an ingredient in turmeric and food coloring E100, appears to decrease the severity of endometriosis in a mouse model of disease. 
Joan Garrett, PhD, an assistant professor in the James L. Winkle College of Pharmacy. Garrett's research is focused on understanding the role of ErbB3, a protein, in breast cancers, specifically ErbB3 as a driver of resistance to targeted therapy in HER2+ or ER+ breast cancers. Her current project is focused on ErbB3 and DNA damage response in BRAF mutant melanoma. BRAF mutations are linked with melanomas resulting from exposure to ultra-violet light.  
Liang Niu, PhD, an assistant professor in the UC Division of Biostatistics and Bioinformatics. Niu has particular interest in data analysis related to Next-Generation Sequencing (NGS), a state-of-the-art approach to studying genomics from multiple perspectives, such as gene expression, DNA methylation, chromatin interactions, etc. Niu is interested in developing methods to normalize the data generated by methylation arrays such as the Infinium Human Methylation450K BeadChip and the new Infinium MethylationEPIC BeadChip.  
2
Why we still need Black History Month
January 26, 2023
While Black History Month is an opportunity for all Americans to consider concepts central to the founding of the nation — democracy, freedom and equality — the University of Cincinnati propels the diversity, equity and equality momentum by honoring Black Americans' extraordinary impact through engaging lectures, open classes, food, galas and off-campus activities.
3
A foundation of faith and philanthropy
January 25, 2023
Jerry Harris, JD '72, is not the fearsome litigator you expect when he opens the door to his home. His hair is shoulder-length; his feet are bare. He has two raucous (yet adorable) dogs on leashes and an adorable grandchild on the couch with his wife of 50-plus years, Carol.
Debug
Query for this