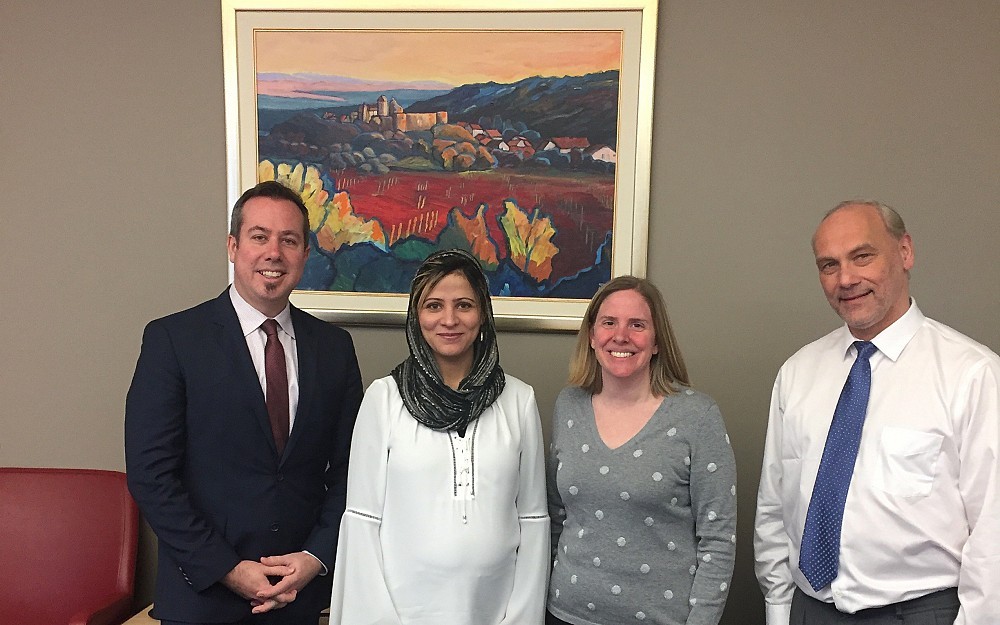 Focus on Graduates With Lamyaa Kadhim Al Sarkhi
This month, April 2017, Lamyaa AL-Sarkhi, graduates from the James L. Winkle College of Pharmacy in the Master of Science in Pharmaceutical Sciences Program. Al Sarkhi  joined the Winkle College of Pharmacy in August 2015.     
   
How did you come to UC?
I knew there was an extremely distinguished faculty, strong graduate program, high-quality coursework and research facilities which motived me to choose the University of Cincinnati for my graduate studies. After thorough research and speaking to friends, I became convinced that UC was the shortest way to achieve my goal. 

What is your background?
I hold a bachelor of science in pharmaceutical sciences ('07) from the University of Basra, College of Pharmacy, Iraq. It is one of the top colleges in Iraq. After that, I worked as a pharmacist in hospitals and a medical health center from 2008 to 2013. During that time, I had many experiences like treating patients, solving problems precisely. My ambition now is to work hard to find what can best serve our community and cancer patients, especially in the future.

Any particular area of research you are interested in pursuing?
I am more interested in studying the cause and prevention of cancer. A wide variety of cancer types make the field of cancer research very challenging. Cancer involves all organs and all ages. The attraction to cancer researchers is the variety of molecular mechanisms which are involved in cancer pathogenesis. My hope is to develop a new therapy or biomarker in the early stage of cancer to prevent the spreading of the disease.   
 
What is the benefit of the program you decided to pursue? 
The program I chose here helped me to improve my knowledge in cancer research, enhanced my research expertise, and took me closer to my goal. Hard work combined with determination is the best way to succeed at what I believe in.
Associate professor Georg Weber, PhD, is my advisor and mentor. He provided me with a framework of strategies for conducting research that will be useful over the years. He is a great advisor, mentor, teacher, and friend. He is always available to answer any questions. 
 
Where do you go from here?
From here, I plan to work for a specific pharmaceutical company and engage research opportunities. Also, I would like to continue my studies to get my PhD and engage in independent research in pharmaceutical science. 
 
What are your interests outside of pharmacy?
My interests outside of pharmacy are reading, and playing with my kids. I have three kids: nine, six and our new addition. So, most of my free time is spent with them. Most students say that graduate school is hard enough, and having kids makes it much harder. I disagree, I could not imagine going through my MS without them. I believe, they make me more energetic.
 
1
U.S. News & World Report: PFAS chemicals tied to later puberty...
October 3, 2023
Research out of the University of Cincinnati shows that exposure to PFAs chemicals delays the onset of puberty in girls by an average of five to six months. The research was published in the journal PLOS One. U.S. News & World Report published a story on the study, featuring comments from lead researcher Susan Pinney, MD, of the Department of Environmental and Public Health Sciences.
2
Cincinnati.com: COVID on the rise: Cincinnati doctors weigh in...
October 3, 2023
As cooler fall weather rolls into the Cincinnati region, COVID-19 cases are on the rise and we can expect to see the seasonal impact of the cold and flu season. The Enquirer interviewed Jennifer Forrester, MD, of the Division of Infectious Diseases at the UC College of Medicine, about wearing masks and getting the latest vaccines.
Debug
Query for this