Kinnear named UC's second Macy Faculty Scholar in three years
Dr. Benjamin Kinnear will launch project on internal medicine residency training
Benjamin Kinnear, MD, associate professor in the UC College of Medicine Department of Pediatrics, has been selected as one of five Macy Faculty Scholars for 2020.
The honor comes from the Josiah Macy Jr. Foundation, the only national foundation dedicated solely to improving the education of health professionals. Kinnear, who also has a secondary appointment in the Department of Internal Medicine, was selected from a national applicant pool of medical and nursing educators. His selection was based on his accomplishments and future promise as an educational leader and innovator.
Kinnear is the second College of Medicine faculty member to be named a Macy Scholar. Daniel Schumacher, MD, PhD, associate professor in the Department of Pediatrics, was named a Macy Scholar in 2018.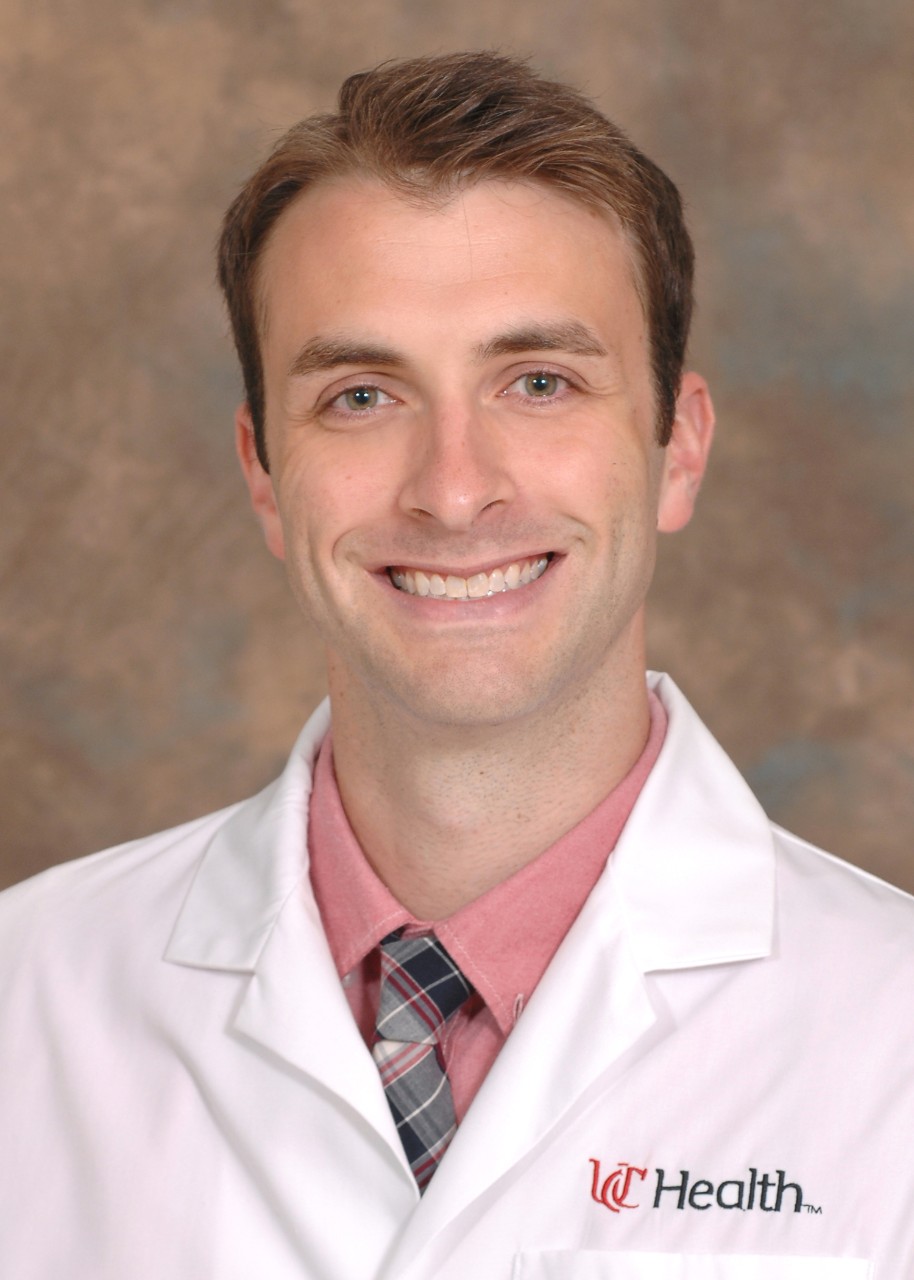 "I am extremely excited! We have an opportunity to innovate in a way that could help our residents and our program. I am also incredibly grateful to my mentors ​and our education team for all of their help and support," Kinnear says.
The two-year award will allow Kinnear to spend at least 50% of his time beginning Sept. 1 pursuing an educational innovation project titled "Piloting Competency-Based Time-Variable Training in Internal Medicine" and other opportunities to enhance his career as an educator. The project will follow a subset of internal medicine residents as they progress through residency based on their performance and abilities, not how long they have trained. "Dr. Eric Warm (Richard W. & Sue P. Vilter Professor of Medicine and director of the Internal Medicine Training Program) has led our team over the last eight years to build an assessment program that can defensibly determine when a resident is ready to progress. I believe this type of model, where we focus on competence and not time-in-training, is the future of graduate medical education," Kinnear says.
"We are thrilled to welcome Dr. Benjamin Kinnear to our newest class of Macy Faculty Scholars," says Holly Humphrey, MD, president of the Josiah Macy Jr. Foundation. "We look forward to seeing how his work piloting and assessing competency-based time-variable training advances physician education."
Kinnear is an internal medicine and pediatrics hospitalist physician at Cincinnati Children's and University of Cincinnati Medical Center. He completed his med-peds residency training at UC and Cincinnati Children's and served as chief resident in 2014.
Kinnear is the associate program director for the UC Med-Peds residency program, and associate program director for the UC Internal Medicine residency program's Medical Education Pathway. He is part of both residencies' core education teams, with a focus on programmatic learner assessment, clinical competency committees and validity arguments in competency-based medical education. Kinnear completed his Master of Medical Education in 2018, and is one of the first faculty members to participate in the Education Research Scholars Program at Cincinnati Children's.
Featured image of congratulatory message/Photo by Daniel Schumacher, MD, PhD.
Next Lives Here
The University of Cincinnati is classified as a Research 1 institution by the Carnegie Commission and is ranked in the National Science Foundation's Top-35 public research universities. UC's graduate students and faculty investigate problems and innovate solutions with real-world impact. Next Lives Here.