UC remembers mechanical engineering pioneer
Clark Beck was among UC's first African American engineering graduates
One of the University of Cincinnati's first African American engineering graduates died June 14.
Clark Beck, of Dayton, Ohio, graduated from what is now UC's College of Engineering and Applied Science with a bachelor's degree in mechanical engineering.
He was 91.
Beck overcame discrimination to break barriers in engineering in the 1950s. Beck returned to UC to earn a master's degree in aerospace engineering and applied what he learned to a long career as a civilian research engineer at Wright-Patterson Air Force Base.
After his retirement from Wright-Patterson, Beck began a second career in higher education. He served as an assistant dean at Wright State University in Dayton, Ohio.
In 2003, UC conferred an honorary Doctor of Science degree to him in recognition of his lifelong accomplishments.
"While I did not have the opportunity to meet Dr. Beck, I am familiar with his story and the powerful legacy he has left for the College of Engineering and Applied Science," Dean John Weidner said.
"He and his fellow pioneers not only paved the way for a more diverse and inclusive college, but also established a scholarship for CEAS students in our Emerging Ethnic Engineers Program. Dr. Beck will be remembered as an advocate, ambassador and pioneer, and we will ensure his legacy continues to inspire and nurture our commitment to diversity and inclusion at CEAS."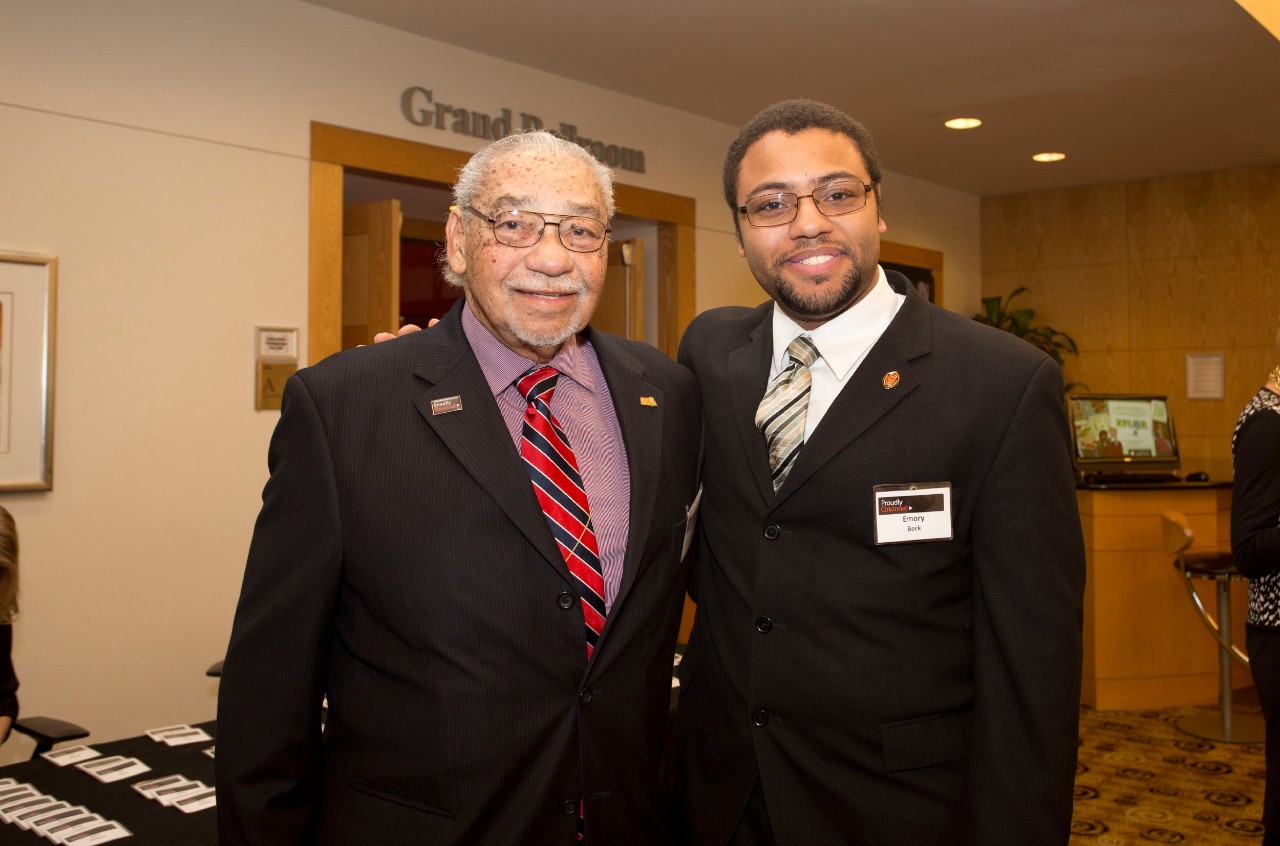 Beck's pursuit of higher education was not without challenges years before the civil rights movement. In 1951, he was accepted to several universities but turned down one offer after its dean made derogatory and racist comments, Beck told UC Magazine in 2013.
"He told me that my people could not be engineers and that if I enrolled, I would not graduate," Beck said.
Instead, he came to UC to study mechanical engineering. But it was not always easy being first. As the only African American in his classes, he said he didn't socialize much with other students. And because of discriminatory housing practices in the 1950s, he had to live far from campus where his financial hardships often made him go to bed hungry. Beck said he subsisted largely on his mother's care packages of canned goods. He battled chronic illnesses such as strep throat.
The best thing you can do for anyone is to give them an education.
Clark Beck, UC alumnus
At UC, Beck was a contemporary of upperclassman and chemical engineering major Henry Brown, who became the college's first African American graduate in 1955. Brown died of leukemia in February 2020.
After he established himself in his field, Beck sought to help those who came after him by creating the Pioneers Scholarship Fund for minorities at UC. He also donated generously to the Minority Engineering Program and the Darwin T. Turner Scholars Program.
"The best thing you can do for anyone is to give them an education," he told UC Magazine in 2013.
Beck developed kidney disease and received a transplant in 1972 at what is now UC Medical Center. One of the first local kidney recipients, the donation served him for 48 years. 
"I was definitely a pioneer in many ways and I'm proud of that," he told the Dayton Daily News in 2012.
Many people who knew Beck were compelled to share tributes online.
"I worked with Clark on the organizations of Sinclair [Community College] Lifelong Learning Advisory Board and the Engineer's Club," friend George Liston wrote. "He was known for his intellect and gentleness. He was a true gentleman."
Phillip Parker, president of the Dayton Area Chamber of Commerce, noted that Beck volunteered on many civic and charitable boards.
"He led by example and his family should be very proud of the work he did to help so many," Parker said.
Beck is survived by his wife, Gwendolyn, his son, Clark Beck Jr., his daughter, Angela, and their spouses, Ramona and Eric, and many grandchildren, nieces and nephews.
Featured image at top: UC's campus from the perspective of the Engineering Research Center. Photo/Andrew Higley/UC Creative + Brand
Impact Lives Here
The University of Cincinnati is leading public urban universities into a new era of innovation and impact. Our faculty, staff and students are saving lives, changing outcomes and bending the future in our city's direction. Next Lives Here.

Stay up on all UC's COVID-19 stories, read more #UCtheGood content, or take a UC virtual visit and begin picturing yourself at an institution that inspires incredible stories.