Local firm SHP honors young UC alumnus through engineering scholarships
Annual golf event funds scholarships in graduate Josh Gentry's name as part of SHP's legacy with UC
After a beloved employee died in 2014, employer SHP, an architectural and design firm based in Cincinnati, chose to honor him by offering scholarships to students following in his footsteps at the University of Cincinnati. 
Josh Gentry, a 2010 UC mechanical engineering graduate, died in 2014 at age 27. While a student at UC, Gentry was a co-op employee at SHP. He was hired there full-time after he graduated and he became a valued part of the company.  

Lauren Della Bella, president of SHP and an alumna of UC's College of Design, Art, Architecture, and Planning (DAAP), said Gentry was a positive force in the firm, with an outsize personality and an upbeat outlook. Known as a problem solver, he often presented methods to enhance the firm's approach to engineering, even using his own house as his personal research lab to test different systems. 
"His loss just rocked us. Losing that personality from the firm, losing that energy and enthusiasm for life, and at the same time, understanding that he had all these goals and he was really excited about his future and about getting married – it was just devastating," Della Bella said.
Seeking a way to honor the memory of their colleague, the SHP team decided to re-work its annual golf fundraiser into Play4Josh, an event that has funded two annual scholarships for incoming freshman engineering students at UC since its inception in 2014. Ten engineering students have benefited so far from the SHP Josh Gentry Memorial Scholarship Fund.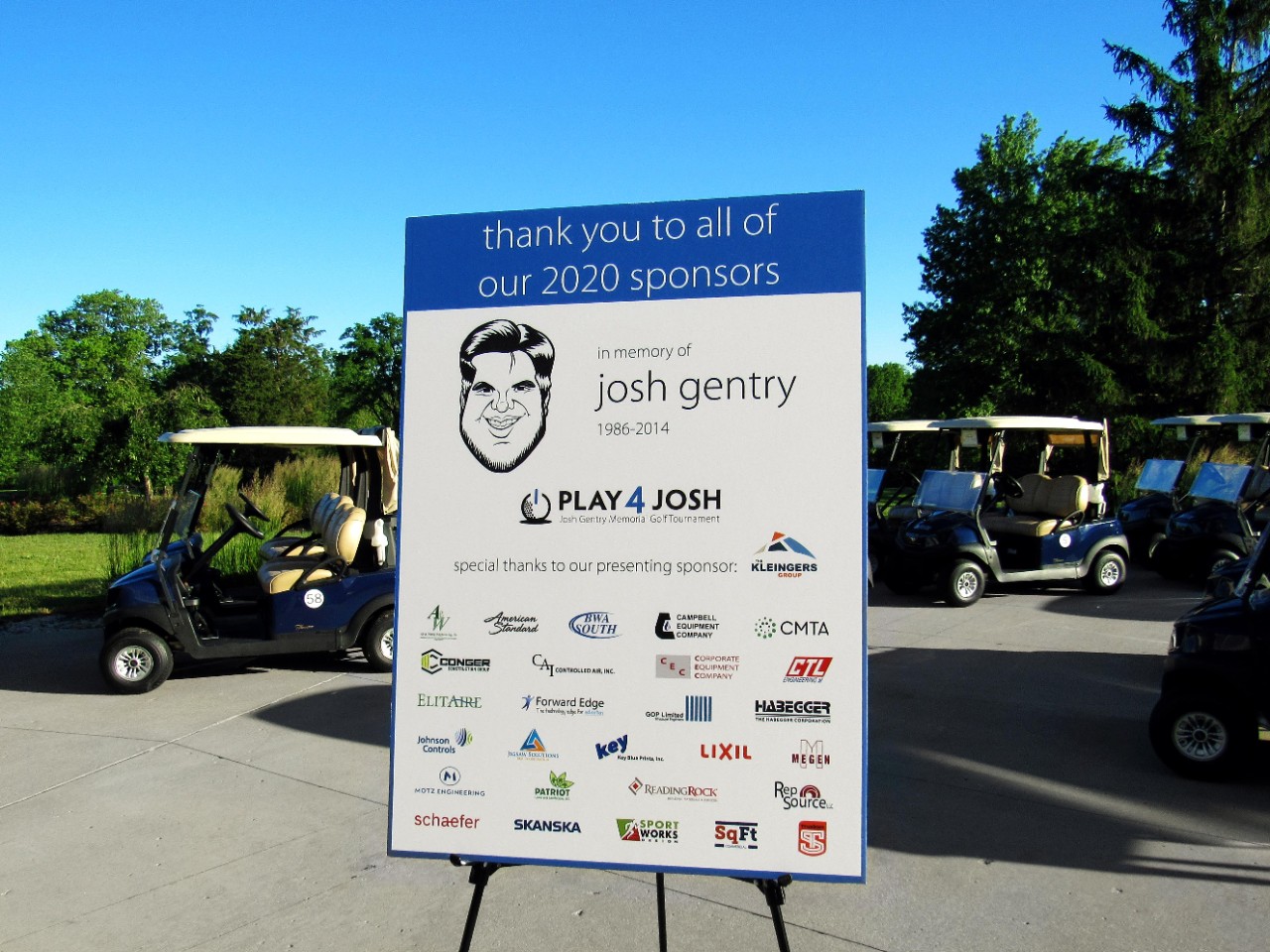 The annual event, which always sells out all 120 spots, takes place each June at the Blue Ash Golf Course. The golf facility holds special meaning because the clubhouse is an SHP project and Gentry designed the building's mechanical and HVAC systems, said Susan Woollum, office manager at SHP who coordinates the golf tournament. Some of the annual attendees are friends of Gentry's and many are product representatives, manufacturers or consultants who had the opportunity to work with him.  
"He was a light, the kind of person you wanted to be around," Della Bella said. "We all need that in our lives and I think that is one of the reasons that people loved him and why they have done such a great job of memorializing him through this golf tournament. There is such a tremendous commitment to keep it going."
In addition to the scholarships aiding students in the College of Engineering and Applied Science (CEAS), SHP also has the SHP Endowed Scholarship in Memory of James Steed for UC architecture students. Jim Steed, a UC architecture alumnus, was a significant figure in his field and at his namesake firm.
SHP offers a full slate of planning and architectural services, interior and landscape design, and building-systems engineering. The company has a longstanding relationship with UC, particularly when it comes to cooperative education (co-op). In just the last 15 years, 163 UC students from various disciplines have worked as paid co-op students at the firm from such majors as architecture, interior design, mechanical and electrical engineering, graphic design, construction management, computer science, finance and marketing. 
Forty-one of those co-ops were CEAS students and 20 percent of them ended up taking full-time jobs at SHP after graduating. SHP also has some co-ops and interns from other universities, but most of those co-ops take place in the summer. All CEAS and DAAP students at UC have mandatory co-op experiences built into the curriculum, so they aren't limited to summer internship programs. 
The Bearcat alumni tradition is strong at SHP. Today, six of the 10 partners leading SHP are UC graduates. Della Bella said the firm has employed approximately 675 employees since it's inception nearly 120 years ago and at least 250 of those employees have been UC alumni. 
With so many of the partners having gone through UC's co-op program themselves, they understand and appreciate how valuable it is to the student experience and have made it a priority to continue supporting the co-op program as a way to give back. 
"We rely on the co-op students that come through here to make a contribution to the firm and we want to give them the absolute best experience that we can by making sure they feel like they are getting not just a quality experience, but also a good level of responsibility and that they are given the opportunity to make a difference," Della Bella said. 
Additionally, many employees of SHP are heavily involved at UC through participation on committees and in advisory roles (Della Bella is on the CEAS advisory board), conducting joint research projects, working with DAAP studios and offering professional critiques. 
"I think it's been a long, healthy and important relationship with UC and one we are committed to for the long haul," Della Bella said.
Interested in starting a scholarship at CEAS through your company? Contact Alina Nosal, Director of Development, 513-556-4221. 
2
Ongoing quest for justice a life-changer for all parties
December 7, 2023
The Ohio Innocence Project and its student fellows, past and present, recently marked 20 years working to exonerate the wrongfully convicted. OIP co-founder and director Mark Godsey, as well as past OIP fellows and Cincinnati Law alumni, Eric Eckes, Law '08, and Simar Khera, Law '15, spoke about their shared experience and its life-changing impact.
3
Joe Burrow Foundation awards grant to UC service-learning co-op...
December 7, 2023
UC's service-learning co-op program has received a "Do Good Grant" from The Joe Burrow Foundation. The funding will provide stipends to UC students pursuing degrees in social work for their meaningful, service-oriented work in the mental health field.
Debug
Query for this