Addressing anxiety with an app
UC, Cincinnati Children's researchers create app to help address COVID-related anxiety in children
While we feel alone in our worries and hardships, often we truly are not.
With the COVID-19 pandemic raging globally, many are dealing with the day in, day out anxiety of possibly succumbing to the coronavirus or watching as loved ones do and are left to sort those feelings out by themselves.

As a way to help squash these uncertainties, provide knowledge about anxiety related to COVID-19 and help people realize they are not alone, experts at the University of Cincinnati and Cincinnati Children's Hospital Medical Center have worked in collaboration with the chatbot developer Wysa to create a new, free "Covid Anxiety" smartphone app.
The app, designed for use by people aged 13 and above, uses artificial intelligence to engage in interactive conversations with users, serving as a digital mental health coach. The tool can help people focus on why they feel anxious about the pandemic and provide recommendations for self-care. It also provides emergency contact numbers. 
The key, according to researchers, is to help people deal with the anxiety before it becomes a problem.
"The current COVID-19 pandemic has in many ways touched all of us. However, it also touches on a very important psychological concept for many of us — uncertainty. We have known for a long time that uncertainty about the future can be worse than knowing that something bad is going to happen," says Jeffrey Strawn, MD, an associate professor and anxiety expert in the Department of Psychiatry and Behavioral Neuroscience at the University of Cincinnati.
He, along with John Pestian, PhD, a professor in UC's Department of Pediatrics and director of the Computational Medicine Center at Cincinnati Children's, and Michael Sorter, MD, director of the Division of Child and Adolescent Psychiatry at Cincinnati Children's, worked together to develop an AI-ready knowledge module that could be incorporated into Wysa's AI mental health infrastructure.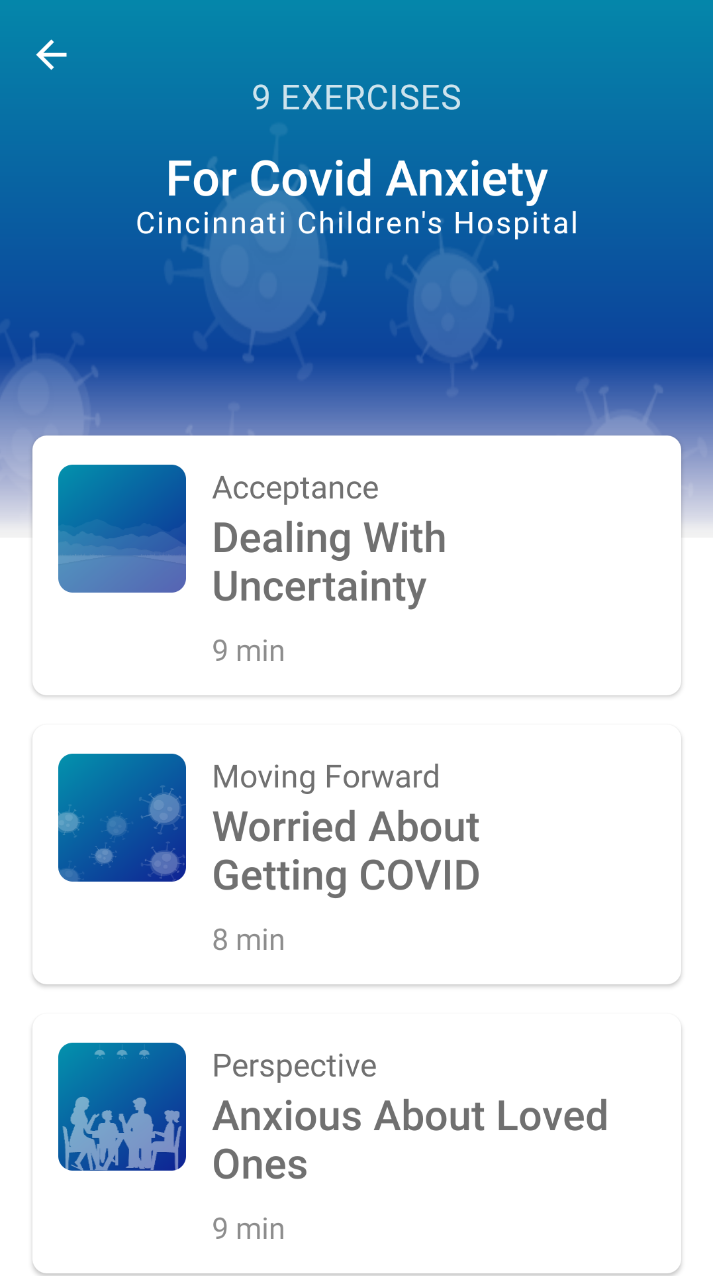 The result is an AI-trained COVID-19 anxiety tool that has been clinically vetted by professionals and patients. The app can be installed on a smartphone from the Google Play Store or Apple App store.
It works by using an animated cartoon penguin to walk users through an introduction to the app and its capabilities. It uses nine exercises for coping with anxiety related to COVID-19, including cognitive behavior therapy methods, visualization, relaxation and other techniques to reduce stress.
The app's exercises and conversations are intended to support self-care and are not intended to replace professional psychiatric help; however, an "SOS" button, offering multiple ways to seek immediate help, is available in emergency situations.
"We also went to great lengths to protect user privacy," says Strawn. "This tool is an example of how technology can help people access mental health support easily when they need it."
During initial testing, early versions of the tool were introduced to dozens of patients receiving care at Cincinnati Children's. These volunteers reported high levels of satisfaction with their experiences. 
In these times, we need to remember our past successes and preemptively address stress.
Jeffrey Strawn, MD
Longer-term, this tool and others like it may help extend mental health services to places and populations that currently have low access, such as rural communities that lack practicing child psychiatrists and low-income populations living in states with weak mental health coverage. 

"In dealing with our current uncertainties, it is important for us to remember that while we cannot predict the future, we can generate positive feelings about the possibilities. In these times, we need to remember our past successes and preemptively address stress. We must focus on what we can control. This, along with mindfulness, can be immensely helpful in dealing with uncertainty. The app can help users do all of these things, and realize that we will persevere."
Read more from Cincinnati Children's.
Featured photo of Jeffrey Strawn by Colleen Kelley/UC Creative + Brand.
Impact Lives Here
The University of Cincinnati is leading public urban universities into a new era of innovation and impact. Our faculty, staff and students are saving lives, changing outcomes and bending the future in our city's direction. Next Lives Here.
Stay up on all UC's COVID-19 stories, read more #UCtheGood content, or take a UC virtual visit and begin picturing yourself at an institution that inspires incredible stories.