Smithsonian: A brief history of the Cozy Coupe
Invented by a UC grad, the foot-powered kids toy still outsells engine-powered cars
Can you name the best-selling cars of all time? Think about them carefully. Made your picks? Well, you probably missed an important one — with a University of Cincinnati connection.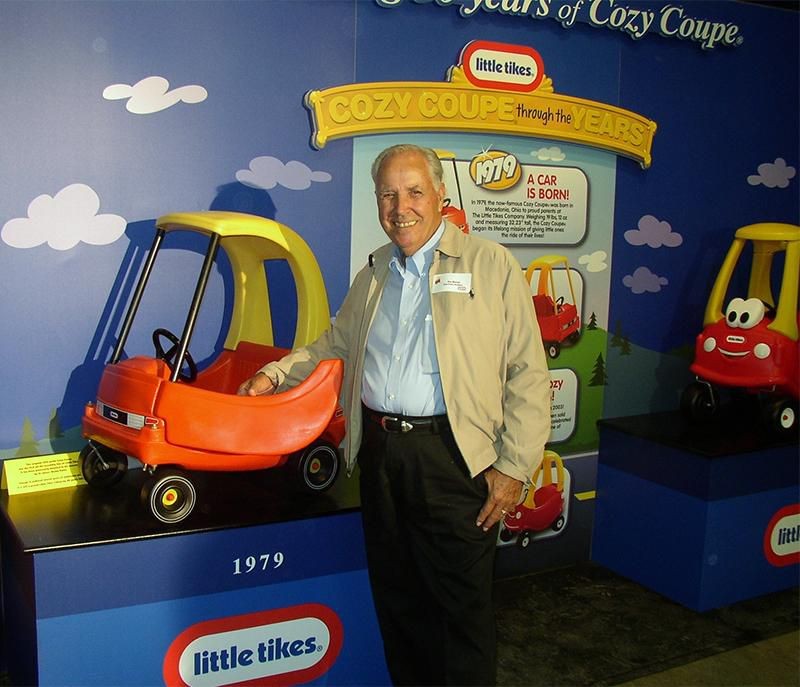 Smithsonian magazine reports that while the top three spots worldwide are held by Toyota Corolla, Ford F-Series pickup and Volkswagen Golf, close behind them is Cozy Coupe. Yes, the "Flintstone"-like car produced for children by Little Tikes is a consistent top-seller, year in and year out. 
In fact, Cozy Coupe outsold all engine-powered cars in Great Britain in March. More than 85,000 were purchased that month as parents faced the prospect of being trapped at home with energetic toddlers during the COVID-19 lockdown.
The little red car with the yellow roof that is propelled by foot power has been a hit with young children since its creation in 1979. Inventor Jim Mariol, a UC College of Design, Architecture, Art, and Planning alumnus who was granted a design patent for a "Toy Automobile" in 1982, was inspired to create the toy as he scooted around on his office chair one day. It was an "eureka" moment for the former automobile designer, who realized almost immediately that his functional yet fun car would be ideal for kids 18 months and older to scamper around in.
Mariol died earlier this year at age 89.
Read the full Smithsonian story.
2
Why we still need Black History Month
January 26, 2023
While Black History Month is an opportunity for all Americans to consider concepts central to the founding of the nation — democracy, freedom and equality — the University of Cincinnati propels the diversity, equity and equality momentum by honoring Black Americans' extraordinary impact through engaging lectures, open classes, food, galas and off-campus activities.
Debug
Query for this