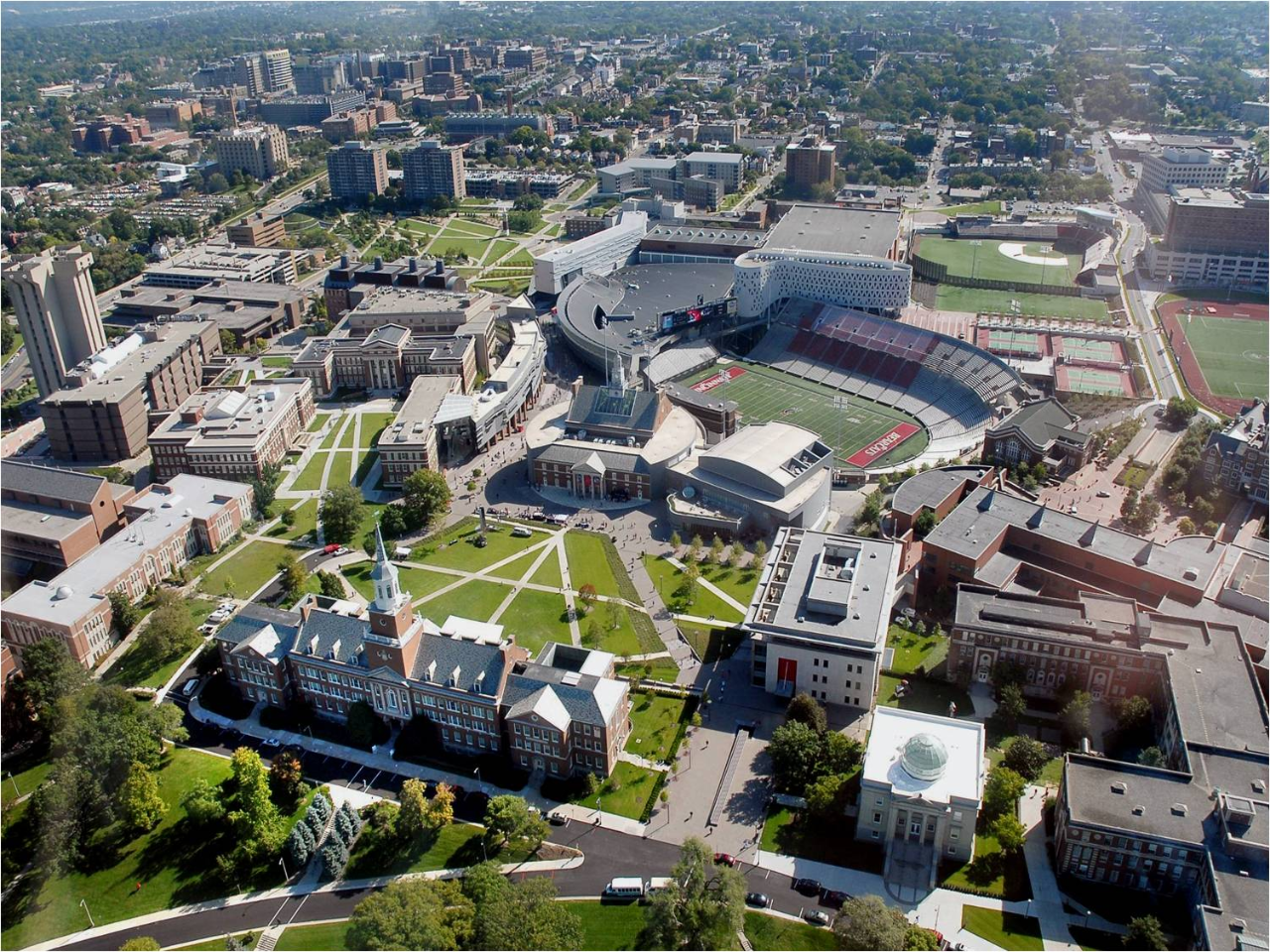 UC graduate parlays custom curriculum, co-op into dream job
Communication program offers broad opportunities to set students up for success
By Sally Bishop
Earlier this year, University of Cincinnati graduate Alena George found herself in an enviable place despite a global pandemic that pummeled the job market.
She had her bachelor's degree in one hand and a job offer from Procter & Gamble Co. in the other.
George attributes her success in part to the Communication Department's co-op program in UC's College of Arts and Sciences. She found her way to the program after starting her college career with an undecided major. George was attracted to the breadth of opportunity in the Communication program, she says, and took full advantage of it, through internships, co-ops and study-abroad opportunities.

George also took advantage of the college's flexible curriculum, with a wide range of minors and certificate programs designed to help students improve their skill sets and make themselves more marketable in a competitive employment environment.
"Communication allowed me to study several things I was interested in that also fell under the Comm degree-related umbrella, such as anthropology, linguistics, sociology, psychology, writing, graphic design, and storytelling through media," she said.
George graduated last spring with a degree in communication, minors in electronic media and Asian studies and certificates in public relations and film and media studies. She also studied abroad for a semester in South Korea as an exchange student  and completed five semesters of co-op and an internship. She now works full time as a site integrated planner for P&G.
The communication co-op program at UC was launched in 2015 to prepare students for careers. The department partnered with UC's Division of Experienced-Based Learning and Career Education because it oversees many successful co-op programs throughout the university. Communication is the first major in the College of Arts and Sciences to offer a co-op program.
"Alena was determined and focused and she always had a really positive attitude, which was a great addition to the classroom and also helped her be successful during the co-op job search," associate professor Annie Straka said. Straka taught George in a professional development class required for students on the communication co-op track.

To prepare students for the co-op process, the course helps them decide which experiential learning opportunity is best for them, and teaches them professional development skills. After completing that course, students are supported in the job search process, and are able to complete up to three full-time co-op work experiences.
Create a custom educational path
The co-op track is optional, meaning that students don't have to complete the program to graduate with a communication degree. But the track is competitive, with the department admitting only approximately fifteen students per semester.
"We believe that's the best way to ensure every student admitted has a great chance to land a meaningful job," undergraduate director Steve Fuller said.
"Our program is optional, so our students get to choose the path that works best for them," he said. "For some, a part-time internship may make more sense. Some students may prefer to lead a student group or study abroad, but having an optional program lets students make decisions that work best for their circumstances."
Through internship fairs provided by UC, professional development programs and the help of countless professors, George was able to co-op with companies like Muñoz Foundation, Vector Solutions, BHDP Architecture and P&G. In the past, communication students have also landed co-op positions with FC Cincinnati, 84.51 and Delta Airlines, among others.
The best part about UC's Communication co-op program is getting real world work experience and networking, while building your resume and getting paid to do it.
Alena George, UC graduate
"The best part about UC's Communication co-op program is getting real world work experience and networking while building your resume and getting paid to do it," says George. "I gained so much experience and professional confidence through my five semesters as a co-op and it opened up the opportunity for me to receive a full-time job offer before I even graduated."
Fuller says he motivates all communication students to follow in George's footsteps.
"Alena's college experience was exactly what I encourage every student to do," he says. "She made the most of her classwork, studied abroad, and participated in student groups. Alena's experience is exactly what happens when students commit to the process."
1
Public gardens contribute to invasives problem
December 1, 2023
University of Cincinnati botanists found that plants at arboretums and public gardens inadvertently can seed wild areas with nonnative plants. Their study was published in the journal Ecological Restoration.
2
CCM Dance presents 'An American in Paris + Other Works' on Nov....
November 28, 2023
CCM Dance proudly presents An American in Paris + Other Works, a lively program featuring repertoire ranging from classical ballet to modern dance. The centerpiece of the program is An American in Paris, a one-act ballet set to George Gershwin's iconic music, choreographed by guest artist Peter Davison.
3
Feast of Carols features holiday hits, local choirs in concert...
November 27, 2023
UC College-Conservatory of Music welcomes the holiday season on Dec. 2-3, 2023 with Feast of Carols, an annual concert featuring festive choral favorites performed by the CCM Chamber Choir, Chorale and Graduate Brass Quintet; UC Choruses, Cincinnati Youth Choir and outstanding guest choirs from local high schools.
Debug
Query for this