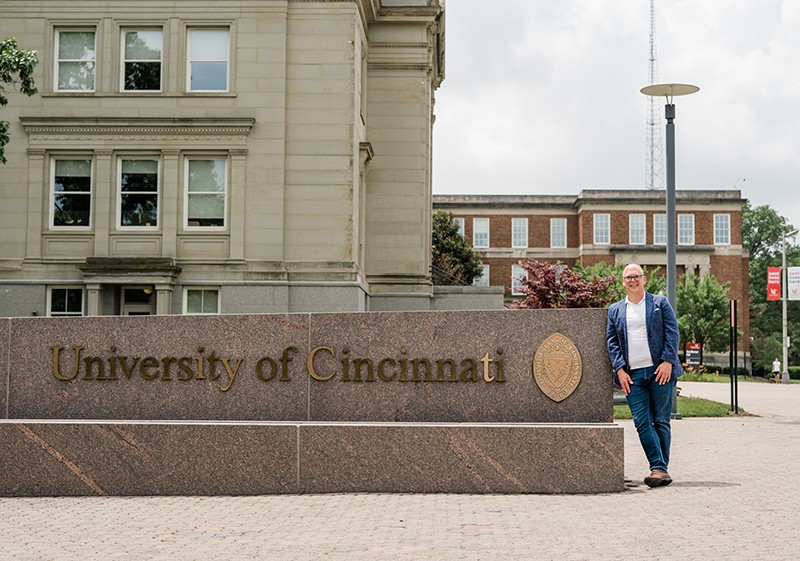 Two Bearcats fell in love and made history
UC alumni Jim Obergefell and John Arthur met at UC and made same-sex marriage legal in the U.S.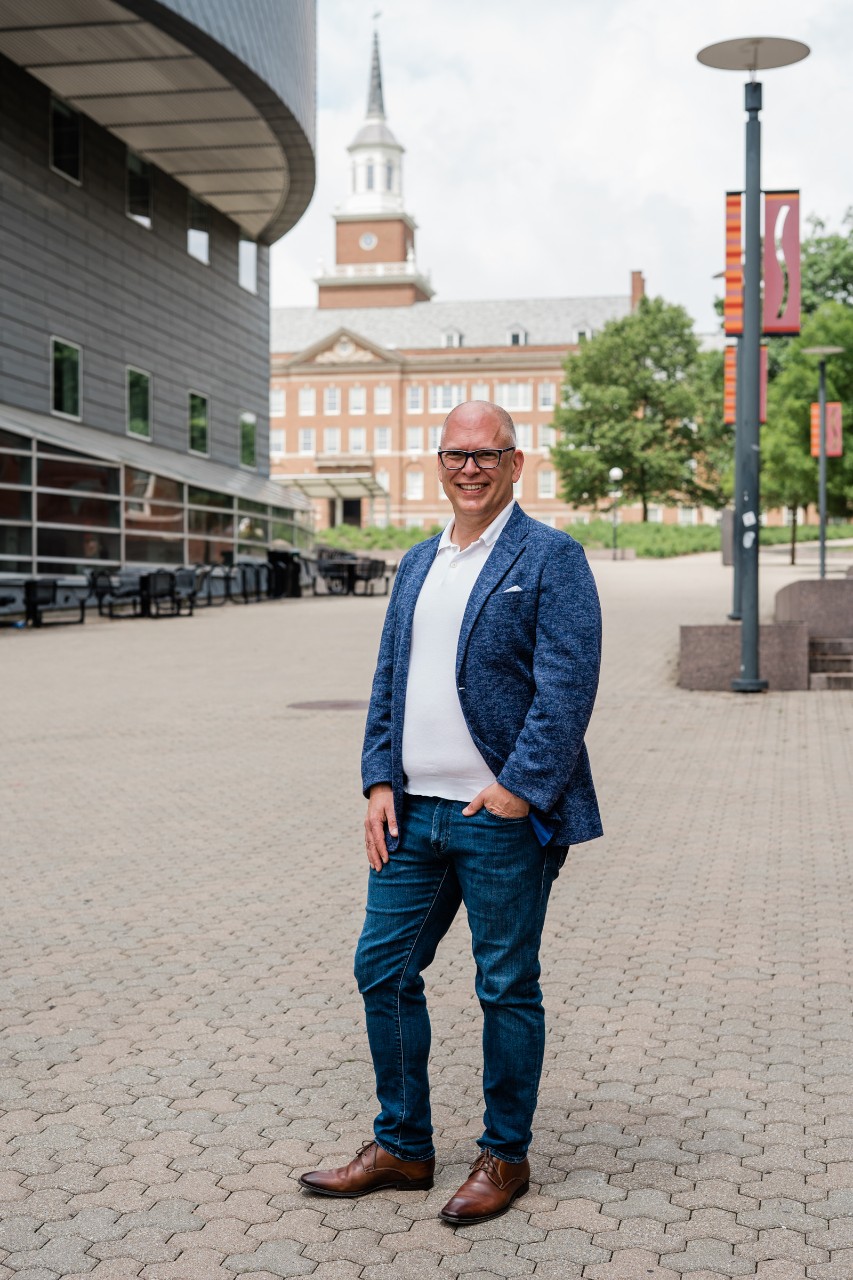 The crowd was enormous, the air electric. Music was blaring. People were crying. People were singing.
University of Cincinnati graduate Jim Obergefell, CECH '90, knew he was a witness to history. It was 1989 and Obergefell had been living in Germany while on a UC work-study program. Standing with his classmates in Berlin at Potsdamer Platz that night, they watched as workers began dismantling huge sections of the Berlin Wall and hoisting them away with cranes.

Obergefell returned to the public square the next morning. Now, with a large portion of the wall opened up, he watched as East Berliners streamed through to the once-forbidden West amid the joyous sounds of freedom. In one of the most memorable experiences of his life, Obergefell felt the enormity of a world-changing event.
Some 25 years later, Obergefell would feel the same exhilaration as he walked across the plaza of the Supreme Court of the United States after helping make marriage equality a reality for same-sex couples across the country. One of the most influential people in the modern history of civil and LGBTQ rights, Obergefell will be forever known as the face behind the landmark 2015 Supreme Court ruling, Obergefell v. Hodges.

In hindsight, Obergefell's days at UC did little to predict his future role in history. Like students throughout the ages, he spent his college years striving to discover who he was. And who he was not.

Obergefell started at UC in 1984 in UC's College of Engineering and Applied Science before changing his major to secondary education with a concentration in German, which he had studied for three years in high school.
"My brain seemed pretty well suited to German; it was relatively easy for me," he says. "I thought, 'I love German, what can I do with it? I could teach!' So that's how that happened."
On a personal level, Obergefell had his first experiences as a gay man at UC. But his voice remained silent. He would not disclose his sexual orientation to his family until years later. Although public opinion was shifting, broad opposition to the LGBTQ community remained entrenched. At the same time, the deadly AIDS epidemic was newly raging, making this an especially formidable time for gay men.
"I was never out at UC," Obergefell says. "That's not to say I didn't have experiences, not to say that I didn't creak open the door to my closet at UC, but I was never out."
"When I think about that time of my life when I was struggling to admit that I was gay, to come out, it was also a very scary time," he says. "My freshman year — I don't know if I'd use the term relationship — but I was with one of the guys on my floor in Calhoun Hall, and that was one of the times that the closet door creaked open. But I remember being terrified. It was just this fear that if I kiss him or if I touch another boy, I could get AIDS and die."
After graduation, Obergefell went to graduate school at Bowling Green State University but met John Arthur, his future husband, in a quintessential Bearcat locale: Uncle Woody's Bar. John graduated from UC two years prior to Obergefell with a degree in business. They fell in love, and Obergefell left BGSU to live with Arthur in Cincinnati. 
During their more than 20 years of living together like a married couple and working together as consultants, they supported their city, donated to charities and purchased works by local artists.
"John and I called ourselves checkbook activists," Obergefell says. "We donated to organizations around historic preservation, the environment. We were members of the Human Rights Campaign for a bit. But we never did anything that I would call activism."

Arthur's diagnosis changed everything. Stricken with ALS in 2011 at the age of 46, he was virtually paralyzed and suffering through the late stages of the inevitably fatal disease two years later when the Supreme Court struck down a major component of the Defense of Marriage Act. Also known as DOMA, the act denied federal marriage benefits to same-sex spouses. In a moment of joy and inspiration, Obergefell proposed to the bedridden Arthur, and their journey into history began. Same-sex marriage had been banned in Ohio by referendum in 2004, but it was legal in many coastal states, including Maryland. Two weeks after the Supreme Court decision, Obergefell and Arthur chartered a medical plane and flew to Baltimore. With the plane parked on the tarmac, Arthur's aunt performed the marriage inside the tiny cabin.
"Figuring out where to go, figuring how we got there, figuring out how to get the marriage license, coordinating with our hospice service to get us to and from Lunken [airport] — the work, the logistics around it — I never once questioned that," Obergefell reflects.
"The thing that made me stop and think: 'Is this the best thing to do? Is this what we should do? Is this appropriate?' was all around keeping John as comfortable and as safe as possible. The only thing that drove decisions was what's best for John. I can't discount how important what we felt was. When the Supreme Court struck down DOMA in United States v. Windsor, it was the first moment in our 21 years together that we could get married and we would mean something to the federal government."
The wedding was covered by the Cincinnati Enquirer and drew the attention of Al Gerhardstein, a Cincinnati civil rights attorney, who recognized an imminent problem for the newlyweds. Because not every provision of DOMA had been addressed, states — including Ohio — could continue to refuse to recognize same-sex marriages that had been performed in other states. This meant that after Arthur's passing, Obergefell's name could not be placed on the death certificate as Arthur's legally surviving spouse.
Gerhardstein also knew their story had the potential to change history.
"To take on Ohio's marriage recognition ban, Al needed three things: a precedent, a plaintiff and a story," Obergefell and Debbie Cenziper wrote in their 2016 book, "Love Wins." 
The DOMA ruling provided precedent; as plaintiffs, Arthur and Obergefell provided a uniquely heart-tugging story.

The path to the Supreme Court
Gerhardstein helped Obergefell and Arthur file a complaint in July of 2013 in U.S. District Court. The initial ruling: Ohio's refusal to recognize same-sex marriages legally performed in other states was unconstitutional. The State of Ohio then appealed the ruling, which was overturned 2-1 by the Sixth Circuit Court of Appeals. However, that decision conflicted with similar circuit court decisions, so off to the Supreme Court the case would go. Because Gerhardstein was the first to file a petition with the Supreme Court, the landmark decision would be known as Obergefell v. Hodges. (Richard Hodges, listed first among the defendants, was director of the Ohio Department of Health.)

As Obergefell and Arthur's case wound through America's court system, Arthur died in October 2013. Obergefell was heartbroken and alone, but had a mission to complete.
In the months that followed, Obergefell honed the voice he never knew he had, providing countless news interviews and speaking for the rights of LGBTQ couples everywhere.
"I didn't end up in this spot of my own doing," he says. "John and I found ourselves in a situation where we could make a choice. We made the decision that worked for us and that was the right decision for so many people who came before me."
On June 26, 2015, Obergefell sat between two friends in the Supreme Court courtroom, clutching their hands. Signs were propitious. That exact day 12 years earlier, the court upheld that laws prohibiting private homosexual activity between consenting adults were unconstitutional; on June 26, 2013, exactly two years earlier, it had declared part of DOMA unconstitutional.
A hushed courtroom listened as Justice Anthony Kennedy read the 5-4 decision that the 14th Amendment requires all states to license marriages between same-sex couples and to recognize all marriages performed legally in another state.  
"I'm crying," Obergefell says, recalling the moment. "My very first thought was, 'John, I wish you were here; I wish you could know that we'd won; I wish you could know our marriage can never be erased.' And then it hit me: for first time as an out gay man, I felt like an equal American."
On the plaza outside the Supreme Court building, Obergefell felt the same sensation of being part of history that he had experienced in Berlin so many years before. "Al Gerhardstein and I are arm and arm, and the other plaintiffs and attorneys are behind us, and as we come up onto the plaza, the crowd sees us and realizes who we are. I'm not a religious person, but I use this phrase because people know what I mean: It was like the parting of the Red Sea. The crowd just split in front of us. People were singing, they were cheering, they were crying, they were giving us high fives. It was an amazing experience to walk through that crowd, feeling that joy, feeling that the world has changed."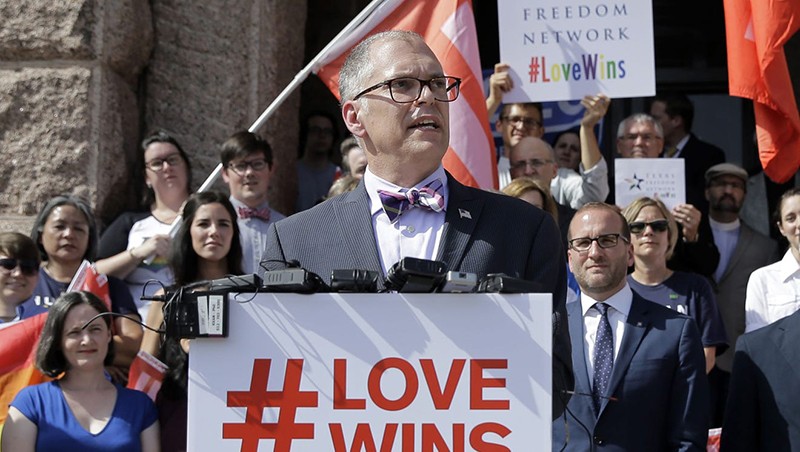 The fight for equality continues
Five years after Obergefell v. Hodges, Obergefell says there is more work to do. He is encouraged by the Supreme Court's landmark June 15, 2020, decision protecting gay and transgender workers from workplace discrimination, but for him it is not the final word.

"I'm thrilled that we won," Obergefell says of the workplace discrimination case. "I was really concerned that this decision would go against us. But I also look at this as a moment in time, as one decision. It will take much more than this one decision for me to believe they truly are on the side of equal justice for all of us."
Obergefell worries about issues that include adoption by same-sex couples, violence directed toward the transgender community, especially transgender women of color, and the harm caused by conversion therapy, which is outlawed in some cities but persists in others. He would like to see the Supreme Court rule on, or refuse to accept, a case "that puts to rest" the idea that one person's religious beliefs are more important than another person's civil rights.
In the meantime, Obergefell plans to continue to use his voice and influence. "I love that I have a voice that I can use, and I've certainly been using it loudly and often during this time of protest around Black lives — and Black Lives do Matter," he says. "It's an honor to employ my voice in the fight for civil rights for every single person."  
2
Study finds distinct patterns of preexisting brain health...
May 26, 2023
The University of Cincinnati's Achala Vagal presented the results of the first large-scale assessment of radiological brain health in stroke patients in a population at the European Stroke Organization Conference 2023 in Munich, Germany.
3
UC co-op student delves into digital complexities of operations...
May 26, 2023
Raised in the Queen City, Joel Engelhardt began college out of state but returned in 2022 to study in the University of Cincinnati's Carl H. Lindner College of Business. At a Cincinnati Innovation District (CID) career fair, Engelhardt met Jesse Lawrence, director of partner success at the UC 1819 Innovation Hub. While serving as a co-op student this spring, Engelhardt had the chance to blend his skills in operations management, research and software development to create customized solutions for strategic partners.
Debug
Query for this