UC creates living tribute to Ohio botanist
UC's E. Lucy Braun was a trail-blazing scientist and conservationist
A University of Cincinnati biologist helped organize a fitting tribute to one of America's legendary conservationists and botanists, E. Lucy Braun.
Denis Conover, a professor of biology in UC's College of Arts and Sciences, collaborated with Cincinnati's Spring Grove Cemetery and Arboretum to replace the nonnative plants adorning her grave with native ones found in the eastern United States.

No doubt, Braun would have approved.
"Lucy Braun was a great botanist, plant ecologist and conservationist," Conover said. "For years I thought it was too bad that she had English ivy, a nonnative and invasive species, growing on her grave. I thought how nice it would be if they could replace it with native plants."
Conover and David Gressley, the cemetery's director of horticulture, carefully selected a mix of native ground cover that would be suitable for her plot, which sits in the shade of a holly tree near one of Ohio's oldest and most impressive white oak trees. Instead of English ivy, which can spread like a blanket across the forest floor, they chose a mix of creeping mint, golden star and Allegheny spurge, all flowering plants that are native to deciduous forests in Eastern North America.
Conover wrote about the living tribute in the journal Ecological Restoration.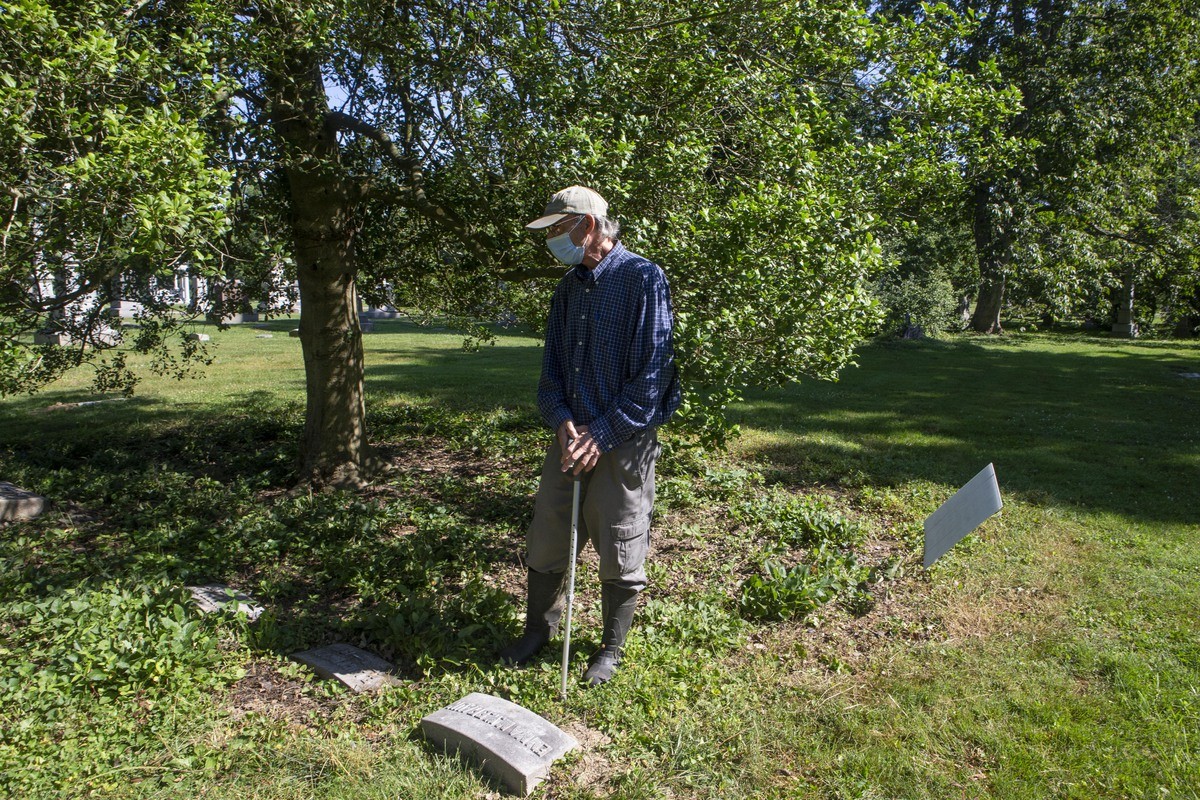 Spring Grove ended its practice of introducing nonnative ground cover on new cemetery plots, Gressley said.
"The evergreen ground cover signifies everlasting life, which was the intent when it was planted," he said.
Today, the cemetery experiments with native plants for that purpose, he said.
The tribute to Braun was overdue, he said.
"She was a pioneer. She gave definition to what today is known as the field botanist," he said. "Her work remains extremely influential. People have built on her work, but she provided the foundation."
Lucy could not be fooled about the many native plants, for her knowledge was encyclopedic.
Lucile Durrell, Ohio conservationist
Like Amur honeysuckle, nonnative and invasive ground covers such as English ivy and wintercreeper (Euonymus fortunei) have spread far beyond their intended garden plots into forests across the United States where they often outcompete native plants.

"Much of my career has been dedicated to controlling nonnative invasive plants and restoring native plants," Conover said.

For a second article also published in the September edition of Ecological Restoration, UC graduate Bridget Taylor, Conover and UC geography professor Richard Beck used satellite imagery to locate nonnative invasive Amur honeysuckle in several local natural wooded areas from space. The Landsat-8 satellite could measure the reflection of wavelength energy in the red and near infrared bands. The ratio of the two wavelengths can help scientists identify foliage of different plants from orbit.
UC found that the method was 82% accurate in detecting honeysuckle, according to the study.

Braun mentioned Amur honeysuckle, imported as an ornamental shrub from Asia, in her 1961 book "The Woody Plants of Ohio." At that time, the nonnative and invasive plant was just beginning to show up in Hamilton County. Today, it's the bane of foresters and backyard gardeners all over Ohio and other parts of Eastern North America.
Conover leads regular guided botany walks at the 733-acre wooded cemetery for the Audubon Society of Ohio and other groups. He has an expert's eye, pointing out hidden gems with practiced ease.
On a sunny morning, Conover walked a wooded cemetery trail with UC graduate and Spring Grove botanist Samantha Al-Bayer and Bob Bergstein, a board member of the Cincinnati Wild Flower Preservation Society that Braun co-founded in 1917. Its motto: "Enjoy: Do not destroy."
Conover, Al-Bayer and Bergstein are conducting a botanical survey in the hundreds of acres of undeveloped woods, wetlands and meadows at Spring Grove to identify the vast scope of its biodiversity.
Al-Bayer is preparing collected specimens from Spring Grove for the UC Herbarium, curated by UC biologist Eric Tepe. The variety of plant life was on full display during a short walk with Conover, who pointed out specimens along the shady trail: Sassafras, pawpaw, jewelweed.
"This is devil's walking stick," Conover said. Even its leaves have sharp spines.
"This is wood sorrel. The leaves taste like lemons," he said. "Over there is an American persimmon tree. Its bark is scaled like an alligator's skin. And here is heal-all, which is in the mint family."

Conover pointed to the delicate pale flowers of white snakeroot, the species of plant that killed Abraham Lincoln's mother.
"White snakeroot creates a toxin that gets concentrated in the milk of cows that eat it," Conover said. "People like Nancy Hanks Lincoln died of what they called 'milk sickness' (after drinking the tainted milk)."
Nonnative, invasive plants like kudzu, wintercreeper and English ivy often crowd out such stunning biodiversity, Bergstein said.
"In typical woods like these, you get lots of different species. But with nonnative invasives, you get one or a few species dominating the landscape. And it doesn't self-correct, so the sooner you act, the better," Bergstein said.
Braun (1889-1971) was a pioneer in so many ways. Author of 180 published articles and reference books, she was the first female president of the Ecological Society of America.
Her sister, Annette, in 1911 was the first woman to earn a doctoral degree at UC and became a renowned expert on moths. Lucy Braun followed, earning a master's degree in geology in 1912 and a doctorate in botany in 1914. The two sisters were daughters of academics who taught them to appreciate the natural world through the prism of science.
Her masterwork, "Deciduous Forests of Eastern North America," was hugely influential in the study of plant ecology, Conover said.
"Dr. Braun's work is one of the few textbooks that reads like a novel. It is a must for all lovers of forests," reviewer Ronald S. Jackson wrote on Amazon.

She inspired generations of students at UC to pursue science careers, including Margaret H. Fulford, namesake of UC's herbarium.
"Lucy could not be fooled about the many native plants, for her knowledge was encyclopedic," wrote former student Lucile Durrell in a 1981 memoir for the Ohio Biological Survey.
Upon their deaths, Durrell and her husband, Richard, a longtime UC geologist, left a bequest that helped expand and protect the Edge of Appalachia Nature Preserve that Braun so treasured.
The Braun sisters made regular road trips to Kentucky, exploring its woods and marshes from the Cumberland Gap to Daniel Boone National Forest, always careful to dodge moonshiner stills on their long field surveys.
But it wasn't enough for her to study the region's flora. She wanted to save it. She led the effort to preserve the biologically rich habitats of southern Ohio, now known as the Edge of Appalachia Nature Preserve. At the time of her death, she was fighting to protect Red River Gorge from a proposed federal dam. The conservation effort was successful.
Conover is working with UC's Tepe and Rick Gardner, chief botanist for Ohio's Department of Natural Resources, on a botanical survey in Greater Cincinnati which will be a follow-up to Braun's 1934 publication "The Lea Herbarium and the Flora of Cincinnati." 
Conover said he thinks it would be great if UC were to create and dedicate a native wildflower and butterfly/moth garden on UC's West Campus to the memory of the Braun sisters.
Braun didn't have to contend with as many nonnative, invasive plants as modern botanists do, Conover said. But she surely would have supported the effort to control them to restore natural areas.

"The only way to keep native plants is by controlling nonnative invasive plants. That can be quite labor intensive. But natural areas have to be managed or they'll be overrun by the likes of English ivy, wintercreeper and honeysuckle," Conover said.
Replacing nonnative, invasive plants with native ones is a fitting homage to a woman who devoted her life to promoting the state's rich natural heritage, Bergstein said.
"They found some justice for her," Bergstein said.
Featured image at top: UC biology professor Denis Conover examines the ground cover on E. Lucy Braun's grave. Photo/Joseph Fuqua II/UC Creative + Brand
Impact Lives Here
The University of Cincinnati is leading public urban universities into a new era of innovation and impact. Our faculty, staff and students are saving lives, changing outcomes and bending the future in our city's direction. Next Lives Here.

Stay up on all UC's COVID-19 stories, read more #UCtheGood content, or take a UC virtual visit and begin picturing yourself at an institution that inspires incredible stories.