UC designs home test for influenza
Study finds promise for testing saliva for flu or coronavirus
One challenge of coronavirus testing is the unpleasant nasal swab that patients say can feel like a poke to the brain.
University of Cincinnati researchers are working on new technology that can concentrate a sample of saliva to test for viruses at home without waiting for third-party lab results.
Amy Drexelius, a graduate student in UC's College of Engineering and Applied Science, designed new home testing kits in UC's Novel Device Lab and put them to the test to detect influenza A.
A virus from respiratory diseases like influenza is not as concentrated in saliva as in the nasal passages. So researchers have to concentrate a sample before testing it. Researchers found the device designed by UC was able to concentrate the saliva sample by 30 times with potential for 100 or more.
The study was published in the journal Biomicrofluidics.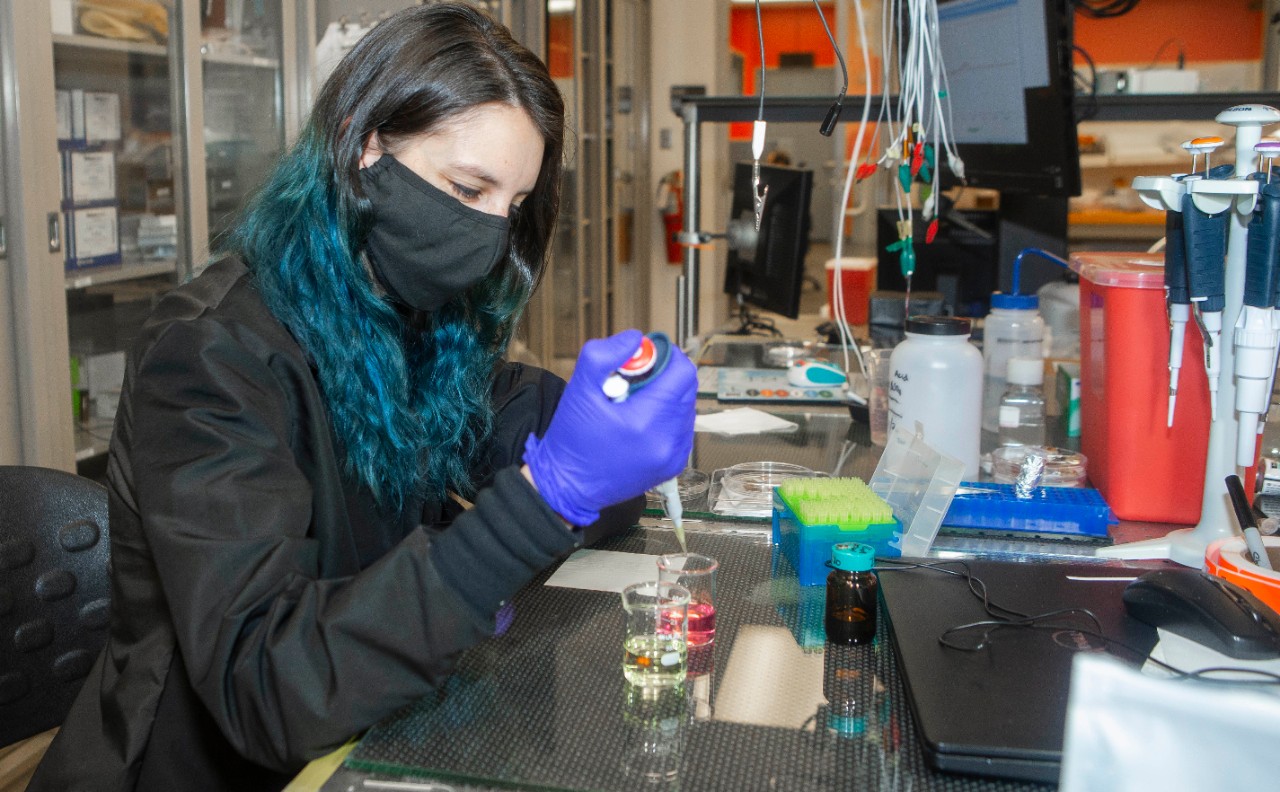 "Coronavirus has put a big spotlight on point-of-care diagnostics," Drexelius said. "We're trying to make preconcentration of the sample quicker and easier so testing is possible outside a lab."
People who are sick don't want to infect other people at a doctor's office or lab, she said. And home tests can be significantly cheaper than a lab or doctor's visit.
"People don't want to wait three days for test results. In the meantime, you can't go to work. You have to quarantine yourself," she said. "Having a quick, accurate home test is the goal."
While the UC study did not examine coronavirus specifically, it concluded the device would be effective at detecting coronavirus. Like the flu, COVID-19 is a respiratory disease in which the virus is present in saliva.
The study also examined the efficacy of using the UC device to concentrate a sample of urine to test for a pregnancy hormone. UC found that this sample, too, was concentrated effectively by at least 16 times.
One drawback researchers identified was the time required to concentrate a sample — 30 minutes in initial results — which is likely too slow for practical commercial use.
"If you don't have a device that works in minutes, no patient or doctor will buy it," Drexelius said.
Since the experiment, UC's team has developed the ability to concentrate samples in less than a minute. The study demonstrated the exciting potential for these new home testing kits, she said.
"One of our goals with this preconcentration technology was to take the diagnostics out of the lab and get them into the home," she said.
UC partnered with UES, Inc. and the Human Performance Wing of the Air Force Research Laboratory at Wright-Patterson Air Force Base.
Featured image at top: UC graduate student Amy Drexelius holds up two home tests for influenza. Photo/Joseph Fuqua II/UC Creative + Brand
Impact Lives Here
The University of Cincinnati is leading public urban universities into a new era of innovation and impact. Our faculty, staff and students are saving lives, changing outcomes and bending the future in our city's direction. Next Lives Here.

Stay up on all UC's COVID-19 stories, read more #UCtheGood content, or take a UC virtual visit and begin picturing yourself at an institution that inspires incredible stories.