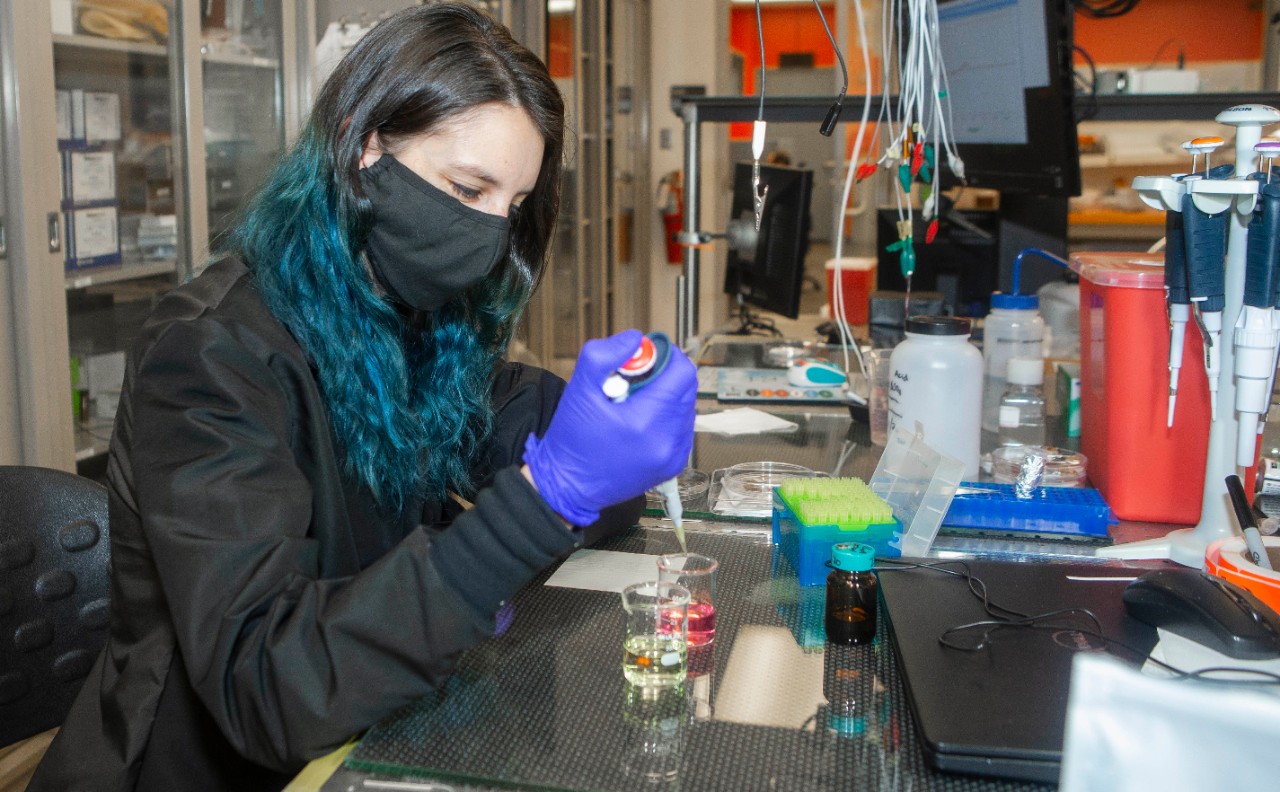 WLWT: UC researchers develop virus detection kits
UC student Amy Drexelius designed a saliva test to diagnose viruses
WLWT News 5 talked to University of Cincinnati student Amy Drexelius about her research to develop a home test that uses saliva to diagnose viruses like influenza and coronavirus.
Drexelius, a graduate student in UC's College of Engineering and Applied Science, developed a device that could make home testing for viruses quick and easy.
"The idea is you take a fluid sample at home or your doctor's office and test it right then and there and get results in minutes," she told WLWT.
"You can buy the device, test yourself at home and not have to worry about quarantining multiple days waiting for results," she said.
Drexelius also spoke to FOX19 about her work. She told FOX19 that saliva carries less virus than other biofluids so the sample must be concentrated before it is tested. Her work on influenza was fortuitous at the start of a global viral pandemic, she said.
"Once we figured out that coronavirus is a very similar virus to influenza, we were happy to figure out it would work for coronavirus as well," she told FOX19.
Drexelius studied mechanical engineering during her undergraduate studies. For her PhD, she joined UC professor Jason Heikenfeld's Novel Device Lab, where she began studying pre-concentration technology.
Featured image at top: UC student Amy Drexelius designs devices to diagnose disease, monitor health or improve fitness in UC's Novel Device Lab. Photo/Joseph Fuqua II/UC Creative + Brand
Impact Lives Here
The University of Cincinnati is leading public urban universities into a new era of innovation and impact. Our faculty, staff and students are saving lives, changing outcomes and bending the future in our city's direction. Next Lives Here.

Stay up on all UC's COVID-19 stories, read more #UCtheGood content, or take a UC virtual visit and begin picturing yourself at an institution that inspires incredible stories.
1
National media highlight newest U.S. World Heritage site
November 28, 2023
For nearly two decades, professor emeritus John Hancock helped lead a team of archaeologists, historians and Native American scholars, including staff at the National Park Service and Ohio History Connection, to have the Hopewell earthworks recognized on par with other World Heritage sites such as the Great Wall of China and Stonehenge.
3
WLWT: Black Friday rush replaced by online shopping
November 27, 2023
The long lines filled with shoppers looking to score Black Friday deals are a relic of the past, WLWT reported. Michael Jones, PhD, assistant professor of economics in the University of Cincinnati's Carl H. Lindner College of Business, said the one day of deals has been replaced by an entire season of sales.
Debug
Query for this