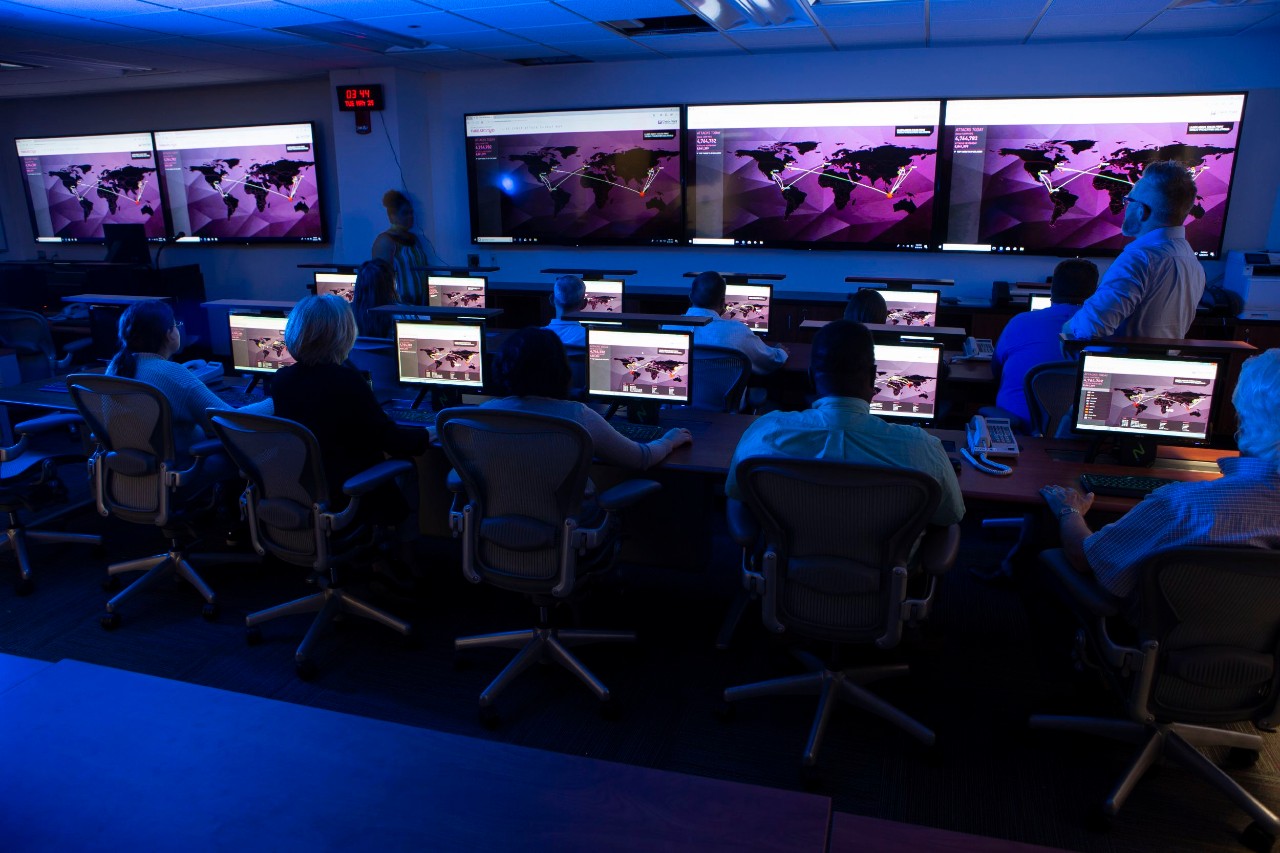 UC, Great Oaks partner to expand access to Early IT program
Partnership creates pathway for skilled nontraditional students to study IT and cybersecurity at UC
A traditional high school diploma just isn't for everyone, but pursuit of a four-year college degree can seem daunting for some students at high school alternatives. That's no longer true at Great Oaks Career Campuses, one of the largest career-technical school districts in the United States. 
Great Oaks, which has four campuses providing career training for more than 23,000 youth and 18,000 adults from 36 Ohio school districts, can now offer its students a direct pathway to bachelor's and master's degree programs at the University of Cincinnati. Officials with Great Oaks and UC recently announced that Great Oaks students are now welcome to take college-level classes in information technology and cybersecurity through the UC School of Information Technology's Early IT Program.
"We need to graduate work-ready leaders at every level, from high schools to community colleges, to universities and professional schools, and that's exactly what we're doing with our Early IT Program and our partnership with Great Oaks," UC Provost Kristi Nelson said during a virtual summit to announce the news Tuesday, Aug. 25. "Together, we are creating opportunities for current and future students, a pathway for them to learn, to grow, to innovate and to bravely push the limits of what is possible." 

The Early IT Program enables Great Oaks students who complete six college-level IT classes and three academic courses to earn automatic admission to UC as sophomore IT or cybersecurity majors, and are immediately eligible to pursue co-op placement.
"The students will transition seamlessly from Great Oaks to UC through the automatic, guaranteed admission program to be a second-year IT or cybersecurity student at UC," explained Hazem Said, director of UC SoIT. "And in the four years that follow, they'll complete their undergraduate degree, five semesters of paid co-op and one of five master's degrees if they so choose."
The partnership also expands access to the UC-based Ohio Cyber Range to Great Oaks students and faculty, providing them with software, virtual networks and resources to assist in the completion of the Early IT Program, as well as other IT-related programs offered through Great Oaks. 
"We see this as an opportunity for high school students to explore these different ideas and curriculum, and then be funneled into the IT program at UC," said Harry Snyder, Great Oaks president and CEO. "We're extremely excited about it. We're glad for the partnership." 
The partnership has personal significance for Snyder as well; he, his wife and his three adult children all claim UC as their alma mater, Snyder noted.
Great Oaks is the latest school system — and by far the largest — to partner with UC to offer its students access to the Early IT Program. More than 1,600 students at partner institutions across the state are already pursuing UC cybersecurity and IT degrees through the Early IT Program. By partnering with UC's SoIT, Great Oaks joins the company of 30 public and four private high schools offering its students the opportunity to take part in the Early IT Program. 
First established in 2017, the rapidly growing and innovative Early IT Program aligns with UC's strategic direction, Next Lives Here, and advances the mission of the Cincinnati Innovation District, established at UC by Gov. Mike DeWine in March 2020.
Featured Image: Andrew Higley/Creative+Brand
Early IT Program
The Early IT Program is an innovative partnership that challenges the status quo for college access and affordability while significantly increasing the quantity, quality, and diversity of IT talent. The program is centered around key innovative concepts that significantly reduce the total cost of a bachelor's degree while improving the level of job readiness for its graduates. 
1
Public gardens contribute to invasives problem
December 1, 2023
University of Cincinnati botanists found that plants at arboretums and public gardens inadvertently can seed wild areas with nonnative plants. Their study was published in the journal Ecological Restoration.
2
Clean Earth Rovers cofounders named to Forbes 30 Under 30 list
November 30, 2023
A pair of graduates of the University of Cincinnati's Venture Lab program were recognized as being among the top entrepreneurs in North America as part of the 2024 Forbes 30 Under 30 list. Clean Earth Rovers cofounders Michael Arens and David Constantine were named to the 13th annual Forbes 30 Under 30 list in the energy category.
3
CNN Business: Best Buy's simple strategy for beating shoplifting
November 30, 2023
The Best Buy approach to thwart shoplifting is to increase staffing. It's a move that UC criminologist John Eck says, in a CNN Business article, that makes perfect sense. It's also a different approach at a time when most retailers are reducing staff.
Debug
Query for this