UC Pharmacy Class of 2022 More Diverse Than Ever
Efforts to change the population dynamic at UC's College of Pharmacy apparent in 2018 admissions
In keeping with the University of Cincinnati's overall Diversity Plan, the James L. Winkle College of Pharmacy is reporting an increase in minority admissions for 2018.
According to the pharmacy college admissions office, of the 96 students accepted into incoming Doctor of Pharmacy (PharmD) class of 2022, over one-third of the class (36 students) reported a race/ethnicity other than white.
"Faculty, students, staff and alumni work hard using a holistic approach to making decisions for admissions to the PharmD program. The class of 2022 is reflective of the community of patients they will provide care to in the future," says Andrea Wall, RPh, associate dean for student and alumni affairs and associate professor of pharmacy practice at the college.
Over the past five years, minority enrollment has increased to 24.8 percent in 2017, up from 15.4 percent in 2012 (per UC's Office of Institutional Research).
"Increasing the diversity of our student body is a goal contained in our college's strategic plan, and we are pleased with the progress we've made over the past five years," says Neil MacKinnon, PhD, dean of the Winkle College of Pharmacy.
That process of increasing diversity at the college began in 2003, when the college established a Diversity Council made up of faculty, staff, students and representatives from retail and industry.
MacKinnon created a new position at the college, the Director of Equity and Inclusion, currently held by Pat Achoe, RPh, who worked for Kroger for 28 years in clinical pharmacy and pharmacy management. The position is co-funded by Kroger, where Achoe spends part of her time on diversity training and recruitment.
"Our intent at the college," says, Achoe, "is to develop a culture of inclusion by embracing the differences in our thoughts and ideas and by encouraging collaboration and active involvement with everyone."
Also notable, MacKinnon says, is that the number of African-American students pursuing certificates and degrees in the college's cosmetic sciences programs, to date, represents approximately 25 percent of 114 total enrollments.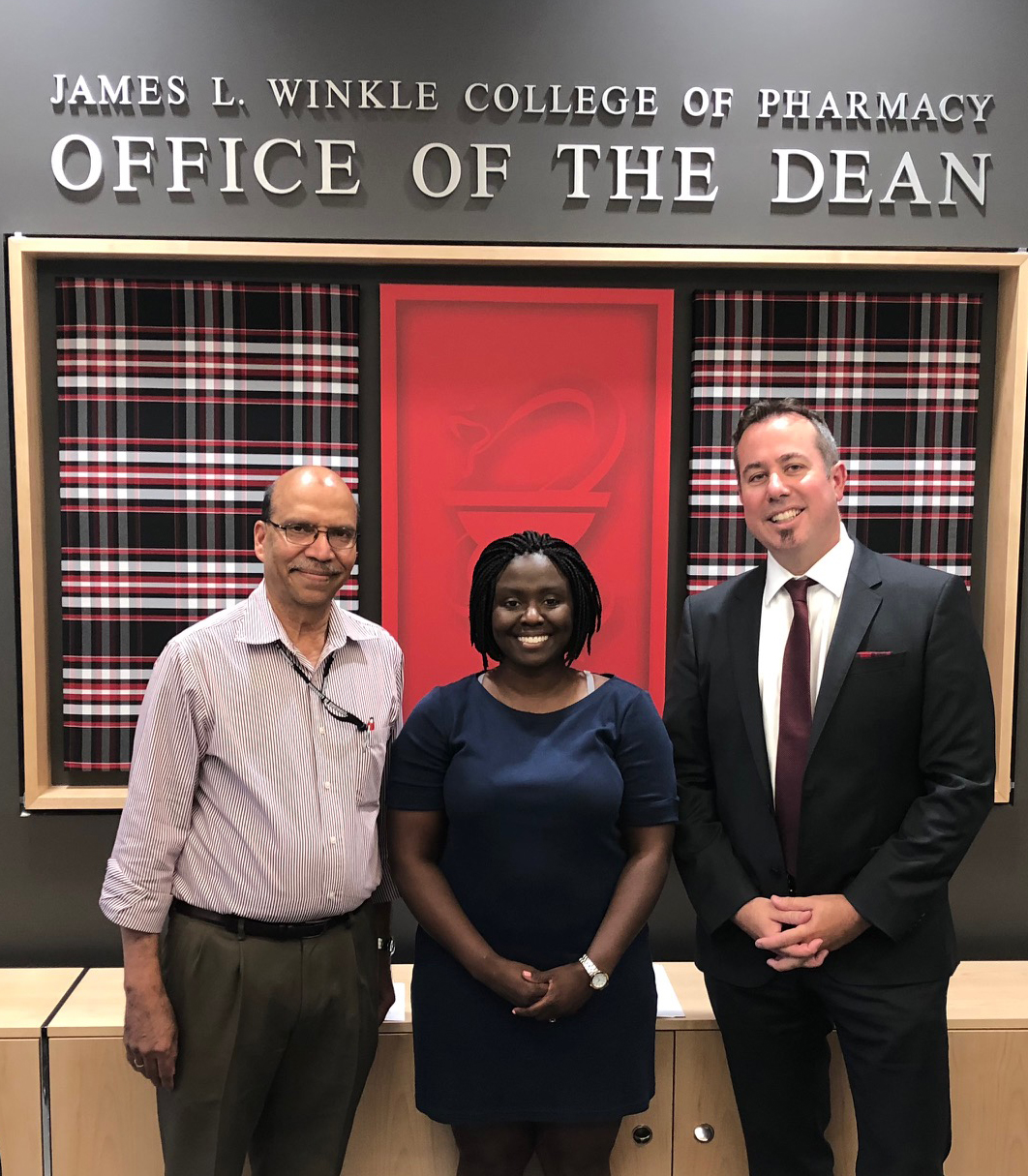 "A lot more women and men of color are seeing there is a strong need for diversity in the pharmacy professions and pharmaceutical industry," says Eunice Cofie-Obeng, who is African-American, and graduated with her master's degree in cosmetic sciences in August 2018.
Cofie-Obeng earned her bachelor's degree in chemistry and molecular biology at Florida A&M ('04) and says she chose UC's online graduate program because not only did she feel it was one of the strongest curriculums in cosmetic sciences, but that it also provided a strong foundation in the ethnic health and beauty market.

This foundation, Cofie-Obeng says, allowed her to create a skin care startup called Nuekie, which makes products for people of color.
"The college is very intentional about recruitment efforts to increase the number of underrepresented and first-generation pharmacy students. Our goal is to increase educational opportunities for diverse students so that our graduating classes reflect the populations that we serve in all communities," says Achoe.
More back to school coverage
1
Here's what's next as UC heads back to school
August 21, 2018
As the University of Cincinnati returns for the 2018-19 academic year, it is getting ready for a major milestone, implementing a new strategic direction and opening brand new buildings
3
UC housing more popular than ever
August 20, 2018
Living on the University of Cincinnati campus has never been more popular — and with a brand-new residence hall and special learning-living communities, emerging housing options are giving students even more reasons to call UC home.
Query for this