UC hosts science day at field center
Partnering with UC's College of Arts and Sciences, the UC Alumni Association organizes interactive walks and presentations to families.
By John(na) Jackson
The University of Cincinnati Alumni Association held its third-annual Science Day on Aug. 18 at the UC Center for Field Studies. Located at the edge of the Miami Whitewater Forest, the center played host to 150 people who enjoyed ecology themed activities and a catered lunch.
Organized to be a family-friendly event, Science Day invites UC alumni and community members to share their scientific interests with others while raising awareness about the research taking place at the field station. Activities included nature walks with UC professors, mini-lectures and interactive exhibits for children.
Joshua Benoit, an assistant professor with a focus on entomology, led participants on bug walks to discover the biodiversity of insects readily found in the prairie landscape at the field center. Benoit taught his groups about the different kinds of nets used to capture critters ranging from butterflies to frogs. Then, groups explored the edges of the prairie and nearby creek, practicing the signature swings that scoop up the bugs Benoit presented in his introduction.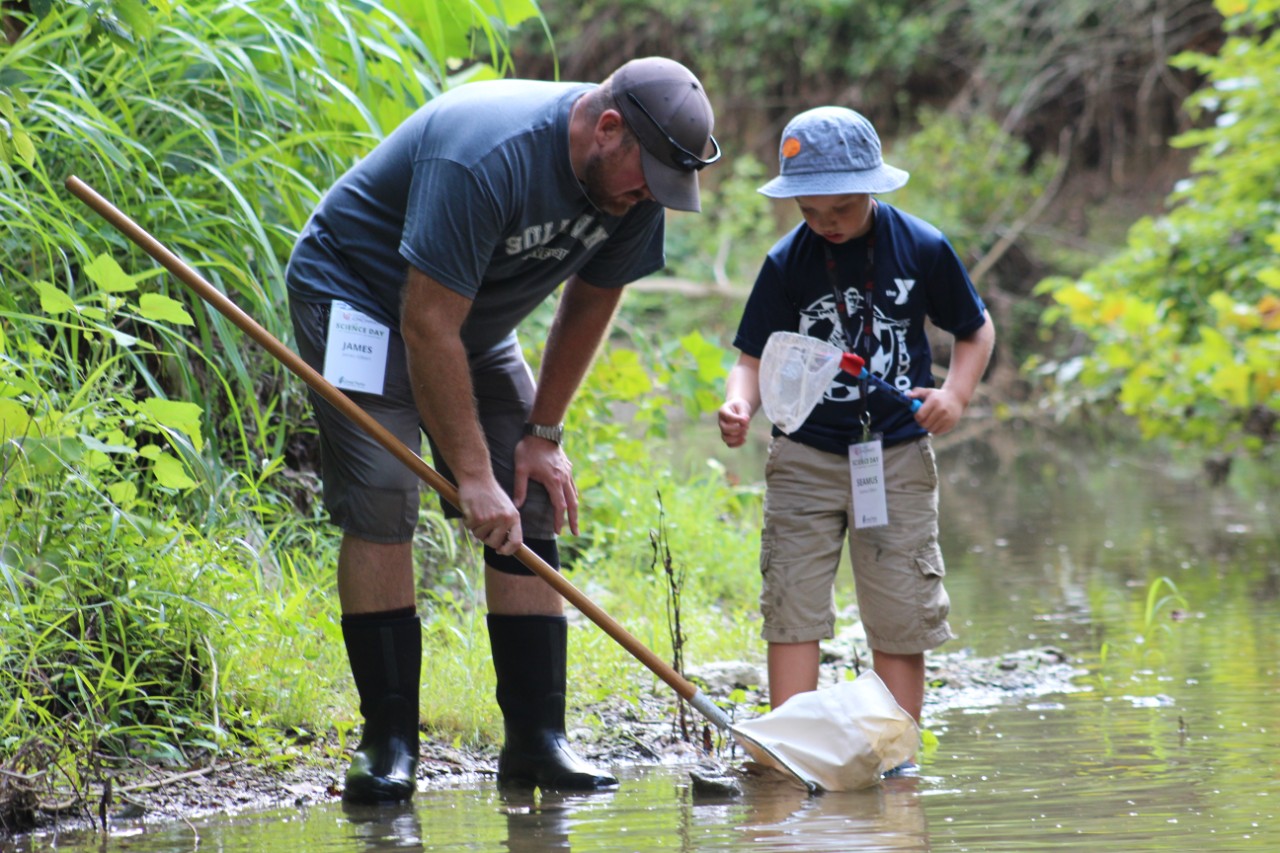 College of Arts and Sciences biologist and researcher Denis Conover led groups on tours demonstrating his vast knowledge of all things that grow from the ground. Participants were given the chance to touch and smell a wide variety of flora, while learning the ways they all interact to create both the forest and prairie ecosystems present at the center.
Mike Miller, a professor emeritus in biology, led creek walks that taught participants about local aquatic biology and creek soil and nutrients in the Miami Whitewater Forest. Children in rain boots waded around the creek sifting water through sieves to find fossils and creek creatures.
Other faculty, students and alumni presented short lectures on their research related to the work of the field center. Topics included beekeeping, water resource recovery, recycling, and a historical look at the weather patterns of ancient Cincinnati that left the area with high concentrations of fossilized ocean life.
Science Day is a collaboration of the College of Arts and Sciences, the College of Engineering and Applied Science, the College of Design, Architecture, Art and Planning, and the Lindner College of Business with support from Great Parks of Hamilton County, which sponsored children's presentations about animals and erosion. Miami Whitewater Forest is part of the Great Parks of Hamilton County.
Interested in giving back to UC? Please contact Juliana Saneholtz, Associate Director of Alumni Relations for the College of Arts and Sciences: juliana.saneholtz@uc.edu.
1
Examining medication hesitancy to treat childhood anxiety...
December 5, 2022
University of Cincinnati researchers have published a new study examining factors behind the decision to begin or decline medication treatment for childhood anxiety disorders after cognitive behavioral therapy did not lead to improvement.
2
UC students plan documentary in Eastern Europe during the war 
December 2, 2022
As global media descends on Eastern Europe to cover Russia's war in Ukraine, two University of Cincinnati students are planning to cover the region from a different angle. Hunter Shallcross and Tanmay Srivastava, both digital media collaborative majors in the College of Arts and Sciences, have planned a trip to multiple European countries to film their own documentary, titled "The Edge of Chaos." The trip is scheduled for May of 2023.  The pair became friends through their passion for film, and soon started partnering on projects. Last February, Shallcross and Srivastava became interested in the way culture and art are changing in countries on the edge of Europe due to the war, and decided to develop the idea into a documentary. "Everybody is flocking to Eastern Europe to document what is going on. We want it to show the artistic side," says Shallcross. "The shots, the camera angles, and the narrative we want to tell about relationships and personal issues that go beyond war."  They began pitching their documentary idea to various professors and making any connections they could to bring their idea to life. Last May, they even attended the Cannes Film Festival, to get some first-hand film experience, while networking with people there. 
3
CCM Dance Works presents classical ballet and modern dance Dec....
Event: December 1, 2022 8:00 PM
UC College-Conservatory of Music presents Dance Works, featuring a variety of styles to showcase the school's many talented ballet majors, on Dec. 1-4 in Patricia Corbett Theater. More than 43 students come together to perform four different pieces excerpts from Gazunov's Raymonda, Tchaikovsky's "Waltz of the Flowers" from The Nutcracker, and two premieres choreographed by CCM faculty artists — Who We Are and Mozart Mix.
Debug
Query for this