UC College of Medicine hosts graduate student research forum
The College of Medicine's Office of Graduate Education hosted its 39th annual Graduate Student Research Forum on Thursday, Oct. 25, 2018. The forum brought students from across the range of graduate research programs in the College of Medicine to participate in poster presentations.
The event drew 90 poster presentations, while more than 100 faculty, postdoctoral fellows and staff participated in the judging of the presentations.
Each graduate student poster was judged by two judges based on scientific research and one lay judge, who determined which students were best able to communicate the nature of their work in non-scientific language. Scores from the scientific judges were combined to determine the top research presenters while lay judge scores were tabulated to determine which poster received "Lay Judge Distinction."
First place honors went to Seth Reighard, immunology; while second place went to M. Jordan Althoff, cancer and cell biology. Third place awards went to Kara Wolfe, cancer and cell biology; Loryn Holokai, molecular genetics, biochemistry and microbiology; and Theodore Ruwe, systems biology and physiology.
Six honorable mentions were presented to Kobina Essandoh, molecular, cellular and biochemical pharmacology; Melanie McKell, immunology; Hannah Russell, pathobiology and molecular medicine; Ayad Ali, immunology; Jiuzhou Huo, molecular, cellular and biochemical pharmacology; and Ellen Kolb, molecular genetics, biochemistry and microbiology.
Lay Judge Distinctions was awarded to Loryn Holokai, molecular genetics, biochemistry and microbiology; Bidisha Pal, cancer and cell biology; and Benjamin Weinhaus, immunology.
The Graduate Student Research Forum also included a keynote address from Joseph Hyser, PhD, Baylor College of Medicine, who presented "The Use and Abuse of Long-Distance Signaling During Viral Diarrhea."
Laura Conforti, PhD, professor in the Division of Nephrology Kidney CARE program, was presented the Richard Akeson Excellence in Teaching Award, an annual honor bestowed by the Health Sciences Graduate Association.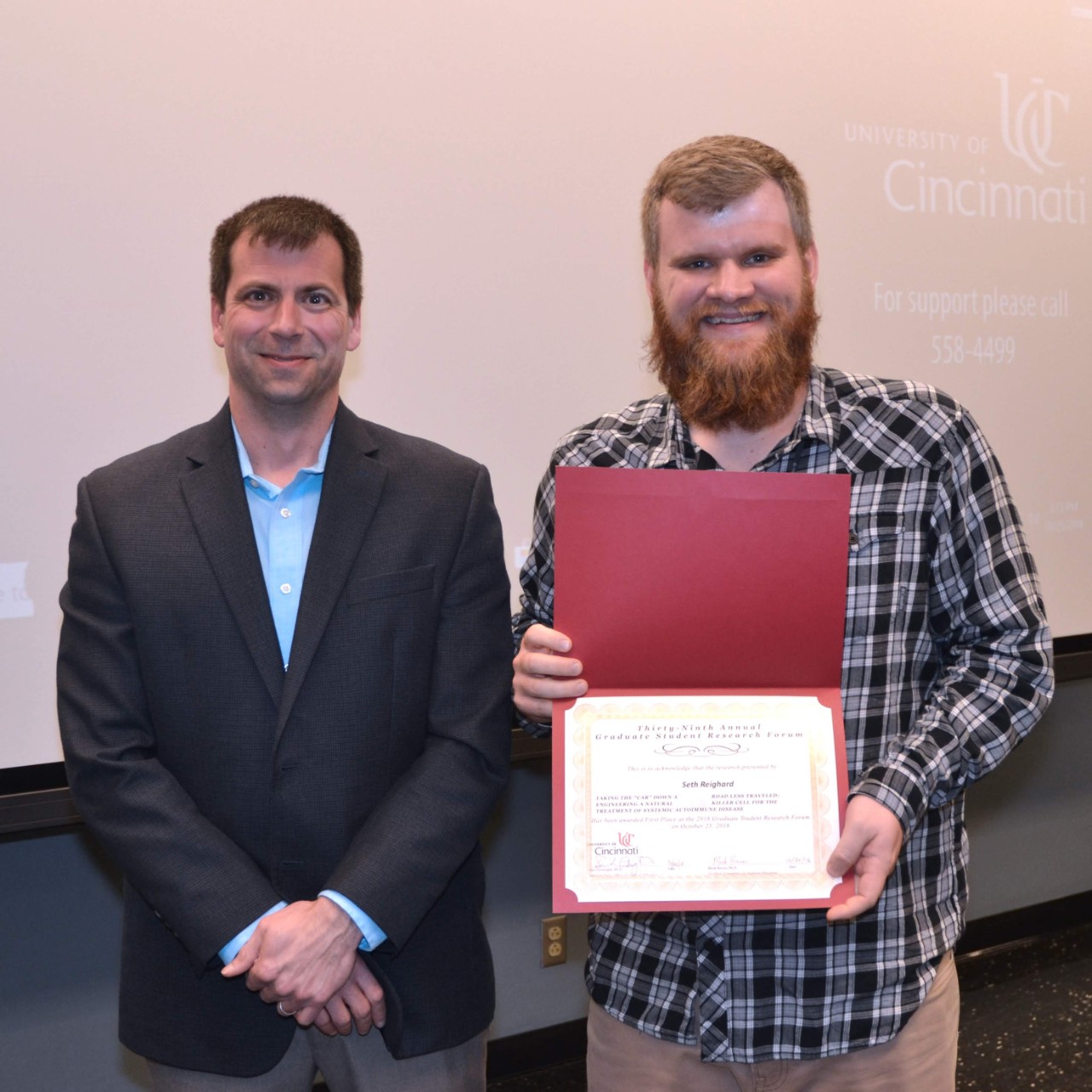 All photos are courtesy of Robert Brackenbury, PhD.

1
Forbes: Parents of color more hesitant to choose medication to...
December 6, 2022
Forbes highlighted research from the University of Cincinnati's Jeffrey Mills and Jeffrey Strawn examining factors behind the decision to begin or decline medication treatment for childhood anxiety disorders after cognitive behavioral therapy did not lead to improvement.
2
Cincinnati.com: Flu is raging. What would you do, doc?
December 6, 2022
Hospital emergency departments in the Cincinnati-area are seeing a surge in patients who have flu symptoms and complications, pushing hospitals be near or at capacity, partially because flu is raging in the region. Hospitalizations for flu locally rose 107% last week. Cincinnati.com asked several local healthcare experts about what people should do as flu cases surge. One of those was Jennifer Forrester, MD, of the Division of Infectious Diseases in the Department of Internal Medicine at the UC College of Medicine.
Debug
Query for this