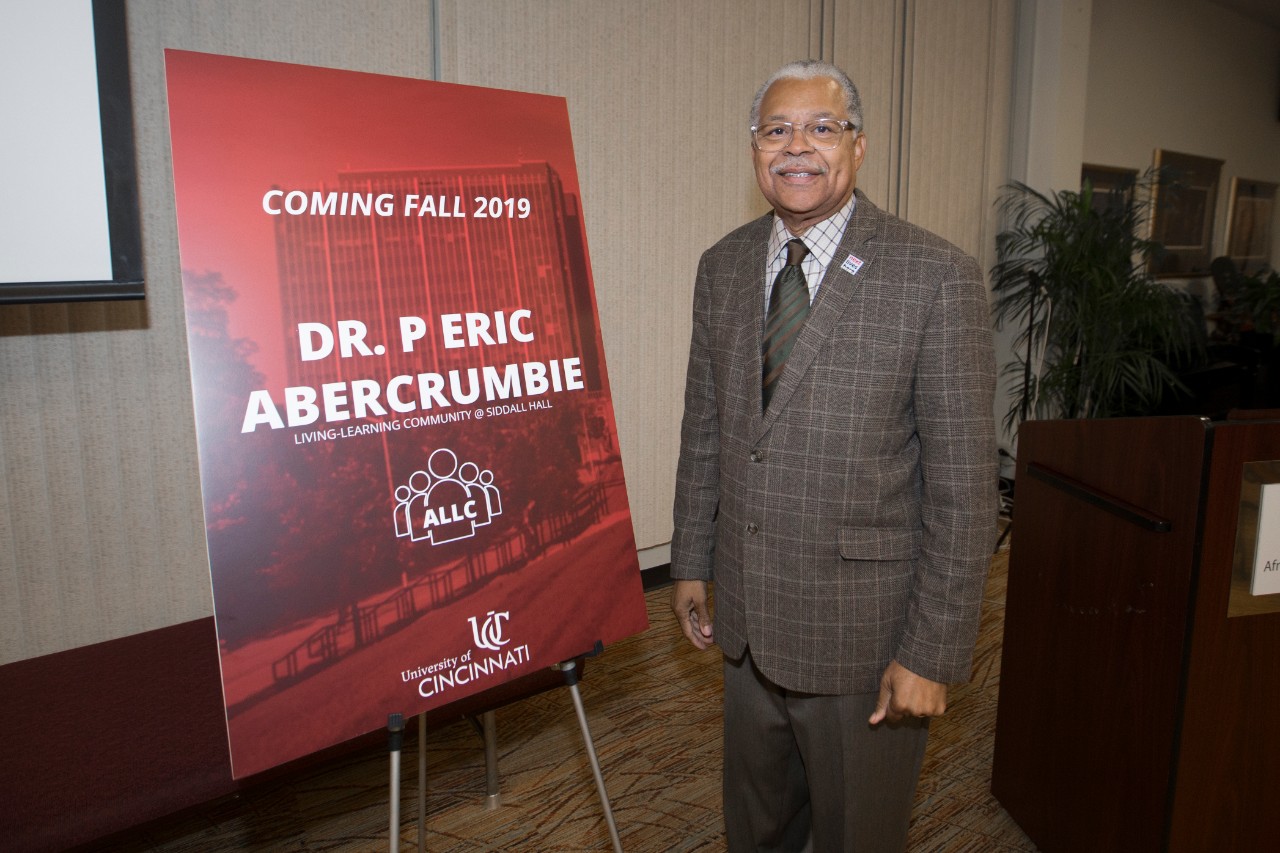 UC's newest living learning community honors long-time advocate for students, social justice
Housing community recognizes legacy and impact of Dr. P. Eric Abercrumbie
The University of Cincinnati's newest living learning community, the Dr. P. Eric Abercrumbie Living Learning Community (ALLC), was formally announced Thursday at a dedication ceremony held at the African American Cultural & Resource Center.
The residence-based learning community will be supported by UC's Ethnic Programs & Services (EPS), the African American Cultural & Resource Center (AACRC), Resident Education & Development, and Housing & Food Services.
Opening in fall 2019, the ALLC will be located in Siddall Hall and host approximately 80 first-year students who have been accepted into the Darwin T. Turner Scholars Program and/or the Transitions Program. Participants will live in an environment that fosters personal and social identity development, leadership engagement, and academic success.
Abercrumbie, affectionately known by students and staff as "Doc," joined UC in 1972 and will retire in May 2019. Over his 47-year career at the university, he has had a tremendous impact on students and staff, serving as an educator and mentor.
Abercrumbie was recently appointed special assistant to UC President Neville Pinto. He has served as the executive director of special initiatives and community relations in the Division of Student Affairs, the director of the Office of Minority Programs and Services (now EPS), and an adjunct assistant professor in the Department of Africana Studies in the McMicken College of Arts and Sciences.
In the 1980s, he was central to establishing the AACRC at UC and served as the inaugural director from 1991-2013.
"EPS and the AACRC are excited to pay homage to Doc in this impactful way," said Ewaniki Moore-Hawkins, AACRC director. "Dr. Abercrumbie laid a strong foundation in both offices and has always stressed that we should keep students at the center of what we do and it is our hope that students for generations to come will understand and benefit from Doc's legacy."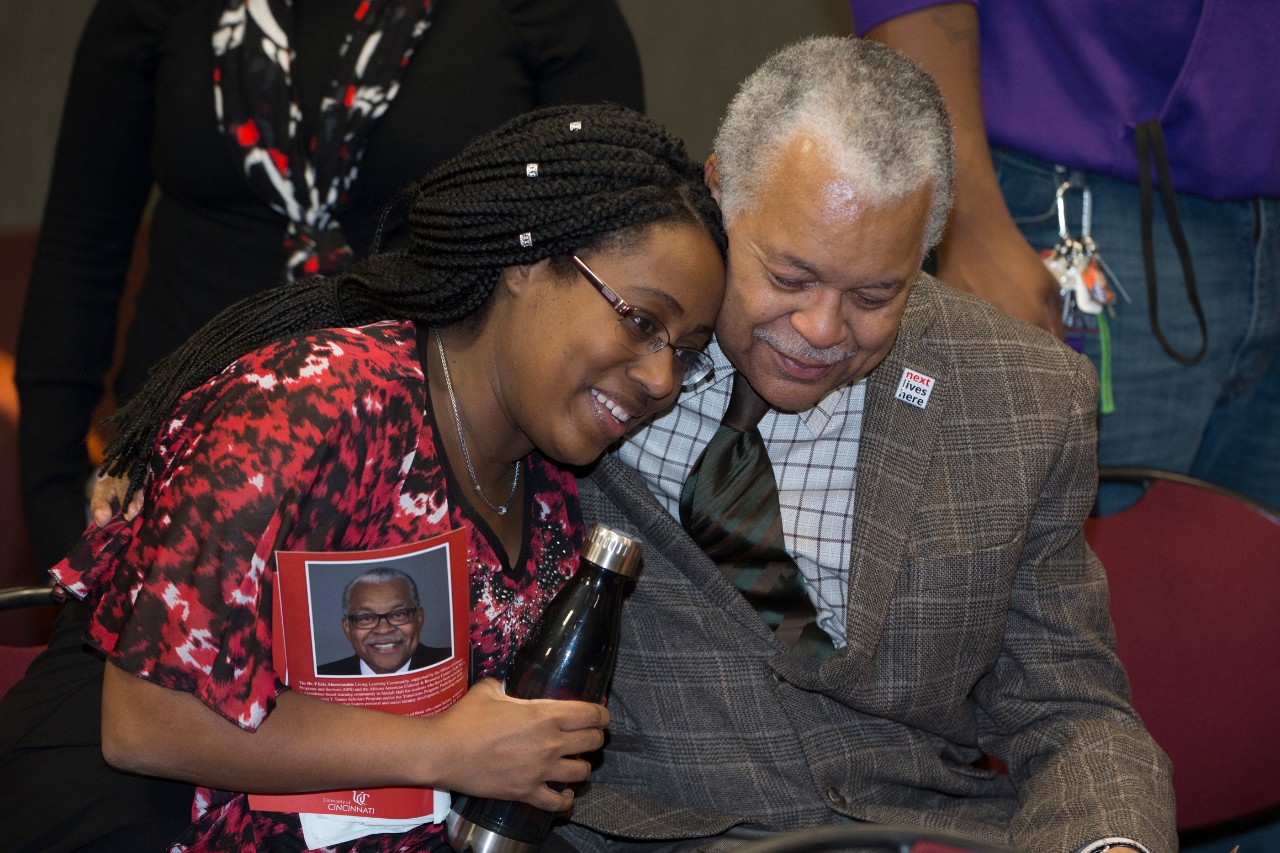 The community honors Dr. Abercrumbie's impact and history while also providing students the opportunity to create their own path towards leaving their mark at UC and in the larger community.
Students will participate in a variety of service learning projects and engage in dialogues and reflections that facilitate a sense of pride in one's racial and ethnic identity as well as one's other intersecting identities.
EPS Director Brandi Elliott said, "[Doc's] name will provide students with opportunities to know what it means to be social justice advocates, to provide voices for the voiceless, and to be that ear when students need it."
By selecting the "Dr. P. Eric Abercrumbie Living Learning Community" on the housing application, students will agree to commit to the values of equity, diversity, and inclusion.

Abercrumbie said he was touched by the surprise announcement Thursday.
"It means everything to me to know that the staff - and especially the students - appreciate my 46 years of service," he said. "I listened to my grandmother growing up singing an old Black gospel song 'If I can help somebody as I pass along / If I can cheer somebody with a word or song / Then my living shall not be in vain,' so today helps me understand that my life has been meaningful."

1
Clifton Court Hall grand opening garners detailed media coverage
September 20, 2023
The University of Cincinnati celebrated the opening of Clifton Court Hall on Tuesday, Sept. 19, with a ribbon cutting, attended by approximately 200 administrators, faculty, staff and students. The event was covered by multiple media outlets.
2
With UC, you see the world
September 19, 2023
Study abroad is back to 75% of pre-COVID levels at the University of Cincinnati, and a wide variety of international study options is available to students in any program. Where do you see yourself in the world?
3
Do you understand cryptoeconomics?
September 19, 2023
Financial literacy is imperative to improving financial decision making and increasing financial empowerment, University of Cincinnati researchers said, and they've developed a scale specifically to measure literacy in the cryptoeconomics sector.
Debug
Query for this