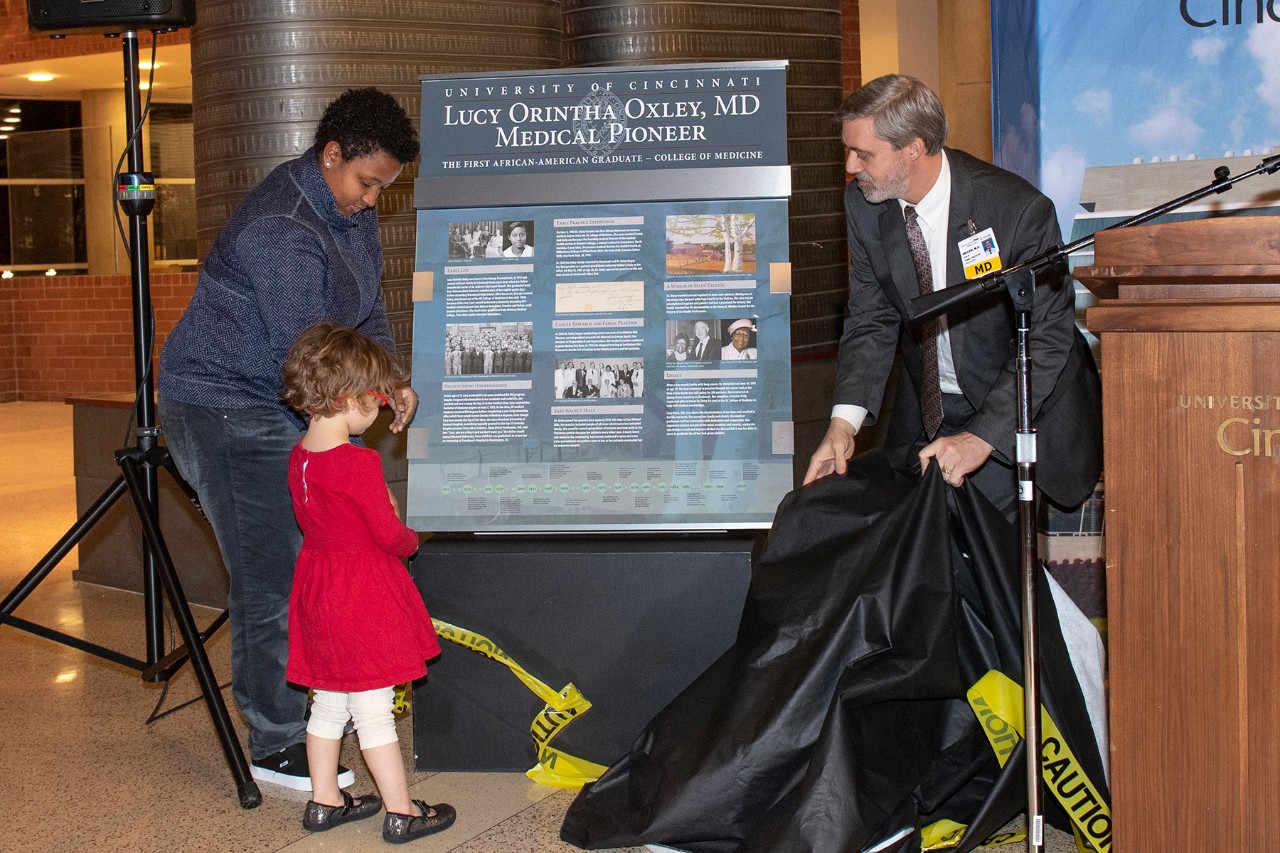 Lucy Oxley MD: 'A pioneer and servant leader'
Sixty-nine medical students marched across the Music Hall stage on Friday evening, June 5, 1936, during part of the University of Cincinnati's 58th commencement exercises. Alfred Friedlander, MD, dean of the UC College of Medicine, handed each student a diploma recognizing their Doctor of Medicine degree. Each had performed the required four years of coursework and then completed a hospital internship during the 1935-36 academic year. Each was a white male.
Except for one.
Lucy Orintha Oxley was the lone woman in the graduating class. She also was she the only African-American clutching a fresh diploma, the first person of color to ever to receive a medical degree from the College of Medicine. Since the medical school's first commencement on April 4, 1821, more than 5,600 medical degrees were handed out at 116 graduation exercises. Lucy was the first of her race to become a graduate of the UC College of Medicine.
On Nov. 13, 2018, the college again recognized Oxley and her pioneering efforts with the unveiling of a commemorative panel to be installed in the main hallway of the Medical Sciences Building and in the Robert Smith Family Medicine Conference Room. The panel, which offers highlights of her life and medical career, was championed by Philip Diller, MD, PhD, senior associate dean for educational affairs. Diller, who until August was the chair of Family and Community Medicine, also is chair of the advisory board of the Winkler Center for the History of the Health Professions. It was designed by Lucy Cossentino with UC's planning, design and construction office.
"Her life story is inspiring. Overcoming and rising above discrimination, excelling in all that she did and being recognized by her specialty," Diller said. "The initial plan was to place a memorial plaque in Family Medicine's Smith Conference Room, but as we were preparing that, we realized the panel needed to be placed in a more visible location in the College of Medicine because of her inspiring story." 
Oxley was not only a pioneer for her race but also for her medical specialty. She was one of the "general practitioners" in Cincinnati in the 1940s who helped found the practice of family medicine. In 1946, she was one of the cofounders of the Cincinnati Society of General Physicians, the forerunner of the current Southwestern Ohio Society of General Physicians. Three years later she helped form the Ohio Academy of General Practice.
"While Dr. Lucy Oxley was indeed a courageous student of medicine and a hero of medicine in Cincinnati as well as a wonderful doctor and deeply dedicated to her patients, she was so much more. Dr. Lucy Oxley was a Renaissance woman with so many talents in areas of knowledge, but frankly, she was our Grandma Lucy," Janis Smith-Gomez, one of Oxley's four granddaughters, said at the unveiling.
"She was intellectually curious, she was a lifelong learner. Always reading and training and raising her level of knowledge and expertise," she added speaking for two of her sisters and other Oxley family members present for the event.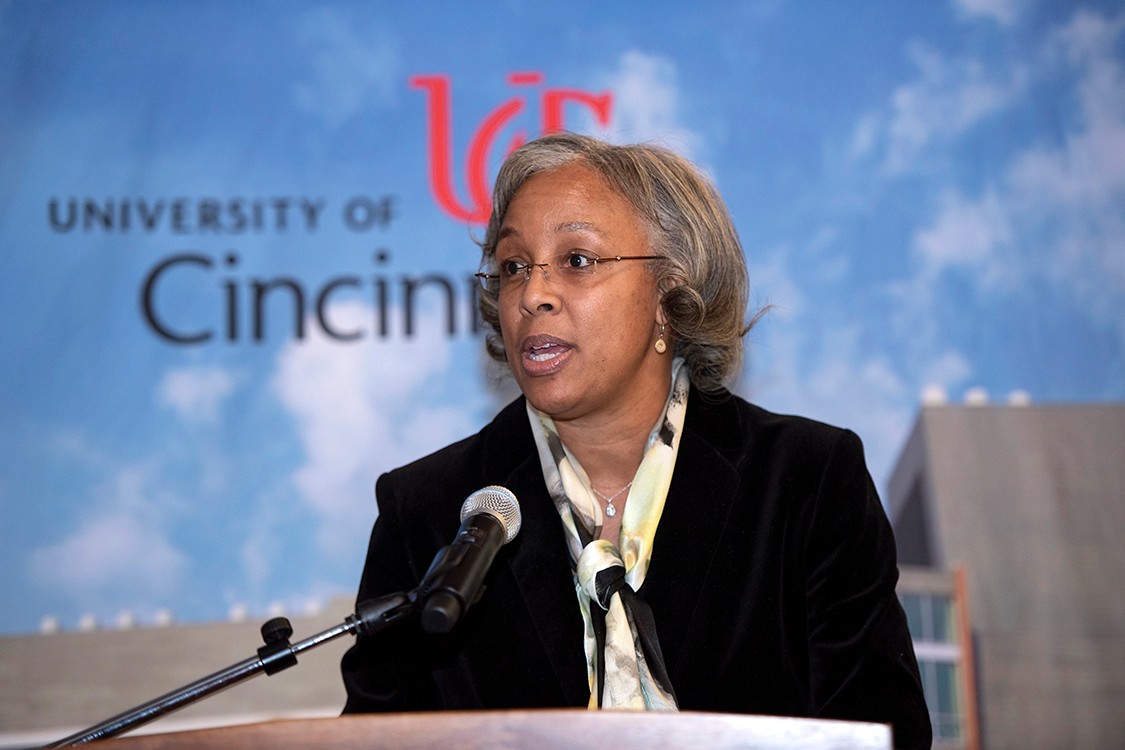 Gomez-Smith described her grandmother as an accomplished musician who played piano and organ and who also was a choral singer. "She was an artist who loved landscapes but also was quite technical and paid particular attention to detail," she added. "Grandma Lucy was an avid gardener with a green thumb for all plants. She was always well dressed, quite sophisticated, always with a hat. She was well mannered, respectfully honest and forthright, yet sometimes stern with a smile."
"Grandma Lucy was a pioneer and a servant leader committed to the community. She was passionate about her patients and their families. She hosted fabulous holiday parties for all to celebrate and she took enormous pride in all she brought into this world. Grandma Lucy was also a mentor especially to people of color in medicine who came after her. She always reached back and grabbed a young hand to lead up the ladder of success," Smith-Gomez said.
Oxley was born in Harrisburg, Pennsylvania, in 1912. Three years later she moved to Cincinnati when her father, the Harvard-trained Rev. Edmund Oxley, was named rector of St. Andrew's Episcopal Church. She would graduate from Woodward High School at age 16 and enroll in UC's six-year undergraduate and medical program. Oxley said the decision to become a doctor "was chosen for me. I was a doctor from the day I was born. I had a lot of doctors in my family." And it was due to a family member that she wanted to go to the UC College of Medicine.
Rev. Oxley brought his brother, George Leonard Oxley, to Cincinnati and helped him enroll in UC in 1919. He completed two years of undergraduate work before starting his first year of medical school in the College of Medicine in the fall of 1921, making him the first African-American medical student in the school's history. However, before long, he was having trouble with one of his professors because of his race, Lucy Oxley would recall. He eventually left the school during that academic year, but went on to receive his medical degree from Meharry Medical College in Nashville.
"Uncle Leonard went in to question a paper on histology. Dr. (Henry) Knower was his name, he was professor of anatomy, and he cursed my uncle out. He flunked him," Lucy said. "That thing really rocked me. I didn't say a word to anybody, but I was determined to go to medical college. I was 10 years old. And when I was 18, I was going to med school."
Two other uncles also were role models for her. Leonard's brother, James Oxley, MD, received his medical degree from the University of Edinburgh, and the brothers practiced together for years in Harrisburg. Another uncle, Ralph Young, MD, was a graduate of Howard Medical College in Washington, DC, and was the first African-American staff physician at Johns Hopkins Hospital in Baltimore.
Being an Oxley and being "the first" was a common occurrence.
In a 1980 interview, Oxley recalled facing discrimination throughout her adult life including while in medical school. She particularly remembered how she was not permitted to intern at General Hospital, now the UC Medical Center, because of her color. At the time the top 15 students in the College of Medicine class received internships at General Hospital. Despite being among the top 15 students she was refused a spot. When she was interviewing for the internship, Dr. Friedlander told her "Lucy, you are a Negro and we don't want you." "I took a deep breath and I said, 'Well Dr. Friedlander, I wouldn't change that for anything,'" Oxley said. "That was hitting below the belt because I really, really worked so hard because I wanted to intern here."
Oxley later said she did not see people as black or white. "I don't recognize prejudice," she said. "There's no such thing because to me it's bias, it's hatred, it's the devil himself. There's no such thing as race. I don't think in terms of just black. Frankly, I think of people, humanity."
After receiving her Bachelor of Medicine degree in 1935 – UC medical students during that era received their bachelor degree after four years of study and then their medical degree following a yearlong internship – Oxley went to Freedmen's Hospital in Washington, DC, and completed her internship during the 1935-1936 academic year. She joined her classmates back in Cincinnati in June 1936 to receive her medical degree. She also earned a Bachelor of Science degree at UC in 1933.
The Cincinnati Enquirer headlined a June 9, 1935 story about Oxley "Negro Girl is First." "Last night she was inducted into the Alumnal Association of the College of Medicine. She is an active member of the Zeta Chapter of Delta Sigma Theta Sorority and a member of the National Association of College Women's Club," the article noted. The next year, The Pittsburgh Courier, one of the leading black newspapers of the day, wrote about her in a June 15, 1936 article: "It is her hope that with her adequate equipment of mind and heart she may be of large usefulness to her race and community. There are many of Cincinnati's finest citizens for whom Miss Oxley has the deepest respect and appreciation because of their active sympathy and co-operation as she strove towards the attainment of her goal."
Immediately after college, Oxley served as the medical director for student health at two historically black colleges: Bennett College in Greensboro, North Carolina, and Wilberforce College in Wilberforce, Ohio. She returned to Cincinnati in 1940 with her infant daughter, Francine, who would later marry John Smith, MD, UC College of Medicine Class of 1964. Oxley opened her practice initially using her father's home study as her office. A year later she started seeing patients in an office in Cincinnati's West End. She would continue her general practice when she started working in 1945 as a cancer researcher at Cincinnati's Institutum Divi Thomae, an independent research laboratory led by George Sperti. Sperti was a fellow UC graduate who gained international fame for his discoveries that included the Spertti ultraviolet lamp, the technique for freeze-drying orange juice concentrate, Preparation H and Aspercreme.
Oxley returned to full-time practice in 1952 and later that decade moved her office to East Walnut Hills where she became a fixture and role model in the community. She treated patients of all races and delivered thousands of babies. She continued with her Family Medicine leadership serving as president of the Southwestern Society of General Physicians from 1979 until 1981. She became the first woman and African-American to receive the Physician of the Year award from the Ohio Academy of Family Physicians in 1984. Each of the next two years she would be runner-up to the Family Physician of the Year in the United States.
Oxley died of lung cancer in 1991. Throughout her illness, she continued to care for her patients. A scholarship fund was established by her family when she died. In 2008, Kenneth Davis Jr., MD, UC professor of surgery, and his wife, Johnie, established the Lucy Oxley African-American Medical Student Scholarship at the UC College of Medicine to honor her legacy and provide funding for minority medical students. Oxley had been a patient of Davis for a brief time before her death.
"I sat on the admissions committee for the College of Medicine for most of the 34 years I've been on the faculty here," Davis told a large crowd gathered in the CARE/Crawley Auditorium for the Oxley panel unveiling. "One of the problems that frustrated me was that we would accept African-American medical students and then lose two thirds of them to other schools simply because we didn't have financial aid. After hearing me complain, my wife said, 'Why don't you start a scholarship?' From there, Dr. Oxley's name seemed a natural since she was the first African American to graduate from the College of Medicine. That was in 2008. We've given scholarships to 10 students in the last 12 years and this year we were able to give scholarships to two incoming freshmen."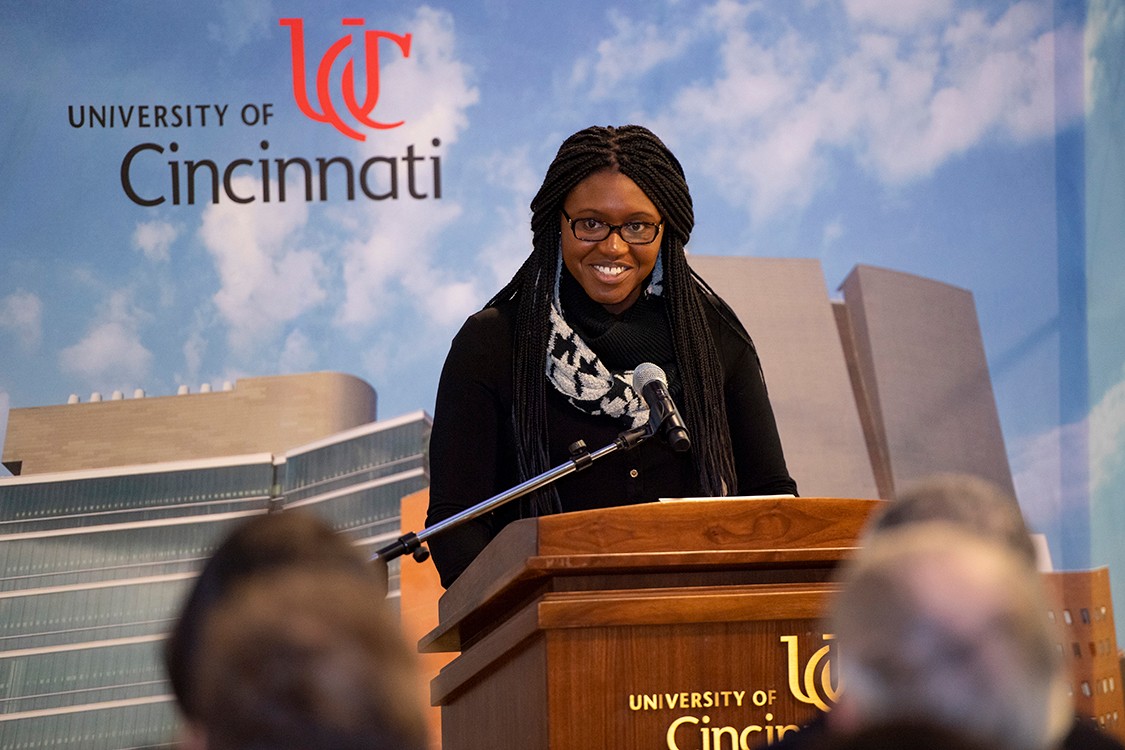 At the unveiling, Christa Nnoromele, a fourth-year UC medical student and Oxley Scholarship recipient, described how "UC seemed to be the place I wanted to be" when she was searching for a medical school. However, the Richmond, Kentucky, native soon realized she would need to go somewhere else because of finances. As she was writing an email to the college releasing her seat, she said she received a phone call from Mia Mallory, MD, assistant dean for equity and inclusion, informing her of her Oxley Scholarship. She quickly accepted the offer to come to the UC College of Medicine.
"I am more than grateful for that life changing phone call and opportunity. I have been able to surpass my own limits and expectations," Nnoromele said. "I've participated in groundbreaking research. I've met and been taught by true leaders and doctors at the forefront of medicine. Most importantly I've created a family. I've accomplished things I'd never thought possible. And honestly I can say I would not be here tonight if not for the generosity and the drive of Lucy Oxley and that phone call from Mia Mallory four years ago."
Featured photo credit Colleen Kelley.