Finding a cure for epilepsy is personal for UC PhD student
A University of Cincinnati student trustee working on her PhD in neuroscience says while growing up she struggled to manage the seizures that would strike without warning.
Diagnosed with epilepsy as a child, Christin Godale says she struggled in school. "It was really hard, to have a seizure as a kid in class." She endured some bullying, and frustration with the unpredictability of her illness, to the point that she ended up finishing high school online.
A neurological disease often with unexplained onset, epilepsy is defined by recurrent, unprovoked seizures. It can be a chronic and lifelong condition, affecting more than 3.4 million people in the U.S. alone.
Now a doctoral student now into her third year at the University of Cincinnati working toward her PhD in the neuroscience graduate program, Godale says while growing up in Mentor, Ohio, her doctors were great first role models to her—supportive and very forthcoming in details to help her understand her illness.

"They would take me back into the EEG [electroencephalogram] reading rooms and teach me how to read the monitors. My doctors always encouraged me to be involved in the epilepsy awareness community."

As she grew older, she saw the value in participating in raising epilepsy awareness: "At these events, I would see other little kids there who had epilepsy, and they would come up to me and ask, 'Can you drive, can you ever have a boyfriend, play sports, own a house…?' As kids they thought that they would never be able to be independent. There is a huge stigma about being able to accomplish life goals while living with epilepsy.
A detour to NYC

Godale, determined to never let her epilepsy keep her from life's experiences and pursuing her passions, took on a surprising opportunity as a teenager. She was approached by a talent/modeling agency while visiting family in Atlanta.
"I never wanted to become a model when I was younger, but I gave it a shot because I always liked trying new things," she says.

She spent two years in the modeling world of New York before coming to a crossroads: continue modeling in Europe or go back to school.

"I chose to go to school and study neuroscience and epilepsy," she says. "Actually, a lot of girls out of the industry go on to school—another former model and friend is pursuing neuroscience too!"

Godale graduated from Baldwin Wallace University with a double major in biology and neuroscience. In her senior year, she interned at the NASA Glenn Research Center in Cleveland, working on a project studying intracranial pressure and visual impairment in astronauts.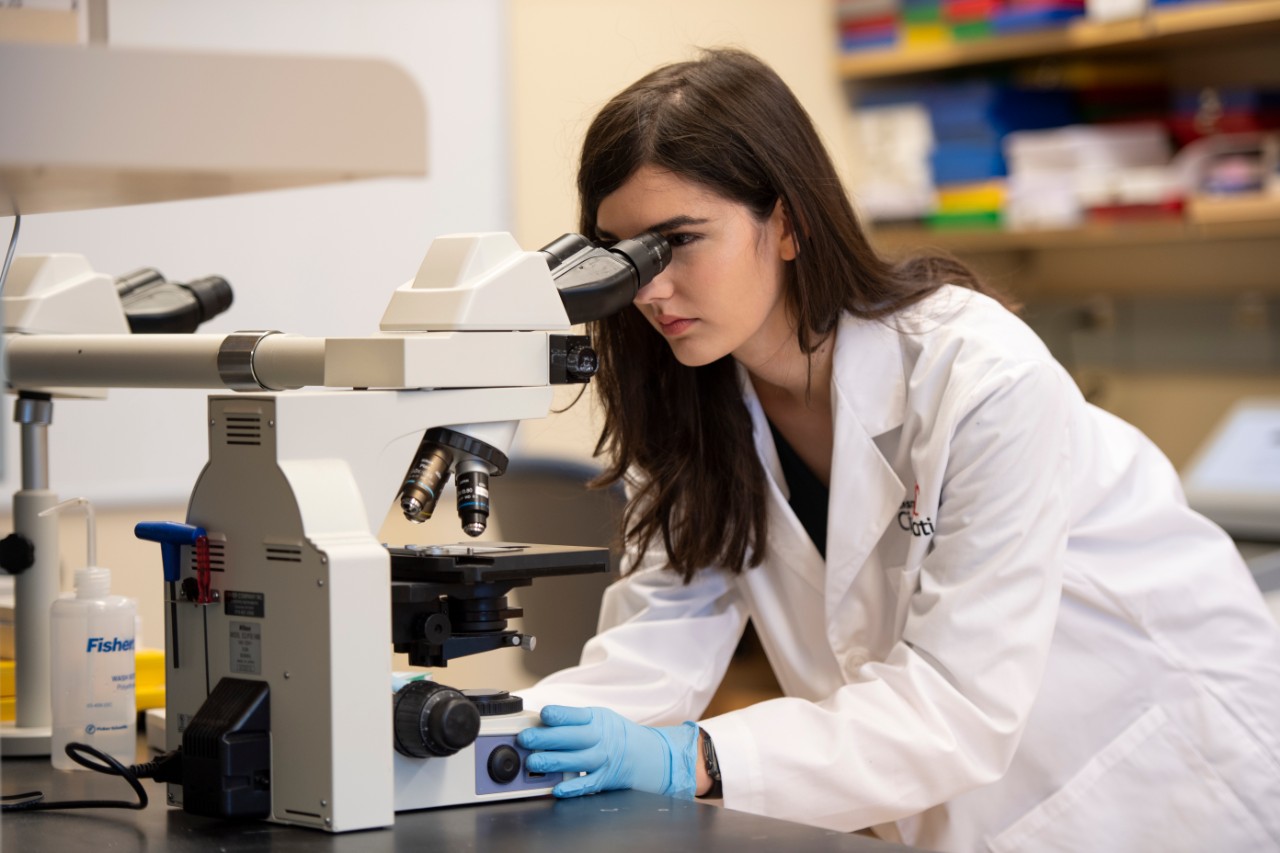 Drawn to UC for the research
Looking to pursue her PhD in neuroscience and work alongside leading epilepsy researchers, she sought out UC.
She also wanted to ensure she'd have a good care team for herself, and once she settled in Cincinnati in 2016, became a patient of Michael Privitera, MD, director of the UC Epilepsy Center, and professor of neurology in the UC College of Medicine. The UC Epilepsy Center is the only adult level IV center in the region, the highest possible rating as recognized by the National Association of Epilepsy Centers.
Though her friendly demeanor and poise make her seem like she'd be the ideal doctor, she admits she considered pursuing an MD, but decided against it. "Because I have such a strong emotional connection to the disease, I don't think I would make a good doctor for that reason," she says. "The hardest part, to me, would be the parents [of children with epilepsy]." Godale recalls how upset and frustrated her mother would get, "She'd ask the doctors, 'Why isn't there a cure for her, why isn't the medicine working?'"

"Those memories are always in the back of my mind. As a scientist, I can contribute to the advancement of understanding the epilepsy from a different angle."

As a neuroscience graduate student, Godale currently works in the Danzer lab, a Cincinnati Children's research lab run by Steve Danzer, PhD, an associate professor in UC's Department of Anesthesiology and Children's Department of Anesthesia. He is also the director of the Center for Pediatric Neuroscience at Cincinnati Children's. 
"Our research focuses on elucidating the mechanisms of epileptogenesis … essentially trying to understand how a normal brain becomes an epileptic brain," explains Danzer. "The key clinical problem is that epilepsy cannot be prevent or cured, and current medications work for only a third of people with epilepsy. If we can learn how epilepsy develops, we can begin to devise new ways to treat it."

"We focus on looking for new or novel antiepileptic therapies, through different cellular pathways," says Godale. Her current research focus is on identifying new therapeutic targets for at-risk epilepsy patients—how might treatments inhibit the development of epilepsy in the brain.
Currently, Christin has published one peer-reviewed first-author publication. She has presented her research at the UC Gardner Neuroscience Institute, the UC Graduate Student Research Forum and the prestigious Gordon Research Conference on Mechanisms of Epilepsy and Neural Synchronization.
Danzer says that during their first year in the UC Neuroscience Graduate Program, students rotate through several research labs, spending 2 to 3 months in each to understand the technology and get a feel for the environment. Student then select a lab for their doctoral studies. There are nearly 60 neuroscience labs between UC and Cincinnati Children's.
Godale, now in her third year of graduate studies, has worked with the Danzer lab since 2016.
"She is extremely passionate about research. She will also be a great advocate for epilepsy research by bringing her unique view to the table—both her own experience as a person with epilepsy, and as a scientist," says Danzer.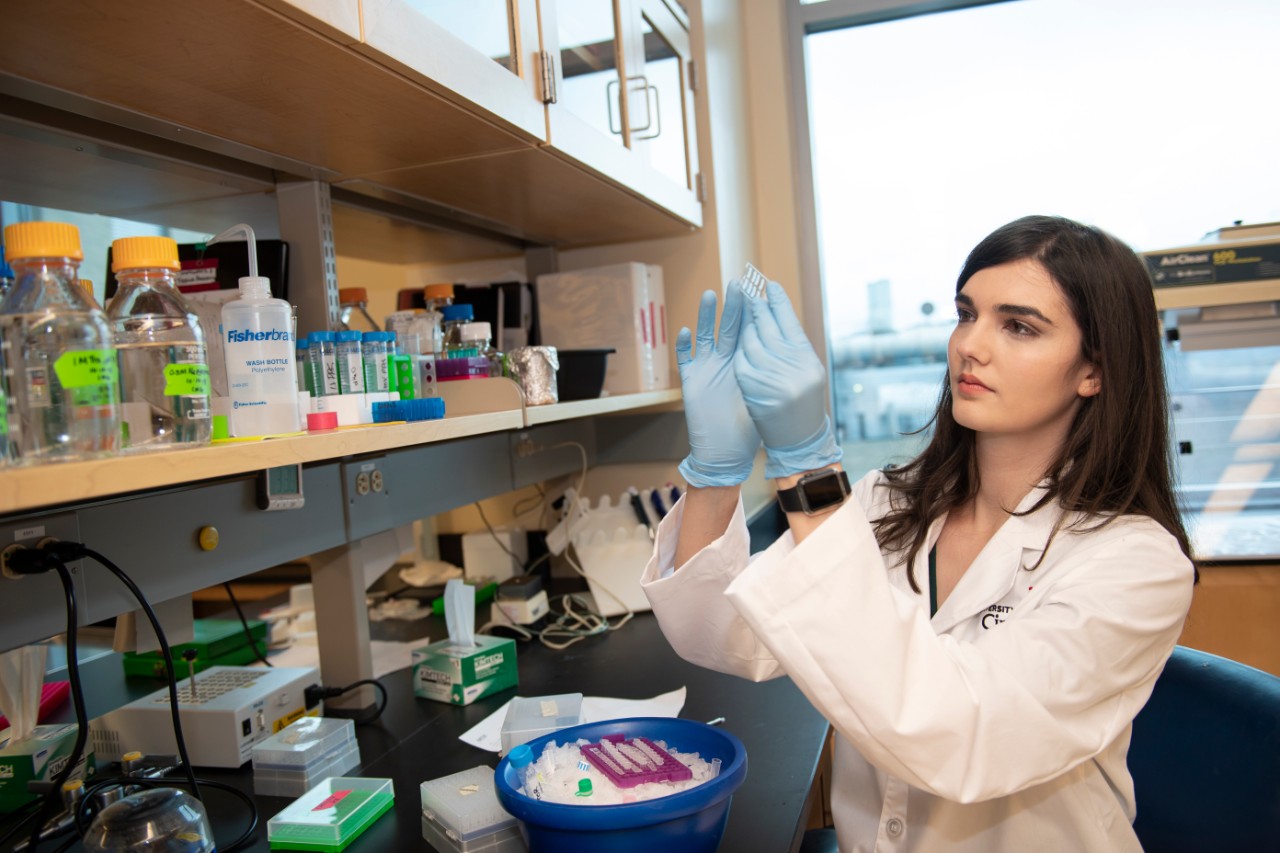 I know that epilepsy is part of who I am, and I'm OK with that. I know that there are an abundant amount of scientists and physicians working towards a cure. And I know that we will find a cure."
Christin Godale
Juggling life as a young professional, with a few setbacks

And 2018 has proven to be a big year at UC for Godale. In July she was named a graduate student trustee of the UC Board of Trustees for a two-year term. This summer she also completed her two year milestone and became a doctoral candidate. This allows her to declare her dissertation focus and form her doctoral committee.

As if that weren't enough keeping her busy, in September, she married Kevin Burton, who received his master's degree in political science from UC in 2012.
Privitera also invited Godale to serve on the UC Epilepsy Center's Community Advisory Board. "In terms of her epilepsy, she is not perfectly controlled, but she is like a supergirl, accomplishing great things despite her seizures," he says.
Godale has a history of trying different medications, and being in and out of epilepsy monitoring units throughout her youth to better understand and manage her seizures. She says she has fairly good control of her epilepsy now, though seizures do still sneak up on her, maybe once a month, "usually in the form of a staring spell, with occasionally a more severe episode."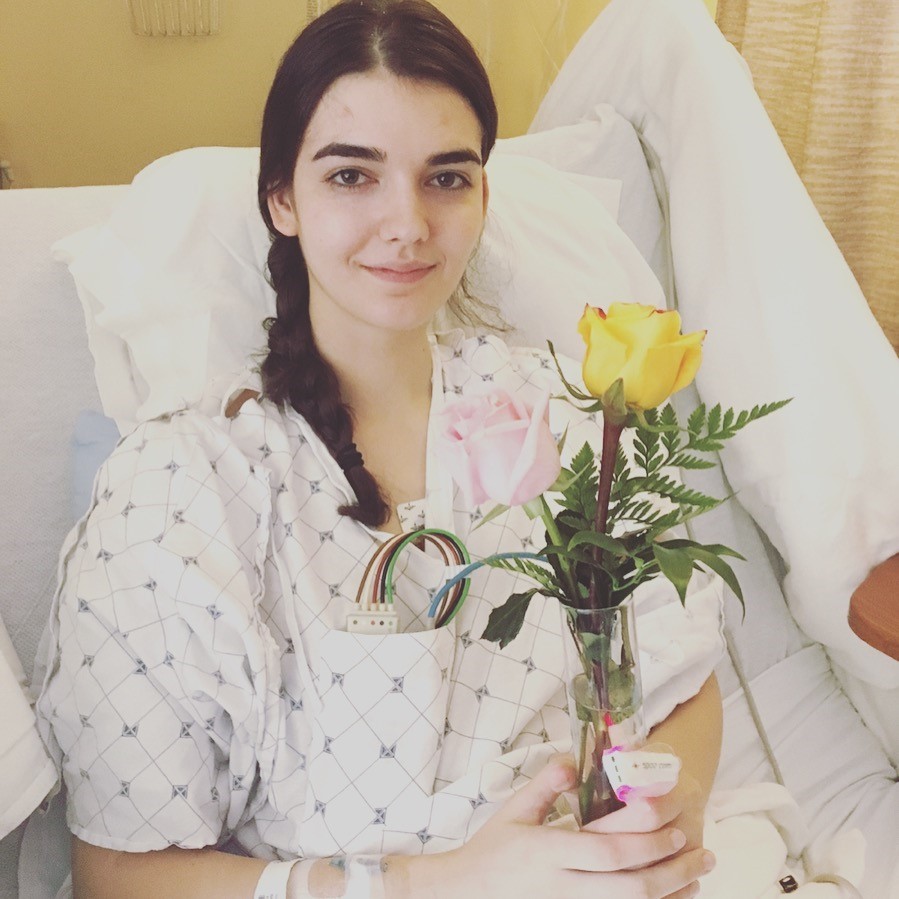 "Having seizures can be scary. They are so spontaneous," she adds.
For example, in October 2017, she was sitting on the couch watching TV with Burton when she went into status epilepticus—having continuous seizures without time for the brain or body to recover. He scooped her into his car and took her to UC Medical Center, where she stayed under observation in the Neuroscience Intensive Care Unit for three days. Privitera notes that the treatment team used advanced video/EEG equipment of the epilepsy monitoring unit to closely observe her seizures and shut down the status epilepticus as soon as possible, and block its recurrence.  
And recovering from a seizure can take a lot out of you, she says. "Sometimes it is hard to get people to understand the recovery time needed." But she says overall her mentors and lab have been very accommodating throughout her studies.

She credits the UC Health care team with helping her through it, "We have great physicians here at UC, and they really care about you as an individual. The physicians in the UC Epilepsy Monitoring Unit. They saved me."
With the demanding rigor of a PhD in neuroscience, Godale says she spends 50 to 60 hours in the lab. As for her new role as a student trustee, it was something she was interested in pursuing from the moment she set foot on campus. "Ryan Makinson, former student trustee was my student interviewer for the Neuroscience Graduate Program. When he explained his trustee position to me, I thought, 'I'd love to do that!' For the past two years, I have been preparing for the graduate student trustee position by getting involved with the Graduate Student Governance Association and other student organizations on campus."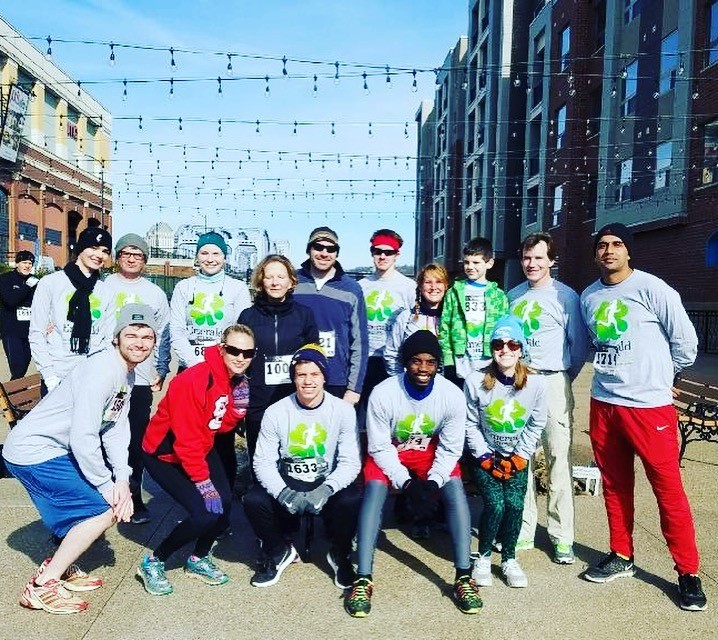 Godale's term will run two years and she is on track to complete her PhD in 2021.
 "I think people with epilepsy are really good at hiding it. Honestly, I have come to accept it ... I am not ashamed of it. I do not completely accept it in some ways. For example, I am not able to drive. Nonetheless, I know that epilepsy is part of who I am, and I'm ok with that. I surely hope that I do not have epilepsy for the rest of my life, but I know that there are an abundant amount of scientists and physicians working towards a cure. And I know that we will find a cure. We just have to stay positive and continue to advocate for epilepsy awareness."
Featured images of Christin Godale in the lab at top, and within story.
Photos/Colleen Kelley/AHC Communications Services.
Epilepsy research is just one facet of the Neuroscience Graduate Program. An interdisciplinary doctoral program with more than 80 participating faculty members from 22 departments in the College of Medicine, James L. Winkle College of Pharmacy and the College of Arts & Sciences, it encourages a focus on clinical translation. Learn more at med.uc.edu/neurosciences