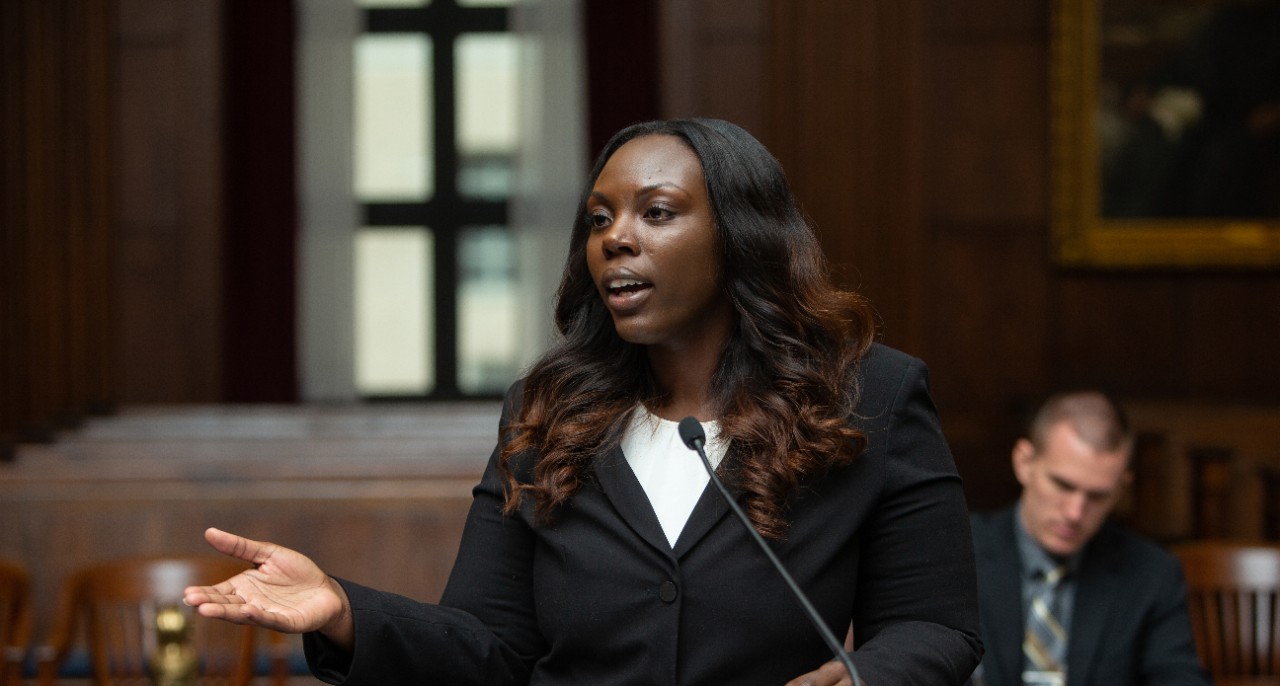 Cincinnati Law hosts nation's first, only law student case competition
Law Student Diversity Case Competition, hosted by Cincinnati Law, showcases legal skills and acumen of students
When law firm hiring systems are overly dependent on grades and class rank, employers have a limited view of the diverse talent readily available.
Finding new ways to address the lack of diversity in the legal profession is one of the reasons Cincinnati Law and local law firm Keating Muething & Klekamp PLL (KMK) partnered to create the nation's first and only Law Student Diversity Case Competition, to be held Jan. 18-19 at KMK's Cincinnati headquarters.  
The competition, which brings case model to the law school arena, is the brainchild of Mina Jones Jefferson, associate dean, chief of staff, and director of the Center for Professional Development at Cincinnati Law, and will bring together 14 teams from seven law schools.
The event is an example of how UC is committed to redefining academic excellence and activating inclusion in ever more innovative and impactful ways as part of its Next Lives Here strategic direction.

Thirty-three diverse students from University of Kentucky College of Law, Chase College of Law (Northern Kentucky University), Moritz College of Law (Ohio State University), Cleveland-Marshall College of Law, Maurer School of Law (Indiana University), McKinney School of Law (Indiana University) and UC College of Law will showcase their legal skills and acumen to potential employers, as well as compete on a national level for cash awards provided by KMK.
"Whenever the topic of talent acquisition and diversity arises, employers often say 'they don't know anyone,'" says Jefferson. "The Law Student Diversity Case Competition was born out of a talent identification strategy—a way to amplify the diversity talent pipeline." The National Association for Law Placement (NALP), the legal association that advises the legal profession on hiring practices and trends, has reported on the presence of women and minorities in large law firms for 25 years.  
According to its 2017 Report on Diversity in U.S. Law Firms, "women and minority partners remain fairly dramatically under-represented in U.S. law firms," and women minorities were the "most dramatically underrepresented group" of all.   
"Becoming a truly diverse and inclusive law firm is a journey," said Bethany P. Recht, KMK partner and chair of the Diversity and Inclusion Committee. "We hope that this program will not only reflect KMK's ongoing commitment to the journey, but also support the growth of diversity in the legal profession."
Traditionally, legal employers use the "fit" interview when making hiring decisions and selection is often based on GPA and rank. The case competition allows participants to display the skills required to succeed in the workplace, giving employers an idea about what they can do instead of just who they are.
Participating in two- to three-person teams, the students will engage in a simulated work experience based on a client issue delivered in a format that resembles the Multistate Performance Test (MPT), a skills assessment component of most jurisdictions' bar exams.  
Joel Chanvisanuruk, Cincinnati Law's assistant dean and director of Academic Success and a nationally known bar prep expert, led the creation of the case problems which reflect the College's and UC School of Education's bar exam research, as well as the Fundamental Lawyering Skills section set forth in the American Bar Association's Report of the Task Force on Law Schools and the Profession:  Narrowing the Gap.   
Working in teams and responding in real time to new information through simulated client and partner interaction, students will demonstrate skills left unmeasured in law school classes. Further, these simulations will expose students to the assignment process encountered in law firms. They'll also interact with supervising attorneys and gain experience managing feedback. "These experiences lie ahead for them during their summer jobs," says Jefferson. "They'll get to practice before an offer is on the line."
Employers will benefit too. "Companies will be introduced to talent they may never see through the traditional hiring process," said Jefferson. "We're all disappointed by outcomes produced by the traditional model. This process more closely aligns with competencies needed in the workplace. It is a 'win-win' for everyone."