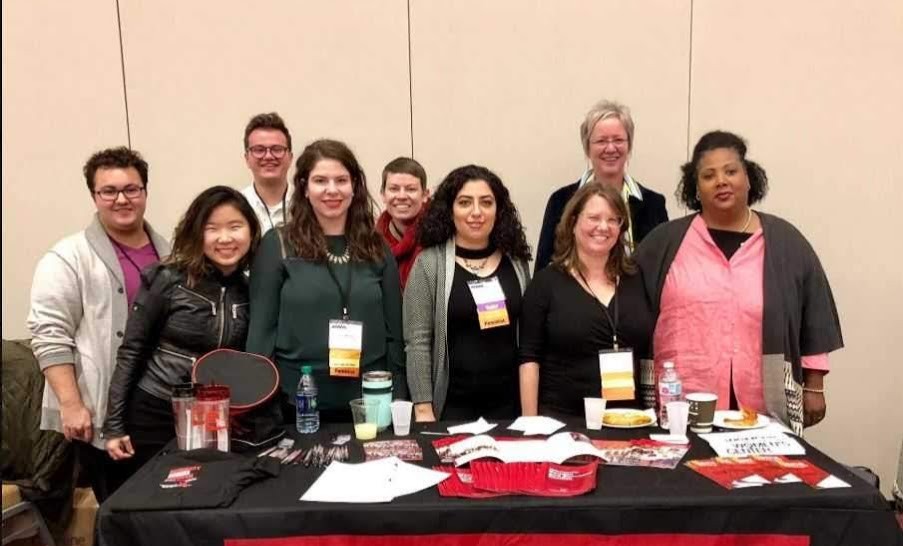 UC grad students present at national women's studies conference
Four students earned the opportunity to present their research at the 2018 National Women's Studies Association conference in Atlanta
By: John(na) Jackson
Julie Marzec, second-year graduate student in the University of Cincinnati's Women's, Gender and Sexuality Studies department, says she always feels inspired by her colleagues when she has the opportunity to attend academic conferences.
"Attending academic conferences is important to me because it provides the opportunity to meet other scholars from around the world working on interesting research projects," Marzec says.
She earned this opportunity recently when her application was selected to present at the 2018 National Women's Studies Association conference. Having looked forward to a chance to attend the prestigious conference, Marzec secured her spot on a panel through her attendance in a required research methods course, led by UC professor Ashley Currier.
"After seeing and hearing about the experiences of students that participated in NWSA 2017, I knew that I would submit an abstract for the 2018 conference," Marzec says. "But the opportunity to workshop our proposals in class with Dr. Currier was invaluable. She advised us on how to write a focused, exciting abstract that would grab the reviewers' and participants' attention."
Marzec's research presentation, titled "The Limits and Potentials of a Plurinational Socialist State: A Transnational Feminist Analysis of Institutional Mechanisms to Combat Gender-based Violence in Ecuador," was accepted as part of a panel session called Imagining Feminist Futures Transnationally.
All 10 members of the second-year program cohort turned in conference applications early this year as a part of their research requirements. Marzec and three other members of her cohort turned in successful applications that allowed them to present in early November for the 2018 conference, held this year in Atlanta. Other UC graduate students chosen for the conference include West Bancroft, Joel Brimmerman and Ladan Zarabadi.
Zarabadi was pleased to find the submission of abstracts to the conference on the course syllabus.
"I was surprised to see sending abstracts to conferences as a part of the class assignment," Zarabadi says. "Thankfully, this class assignment saved my time a lot, and I am happy about that."
Established in 1977, the National Women's Studies Association upholds a mission of supporting the production and dissemination of knowledge about women and gender through teaching, learning, research and service in academic and other settings. For students working in theory and social-research dominated fields, academic conferences provide the opportunity for researchers in various stages of their education to receive feedback from their colleagues and peers.
The association has more than 2,000 individual members and 350 institutional members from around the world. This year marked the 38th annual conference organized by the association. The conference included seven sub-themes with topics ranging from surrealist thought and radical imaginaries to afro-futurism and biopolitics. This year's conference featured two keynote conversations among renowned feminist scholars and creatives, including poet and author of "The Color Purple," Alice Walker.
For students preparing to graduate, exposure to networks of other academic researchers can be imperative for expanding their future opportunities within their field. Zarabadi finds several benefits of her attendance at conferences.
"I can get feedback from other scholars, listen to other scholars' presentations and know others' concerns," says Zarabadi. "I expand my academic network for future opportunities (either jobs or publishing), improve my résumé, and practice and improve my public presentations."
Marzec echoes Zarabadi's feelings about her attendance at the conference.
"Attending NWSA was particularly important to me because of the unique nature of the conference. As the largest gender and sexuality studies conference, I knew my research interests would be valued, which is not always the case at other types of conferences I've attended," Marzec says. "Instead of one or two panels focused on gender and sexuality, the entire conference focused on these issues in myriad disciplines."
For students interested in getting similar real-world experience among large networks of their colleagues, Marzec offers some advice.
"If you are considering presenting at a conference, do it! Submitting an abstract can be an intimidating experience, especially if it is a large conference like NWSA, but don't let impostor syndrome prevent you from reaching your goals. The experience is worth the effort!"
1
UC professor wins recognition for scholarship in India's caste...
November 6, 2023
UC's Shailaja Paik has been awarded the 2023 John F. Richards Prize in South Asian History for her book "The Vulgarity of Caste: Dalits, Sexuality and Humanity in Modern India." Paik is an associate professor of history in the College of Arts and Sciences. Conferred by the American Historical Association, the competitive award recognizes the most distinguished work of scholarship on South Asian History published in English. Applicants are evaluated on the basis of depth of research, methodological innovation, conceptual originality and literary excellence.
2
WCPO: Abortions dropped 15% across Ohio last year
October 5, 2023
UC abortion researcher Danielle Bessett weighs in on new data that shows abortion has declined by 15%. Bessett's current research projects examine patient experiences of abortion care and disparities in contraceptive access, prenatal care, and infant mortality.
3
UC hosts expert symposium on COVID-19, now and then
Event: September 22, 2023 3:00 PM
The University of Cincinnati will host a symposium on the state's response to the pandemic titled Ohio Under COVID: Lessons from America's Heartland in Crisis. The event will feature Dr. Amy Acton, former director of the Ohio Department of Health, and authors and editors of the new book of the same title.
Debug
Query for this