UC Simulation Center connects students to industry
Founded in the fall of 2008, the University of Cincinnati Simulation Center has supported graduate and undergraduate students for more than a decade.
Located on the fourth floor of UC's new 1819 Innovation Hub, the center gives UC students the opportunity to gain valuable insight into industry trends and technologies while working directly with industry partners.
"Students in the center learn how to build models to predict some phenomena and then learn different ways to solve these models," Procter & Gamble (P&G) site leader Fred Murrell says. "Students can reapply this knowledge to any discipline or any situation in engineering."
The Simulation Center was first established as a university-industry partnership between UC and the Cincinnati-based company. In the last 10 years, the Simulation Center has employed more than 200 UC students and funded nearly $16 million in research projects. These projects range in scope and size, but all of them are directly connected to a problem facing the industry.
When P&G has a project they need completed, they explore qualified candidates from a pool of UC students. Once hired, the student or students work directly under a P&G mentor in a hands-on, collaborative environment.
"The UC Simulation Center offers opportunities to work on P&G projects with P&G employees," said Cuiyan Luc, a mechanical engineering student working in the center. "My mentor from P&G comes over to the Sim Center every week to check progress and discuss updates about the work." 

Most projects address supply chain management issues. For a company like P&G, with more than 100 manufacturing sites worldwide, efficiently delivering goods is a top priority with significant financial impacts. 
The work coming out of the center reflects UC's commitment to innovation through its strategic direction, Next Lives Here.
Having this connection with university students is also invaluable for P&G. Not only does P&G achieve a return on investment from students' innovative solutions, but the company also establishes a pipeline for young talent. If a student impresses P&G, the experience could lead to a full-time position with the company.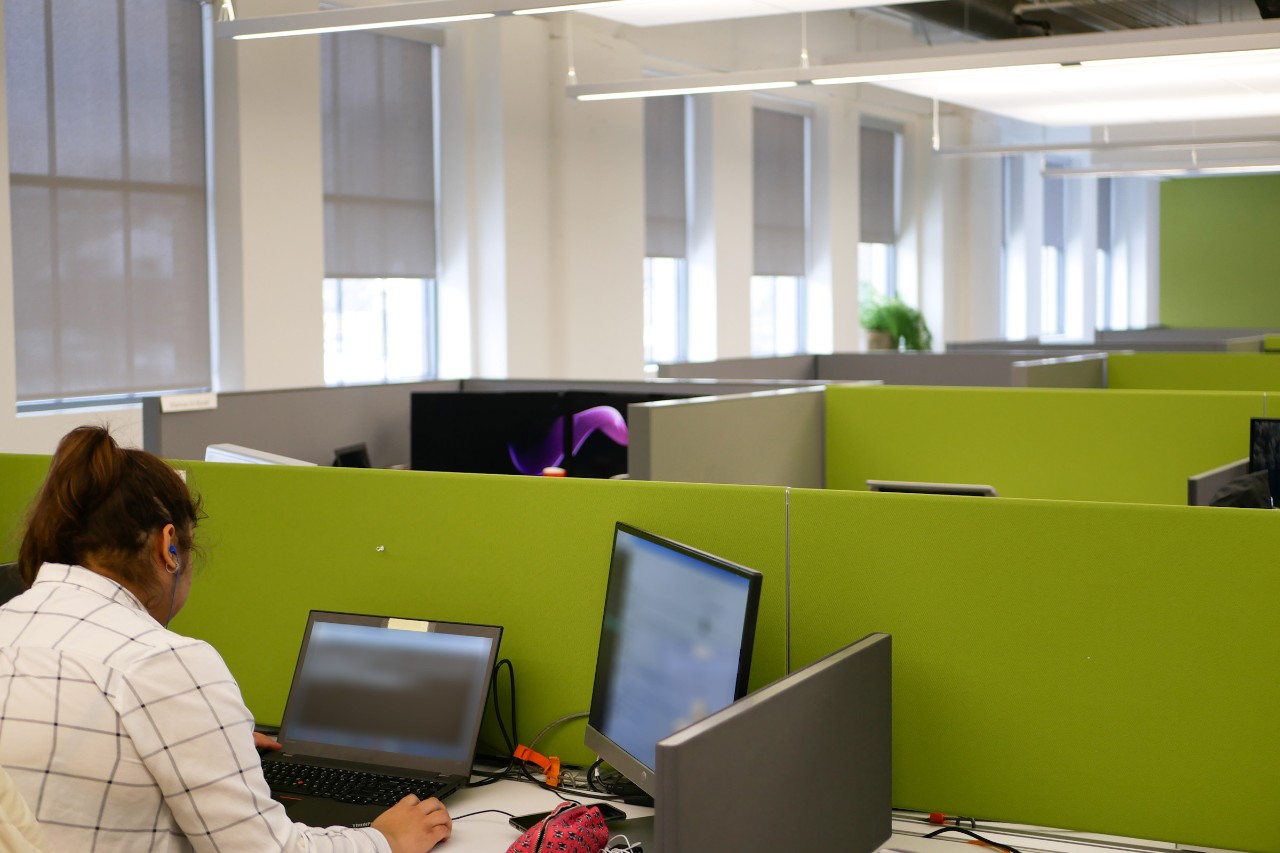 "The reason we are as effective as we are is because this is a very low-friction, agile engagement model," says Fred Murrell. "We get to know the student really well, and the students get to know the organization well, too."
Dayton-based company Edaptive Computing, Inc.  recently joined P&G in the Simulation Center. Edaptive Computing, Inc. is working with UC students to research and develop advanced capabilities needed for its Internet of Things applications and electronics.
With the 1819 Innovation Hub, UC is poised to leads urban public universities into a new era of inclusion, innovation and impact. The Simulation Center, with its bridge between industry and students, stands at the heart of this revolution. 
Featured image at top: The University of Cincinnati Simulation Center, located on the fourth floor of the 1819 Innovation Hub, is a place for students to work on innovative projects with industry partners. Photo/Corrie Stookey/CEAS Marketing
Next Lives Here
The University of Cincinnati is classified as a Research 1 institution by the Carnegie Commission and is ranked in the National Science Foundation's Top-35 public research universities. UC's graduate students and faculty investigate problems and innovate solutions with real-world impact. Next Lives Here.