Inmate wrongly convicted urges advocacy for marginalized residents
UC Health, UC College of Medicine honor Tyra Patterson at MLK day event
Tyra Patterson shared the value of advocacy and offered her listeners a lesson in grace.
She spent 23 years wrongfully convicted for a crime she didn't commit, but if she harbored bitterness, her audience at the 46th annual Dr. Martin Luther King Jr. Celebration Ceremony had a hard time finding it. The event, sponsored by UC Health and the University of Cincinnati College of Medicine, was held Friday, Jan. 18, 2019, in Kresge Auditorium.

Patterson, a keynote speaker, grew up in Dayton and was convicted and sentenced to life in prison at age 19 for the murder and robbery of 15-year-old Michelle Lai on Sept. 20, 1994. Patterson was paroled Christmas Day 2018 after Lai's sister, Holly Lai Holbrook, wrote a letter to Ohio Gov. John Kasich in 2016 vouching for her innocence.

Lai Holbrook, who watched her sister get shot that night, told Kasich she no longer believed that Patterson participated in a robbery that led to her sister's murder.

"A lot of times, people ask me, 'you've done 23 years, aren't you bitter, don't you resentment issues?' Tell me more, you know. Tell me about the bad part about prison," says Patterson. "I didn't understand that because I love people. I love people generally. I tell them about the (letter) that I once read that Dr. King wrote from a Birmingham jail."

King spoke of a time when followers of Christianity in its early days rejoiced at being deemed worthy to suffer for what they believed. He says in those days the church was not merely a thermometer that reflects its atmosphere, but also a thermostat that could be transformative in a society.

"Even during those days when I didn't know how to read or write, I changed the atmosphere," says Patterson referring to her incarceration. "I didn't want to become a product of their environment.

"When I was in prison the guards would say, 'It's time for chow intimates.' That meant going to the chow hall to eat something. I never understood why they said that. I looked in the dictionary, and I remember reading what chow meant," says Patterson. "They called it [eating like] a dog. So when you are in prison, they want you to become that dog and eat like a dog. We only had five to 10 minutes to eat. So that always bothered me. Remember … I didn't want to become a product of that environment.

"So I looked around after the guards would say this every single day and would say, 'Ladies it's time for lunch. Y'all want to have lunch.'"

Patterson knew it was important to affirm her fellow inmates' and her own humanity. She knew they were not animals. "Therefore, I say that I became that thermostat in prison that MLK talked about and what an honor to live on his history," she adds. "There is so much I want to say and talk about."
Patterson and David Singleton, Esq., executive director of the Ohio Justice and Policy Center, were given Humanitarian awards, at this year's MLK Day event. A special Diversity in the Workplace Award was also presented to Jensine' Norman, MD, and Joi Moore, MD. The two fourth-year residents at UC Medical Center who founded the Minority Housestaff Association, an organization started with the goal of supporting networking and career development for minority residents at UC and Cincinnati Children's.
"People leveraged their privilege for me," says Patterson. "People didn't have to come forward. People didn't have to pray for me, and with open arms, say, 'Welcome home.' I am not the only Tyra Patterson. We, as returning (incarcerated) citizens, will be your neighbors someday. I am somebody's neighbor today, and it is so imperative that we give them the right resources that they need.
"Today I leverage my privilege to change the ecosystem for returning citizens, and I pray that we stay together and work as one and remember 50 years ago what Dr. MLK said: Advocacy is everything."
Patterson is a community outreach specialist for the Ohio Justice and Policy Center, a Cincinnati-based advocacy organization that aims to create fair, intelligent, redemptive criminal-justice systems through zealous client-centered advocacy, innovative policy reform and cross-sector community education. The organization worked tirelessly with community partners across the political spectrum to free Patterson.
Patterson, along with Singleton, also a keynote speaker at the event, both made a point to remember the advocacy of a former congresswoman, Jean Schmidt, who served Ohio's second congressional district from 2005 to 2013. Schmidt, a Republican, was among the bipartisan team of individuals who visited Patterson during her incarceration and lent support for her fight for release.
"I have to say thank you to former Congresswoman Jean Schmidt for being a furious advocate for me," says Patterson. "You are like a surrogate mother."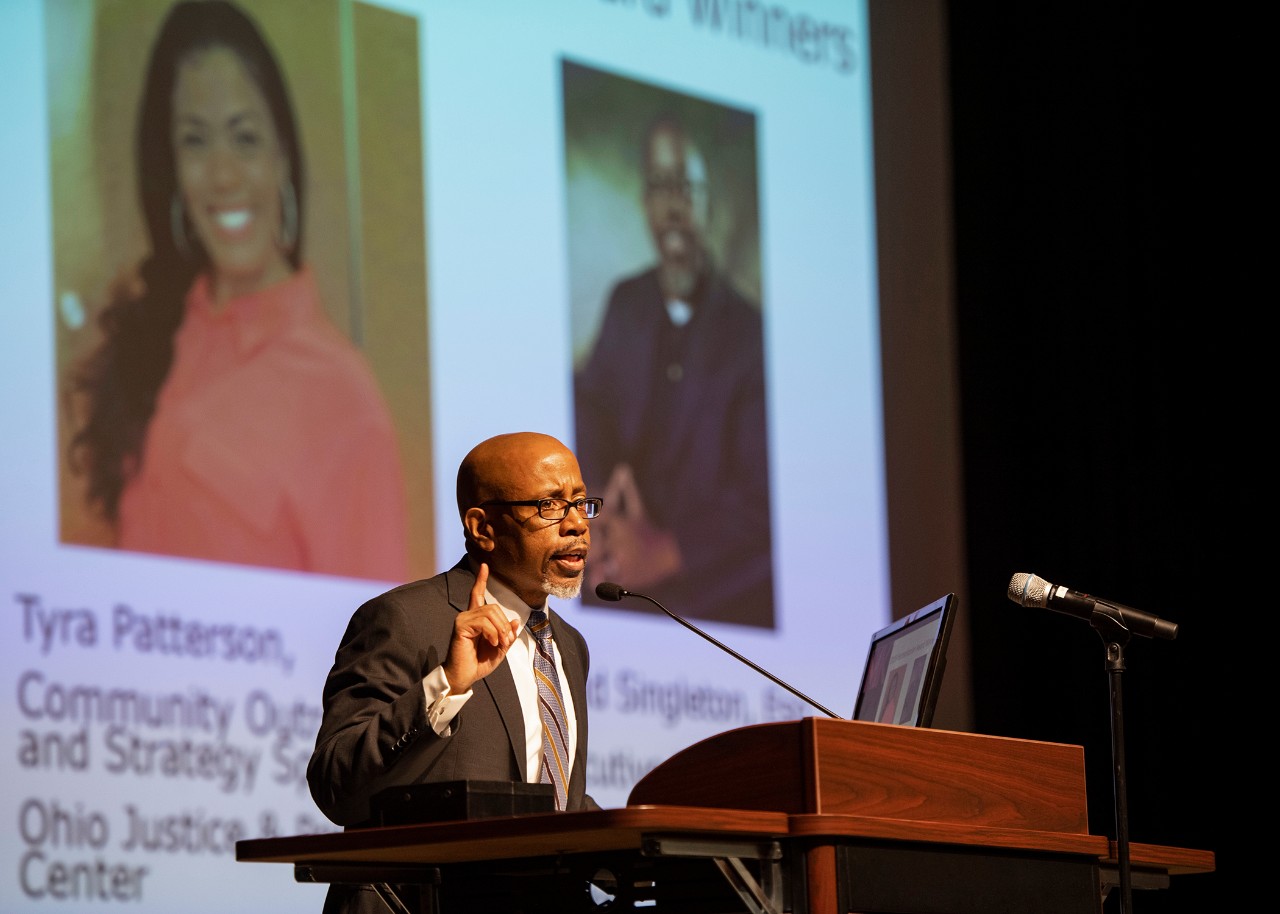 Singleton says Schmidt's support for Patterson also taught him a valuable lesson when it comes to advocacy. He wasn't always a fan of Schmidt and the two have different political views.
"I wrote her off before I knew her," says Singleton, referring to Schmidt. "But guess what? When we needed people to go and meet Tyra, not only did we ask folks who I agreed with politically, but we also asked and needed people who were in the same party as Governor Kasich. I asked Jean, and she said, 'Absolutely,' and she made that trek, too. She met with Tyra and affirmed her humanity and then went to bat along with other conservative republicans.
"Jean and I are good friends now," says Singleton. "I love her and would walk through a wall of flames for her. She has been good to Tyra and continues to help her as she navigates the world after 23 years."
Singleton says King's famous quote about injustice anywhere being a threat to justice everywhere remains so true today.
"You can't write people off. Dr. King not only said injustice anywhere is a threat to justice everywhere. He also said this, and it's relevant: We are an inescapable network of mutuality, tied in a single garment of destiny," says Singleton. "Whatever effects one directly affects all of us. Jean and I found a way despite our political differences to come together because of Tyra's injustice and the threat that it represented to justice everywhere."
"We were able to find common ground to solve a problem. We must do that."
Singleton says lawyers wrote off Patterson by not providing an adequate defense at her trial. He says the motto at OJPC is not to write off any client. His experience with Schmidt taught him the same motto must apply to others who don't agree with us politically.
He also urged his audience not to forget incarcerated inmates who may have committed the offenses for which they were tried and received convictions. He noted the United States has five percent of the world's population, but 25 percent of the world's prisoners.
"Yes, Tyra you had a great injustice done to you," says Singleton. "I don't know how you came out of it with as much grace as you have, given what you went through. As I think about Tyra, I also think about one of my clients who was convicted of murder. She went to prison in 1976 when I was 10 years old. She is still in prison today. She is 72-years-old. She runs the dog training program in the Dayton Correctional Institute. She is a wonderful person."
"She shouldn't be defined forever by the thing that the system says she did," says Singleton. "There is an injustice there, too, and that affects a lot of people."
Photos by Colleen Kelley/AHC