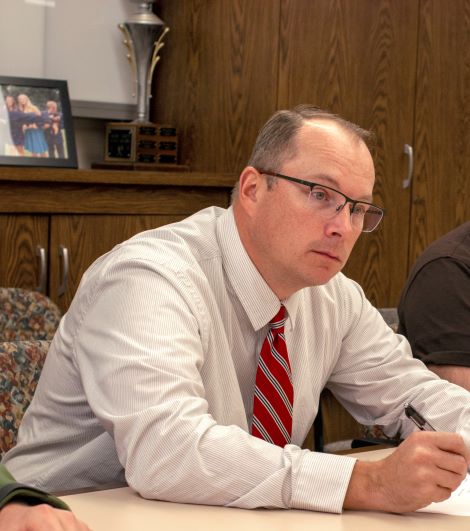 Article has no nextliveshere tags assigned
Article has no topics tags assigned
Article has no colleges tags assigned
Article has no audiences tags assigned
Article has no units tags assigned
Contacts contain story author.
These messages will display in edit mode only.
UC to pilot one-year critical care-only fellowship
Fellowship affords opportunity for interdisciplinary critical care collaboration
This year, the University of Cincinnati (UC) College of Medicine will pilot a new critical care-only fellowship, thanks to continued support from the office of Graduate Medical Education (GME). The fellowship will start in July 2019, overseen by the Pulmonary and Critical Care Fellowship.
"The fellowship idea was born out of our Accreditation Council for Graduate Medical Education (ACGME) self-study we concluded this past May," says Peter Lenz, MD, associate professor in the Division of Pulmonary, Critical Care and Sleep Medicine in the Department of Internal Medicine and program director for the Pulmonary and Critical Care Fellowship. "The self-study was a detailed examination of our own fellowship, where we began looking at five years down the road to set goals and determine where we want the fellowship to go. During our self-study we had a lot of stakeholders, fellows, other faculty and staff looking at what we could do."
Lenz says one of the items that came out of the self-study was that because of the growth in the critical care delivery at the College of Medicine, the educational component should grow as well. That planted the seed for the one-year critical care-only fellowship.
"The ACGME provides a special circumstance to fellows who have already completed a two- to three-year internal medicine sub-specialty fellowship," says Lenz. "Critical care training can be condensed into one year for these trainees and this gives our medical center further opportunity to offer subspecialty graduates a chance at remaining here for critical care training." 
Teaming up with internal medicine subspecialty programs enabled Lenz and his team to get perspectives from additional stakeholders like Ajay Srivastava, MD, associate professor in the Department of Internal Medicine at the UC College of Medicine and director of the Nephrology Fellowship Program.
"Having a team approach really helped our efforts and we are appreciative of the input we received from our GME office to support our vision and fund our one year critical care fellowship," says Lenz.
Lenz is hoping for funding in future years to establish a permanent critical care fellowship because he sees it filling a significant need that reaches into other areas of the College of Medicine.
"We have a whole critical care enterprise here that not only includes us in internal medicine, but also encompasses disciplines including anesthesia, emergency medicine, neurologic critical care, and the surgical ICU, so we can collaborate with all these different critical care groups," says Lenz. "Their trainees come rotate in our ICU, and our fellows go to their ICUs so we have a lot invested jointly amongst all of our programs." 
Lenz says the support from the GME office sets the program and the new fellowship up for success heading into 2019 and beyond.
 "When we look at that five-year plan, the potential growth in critical care can open opportunities for research and scholarly activity and this promotion of the academics of medical science gets us really excited," says Lenz.