Special Master's Program in Physiology offers a pathway for medical school admission
Bonds from program can last a lifetime
Rachel Tonnis toyed with the idea of medicine from an early age. As a young child, she played with her Fisher-Price doctor's bag. As a teenager, she dreamed of one day becoming a physician.
Then while in college a summer spent as a camp counselor for children with diabetes helped secure her track into medicine. She graduated with a science pre-professional major from the University of Notre Dame, but realized she still needed an edge as part of the competitive journey to medical school.
Tonnis, now a fourth-year medical student at the University of Cincinnati, entered UC's Special Master's Program (SMP) in Physiology in 2014. The intensive one-year master of science (MS) program immersed her in graduate-level physiology courses and allowed her to take classes that are a part of the first-year medical-school curriculum. She sat in four of the same classes as the medical students learning bedrock courses such as Fundamentals of Molecular Medicine and Fundamentals of Cellular Medicine along with other requirements.
"I really liked being able to take these courses alongside the medical students," says Tonnis, who hopes someday to become a pediatrician. "We were in the same classroom with the same teachers on the same day. You got a feel for what being a medical student would be like without necessarily having to commit to the full four years. I decided that is what I wanted and it gave me confidence going into the first year."
John Lorenz, PhD, director of the Special Master's Program and professor in the Department of Pharmacology and Systems Physiology, says the program's immersive experience in the medical curriculum is a major draw. "The program is designed to provide excellent students with the opportunity to demonstrate that they can succeed and even thrive in an actual medical-school environment. In many ways, it is a second chance for these students."
Like many of the top programs in the country, the UC program accepts students who may have blemishes on their prior academic record but who have shown that they are ready to live up to their academic potential, says Lorenz.
"A large part of the motivation to go here is knowing they will have a first-year experience that will help them get into medical school and then help them do well in medical school once they are in," Lorenz says. "The curriculum gives them confidence they will get off on the right foot."
Bryan Mackenzie, PhD, co-director and director of admissions of the Special Master's Program, says medical-school admissions committees can see exactly how these students are able to perform relative to actual first-year medical students. That gives admissions committees some sense of comfort when making decisions.
"Our primary purpose with the program is to improve our students' credentials so they can get into medical school," says Mackenzie. "We have students whose undergraduate record doesn't reflect their true academic abilities. Those students come with strong MCAT scores and have done some medical exploration but they need to improve their academic credentials. Other students come because their undergraduate training has been in something completely unrelated to the sciences.
"We have had music majors who decide they want to go to medical school," says Mackenzie. "They need to demonstrate that they can navigate the medical curriculum and are well prepared."
Sabbagh, a graduate of Duke University with a major in music, entered the Special Master's Program in 2017, after finishing a post-baccalaureate program at Ohio State University. He says medicine has long been among his interests but it competed with other passions.
"I used music as my hook to get into Duke and I felt obligated to follow up on that," says Sabbagh. "The plan was do a double major of pre-medical studies and music. About half way through, I had completed most of the music requirements and not much of my pre-med studies. I was also involved in sports heavily and it was taking up four hours of my day. I was in a fraternity and I knew I wasn't going to be able to do a second major. I finished off my music major and came back for medicine."
Sabbagh says the Special Master's Program offered great mentorship because of the efforts of Lorenz and Mackenzie. Lorenz says he also encourages graduates of the program who attend medical school at UC to serve as peer mentors for a new class of graduate physiology students annually.
"Dr. Lorenz offered great feedback on how to approach a medical-school application and helped in setting up mock medical-school interviews," says Sabbagh. "The program really helped students set priorities in tackling the medical-school admissions process".
In addition to faculty advising and mentorship the Special Master's Program also provides a formal peer mentorship program consisting of graduates of the program. Each incoming graduate student is assigned a first- or second-year medical student at UC who is an alumnus of the Special Master's Program to act as a peer mentor.
Alexa Brumfiel, a current first-year medical student at UC and says that the graduate program played a huge part in her being accepted to medical school. She says it's why she and other alumni are so willing to give back.
"Being in the Special Master's Program is a unique situation, so having people around who have been in your position and are willing to help you navigate everything that you are going through is hugely beneficial, both academically and personally," says Brumfiel, who completed the program in 2017. "I am really grateful for the people that were willing to help me out when I was in the program and I hope that because of the peer-mentoring and tutoring programs, the current and future SMP students feel as supported as I did."
Lorenz says he tracks the success rate of the Special Master's graduates in gaining admission to medical school, which historically has averaged over 90 percent.
"One of the things I really liked about this program before I decided to come to UC was how transparent they were about where people get into medical school after completing the Special Master's Program," explains Sabbagh. "It's all available on the website."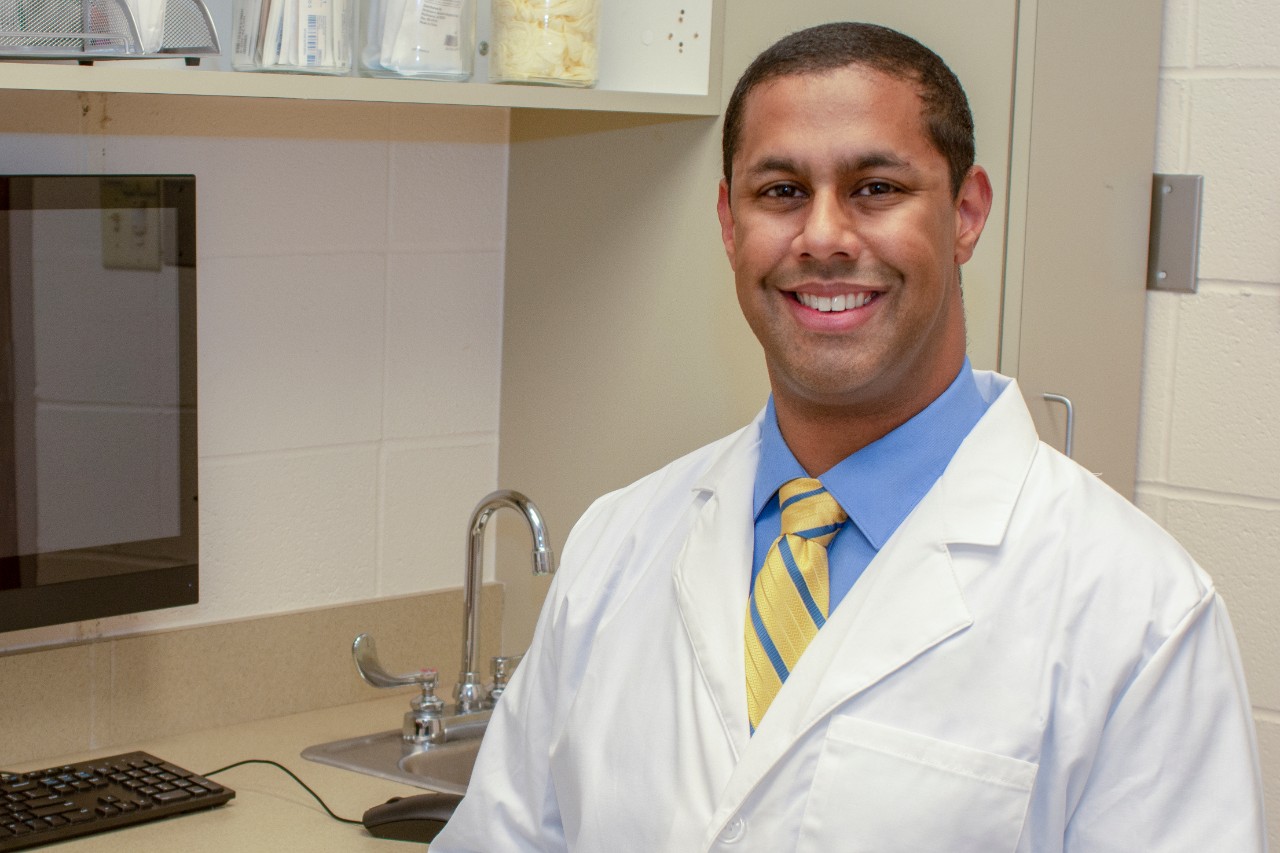 Patrick Lee, a fourth-year medical student at UC, hopes to someday specialize in digestive diseases. He found out about the Special Master's Program during a gap year he took after graduating from the University of Southern California with a biological sciences undergraduate degree.
"I looked at the University of Cincinnati and what really drew my attention about the special master's was the small cohort size. Other programs had much larger classes. I work better with a smaller group and I get a little more attention from the faculty. You have a small cohort that you can really build trust with to accomplish the same goal."
Lee, who did research in the laboratory of Theresa Alenghat, VMD, PhD, assistant professor in the UC Department of Pediatrics and Cincinnati Children's researcher, was awarded the 2016 Alpha Omega Alpha Carolyn L. Kuckein Student Research Fellowship.

Mohsin Zaidi, MD, is an anesthesiologist at the Christ Hospital in Cincinnati. The 35-year-old married father of two boys is among the 2008 graduates of the SMP. He completed medical school at UC in 2013 and then residency in anesthesiology, followed by a fellowship in critical care both at the University of Michigan.

"I credit this program with helping me get into medical school and my success from there on," says Zaidi, who grew up in Southern California and attended the University of California–Irvine. "I absolutely recommend it. It was very well-run and offered a great curriculum. The medical school and the faculty are world class and you get to be a part of that even with the Special Master's Program.

Zaidi says he remains in contact with classmates he met during the program. 

"Even to this day I have friends from the Special Master's Program who are in other specialties," says Zaidi. "One of them happened to go to the University of Michigan for anesthesia and he was a year ahead of me. These are lifelong friendships that I will keep forever."
Photos by Colleen Kelley/AHC and Lisa Britton/UC Creative Services
Be the next accomplished Bearcat
Students graduating from the University of Cincinnati work in innovative and impactful ways. As part of the university's strategic direction Next Lives Here, UC grads achieve academic excellence, maintain an innovation agenda and make an impact in urban areas and around the globe. Apply to UC as an undergrad or graduate Bearcat and make a difference in the world.