Cancer diagnosis leads to career
Andrew Porter becomes a Cincinnati Children's/UC Health Proton Therapy radiation therapist after his own experience with pediatric cancer and lifesaving proton therapy
At the age of 15, Andrew Porter didn't think that 10 years later he'd be living and working in Cincinnati, helping pediatric and adult patients overcome cancer at the Cincinnati Children's/UC Health Proton Therapy Center.
The Lizton, Indiana native was in the middle of his own battle with cancer.
"I was diagnosed with non-metastatic pineal germinoma, a cell tumor found near the pineal gland in the brain," he says. A high school athlete, Porter says he'd been noticing problems on the baseball field with coordination as well as migraines and fatigue. "I have a family history of migraines, so that's what my doctors were treating, but when things got worse, they sent me for a scan, and the cancer was discovered," he adds.
Porter's physician at Riley Children's Health in Indianapolis put together a treatment plan for him that involved chemotherapy and proton radiation at the Indiana University (IU) Health Proton Therapy Center, formerly known as the Midwest Proton Radiotherapy Institute. 
Proton therapy is a form of radiation treatment used for certain types of cancers and lymphomas. A major advantage over traditional forms of radiotherapy is its ability to deliver radiation to a tumor area with remarkable precision, sparing healthy tissues. There are only 27 proton therapy centers in the U.S.

"It was amazing to be so close to this cutting-edge facility and treatment," he says. "I remember making the hour and a half drive daily and dreading the treatment, but as we turned into the parking lot for the facility, I would find myself excited to see the radiation therapists. I loved going for treatment there because of them and the way they made me feel. I always felt safe—like a home away from home."
This was when Porter had a realization about his future that set him on the path for where he is today.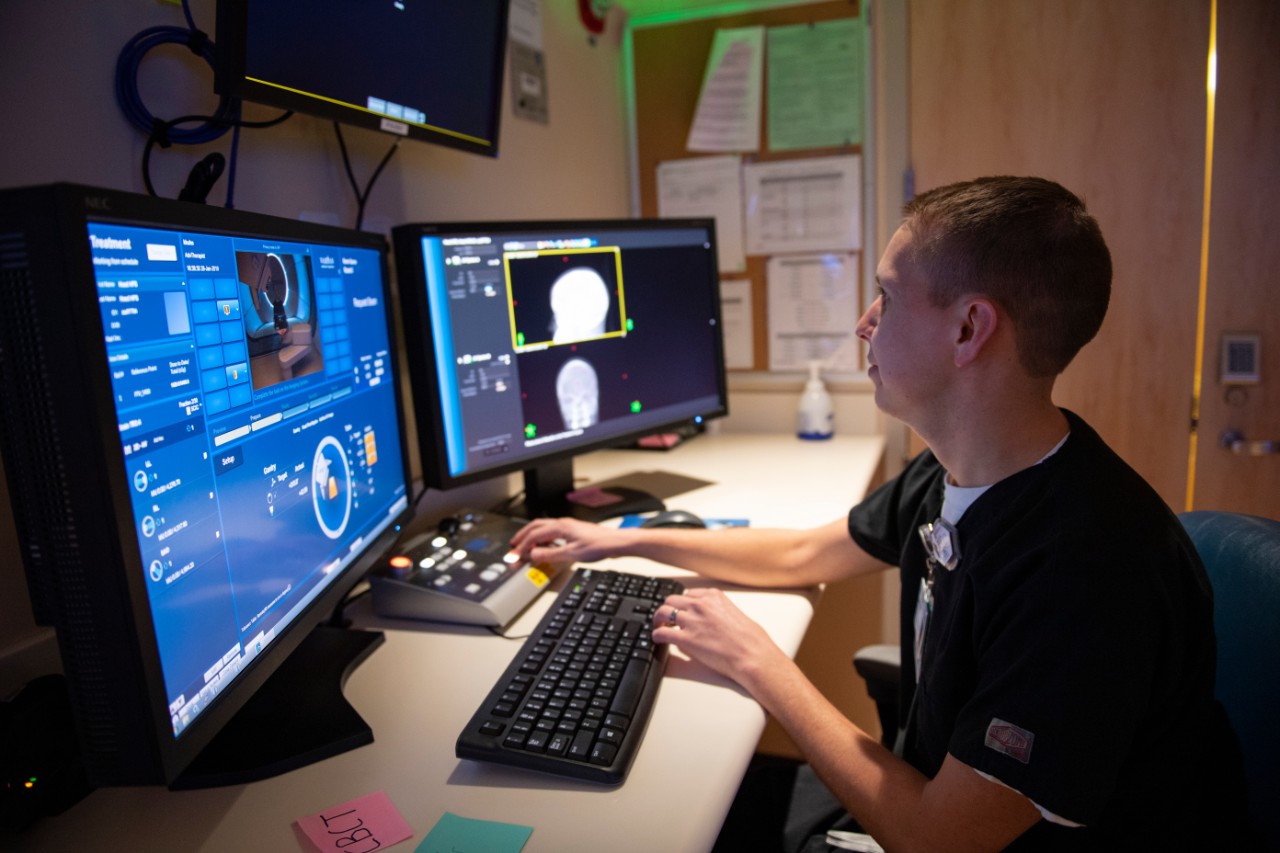 "I said to my parents, 'I think I want to be a radiation therapist,'" he remembers, adding that he "did his homework" during treatments by asking all about the profession. "Throughout this experience, I was searching for meaning and a purpose. I felt like I was being called into this field for a reason, and I felt like I needed to give back to someone going through this just like my team had given to me—they gave me hope and helped me stay positive. It really felt like it was all meant to be."

Porter was found to be cancer free in July 2009, but he experienced other issues as a result of his treatment, including avascular necrosis—death of bone tissue due to a lack of blood supply—in his hip. It required an unconventional hip replacement at 18 years old, but allowed him to boat and waterski again—two of his favorite pastimes. He also had corrective surgery on his eye, as the tumor put pressure on his right eye muscle leading to double vision and a "lazy eye."
However, throughout it all, he kept his goal of becoming a radiation therapist in mind, and after graduating high school in 2011, he worked toward his associate's degree in radiation therapy at Ivy Tech Community College, Bloomington. He also earned an advanced proton therapy specialist certificate.  
"While I was earning my degree, the IU Health Proton Therapy Center shut down, and I was a bit discouraged, because it was my dream job, but little did I know that the UC Health Proton Therapy Center would be opening in 2016," he says. "It was all part of a plan."
And when Porter graduated in 2016, the proton center in Cincinnati was looking for new and eager radiation therapists. 
He's been working at the facility since it opened, and sees purpose in every day and in every patient with whom he interacts. 
"I love what I do," he says. "Because of my own battles, I'm able to connect with people in a unique way and build relationships. In my job, I try to take cancer and treatment off of the patient's mind and make them smile and laugh for a bit. I share my story when I feel it is appropriate, but everyone has their own journey and story. I'm just there to give support in any way that I can and to share time with him or her. I can't express how much I appreciate my supervisors and team of therapists allowing me to share my experience and even encourage it.
"I'm actually thankful for my diagnosis because it helped jumpstart my life, and it gave me a goal and a purpose. It helped me get through one of the toughest events of my life, and I'm so grateful for the support I had and my good outcome, which is helping me give back today." 
*Feature photo credit: Colleen Kelley / AHC Communication Services