UC hosts 'make-a-thon' to benefit local kids
DAAP students collaborate on handmade gifts for St. Joseph Orphanage
When local children are placed into St. Joseph Orphanage's Residential Treatment Program after being removed from crisis, they often arrive with little more than the clothes on their backs. But thanks to a service project hosted at the University of Cincinnati's College of Design, Architecture, Art, and Planning, many of these children will receive a handmade comfort item that's all their own.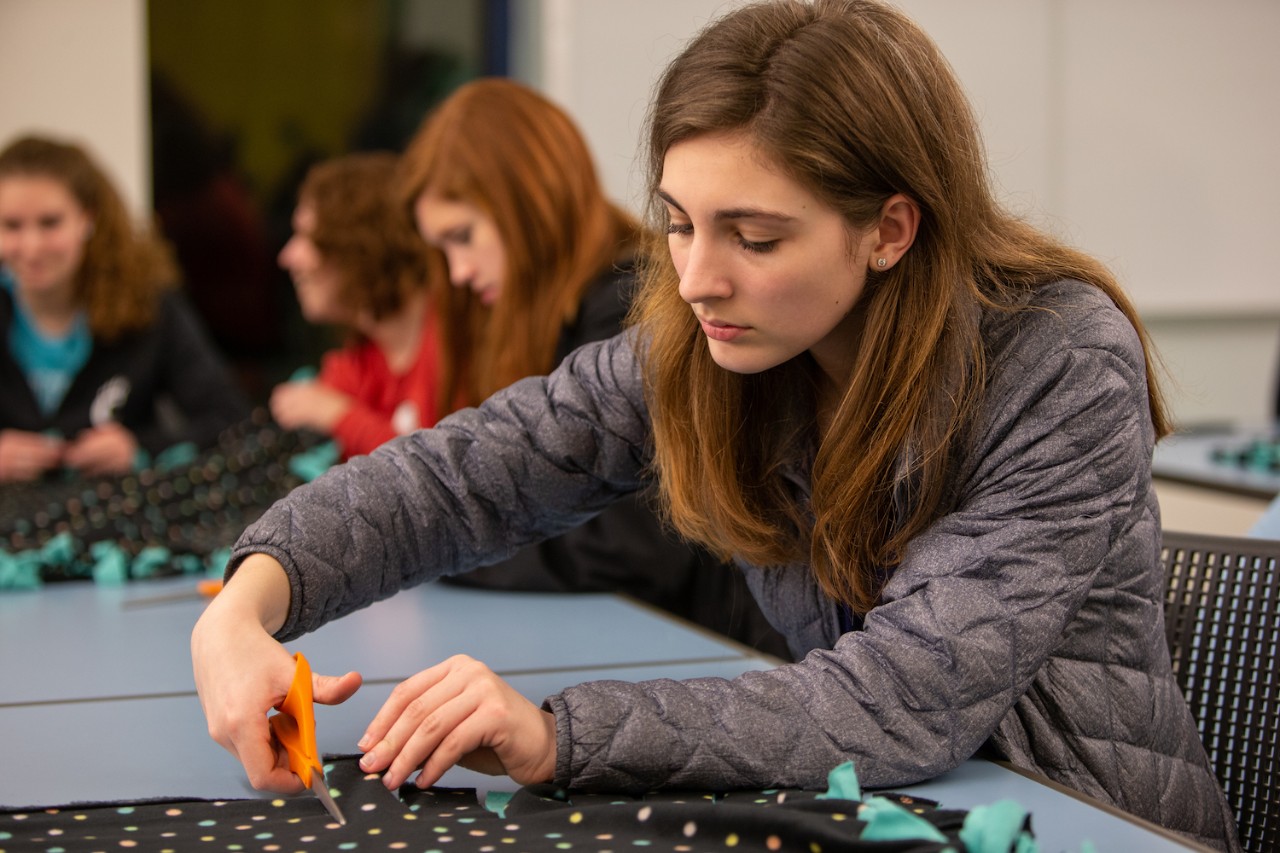 Nearly 100 students packed into a DAAP studio Thursday to learn more about St. Joseph and work together to create fleece hats and blankets for local children in need. The service project coincided with a recruitment event where students could meet and interview with corporate partners.
Making an urban impact is a key goal of UC's strategic direction, Next Lives Here.
Every year, DAAP hosts several recruitment visits with companies from across the country. Students can learn about co-op and post-graduate employment opportunities while companies can scout for talent. Aaron Bradley and Jason Britton of UC's Division of Experience-Based Learning and Career Education introduced a unique element to the recent recruitment event after receiving feedback from students hoping to get more out of these company visits. They decided to add a service-based activity for the first time at this event, hoping for greater student engagement. Having worked with St. Joseph Orphanage in the past, Bradley thought they would make the perfect partner.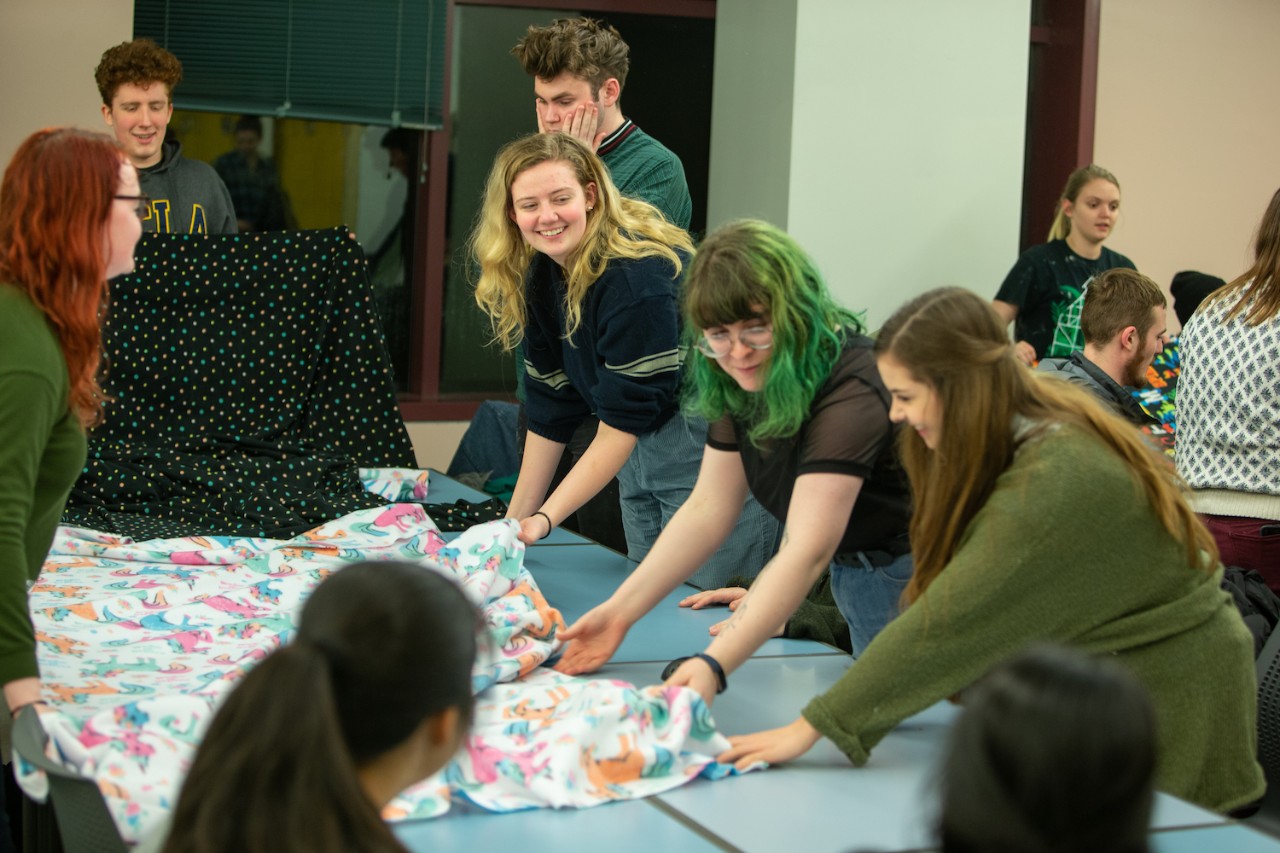 Celebrating its 190th anniversary this year, St. Joseph Orphanage is a comprehensive behavioral health and educational treatment agency that helps children and their families on the road to recovery and success. Founded as an orphanage, the organization has evolved into an innovative agency offering behavioral health services, education and foster care to 4,300 children and families in the region each year.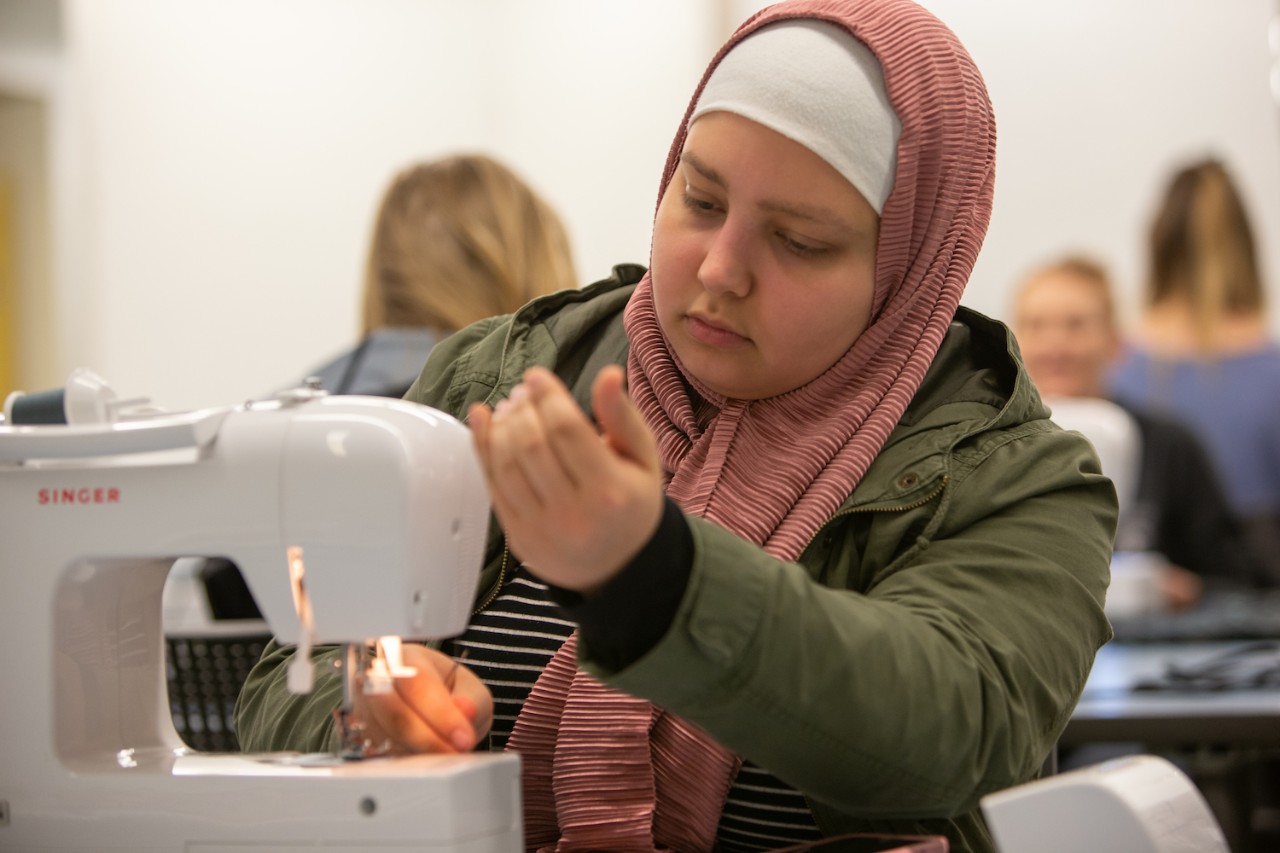 "Everybody wins," says Bradley, assistant professor of design and arts initiatives. "Students get the connection to the company, but they also get service hours. The company is now getting to build their brand in a different way. And a nonprofit is actually going to tangibly benefit from this."

Julia Lanzillotta, first-year communications design student in DAAP, attended with a group of friends who made blankets together. She was drawn to the event to acquire community service hours and learn more about co-op opportunities, but felt a special connection to the organization. "I'm from the area so I'm really familiar with St. Joe's and I've volunteered with them before. They have a true core cause to help people."
At the end of the night, 97 students had completed 36 blankets and 40 hats. "The turnout way exceeded our expectations, and the feedback from everyone has been phenomenal," Bradley says. "We used every piece of material we had and actually ran out early because we had such a big turnout and everyone was so engaged."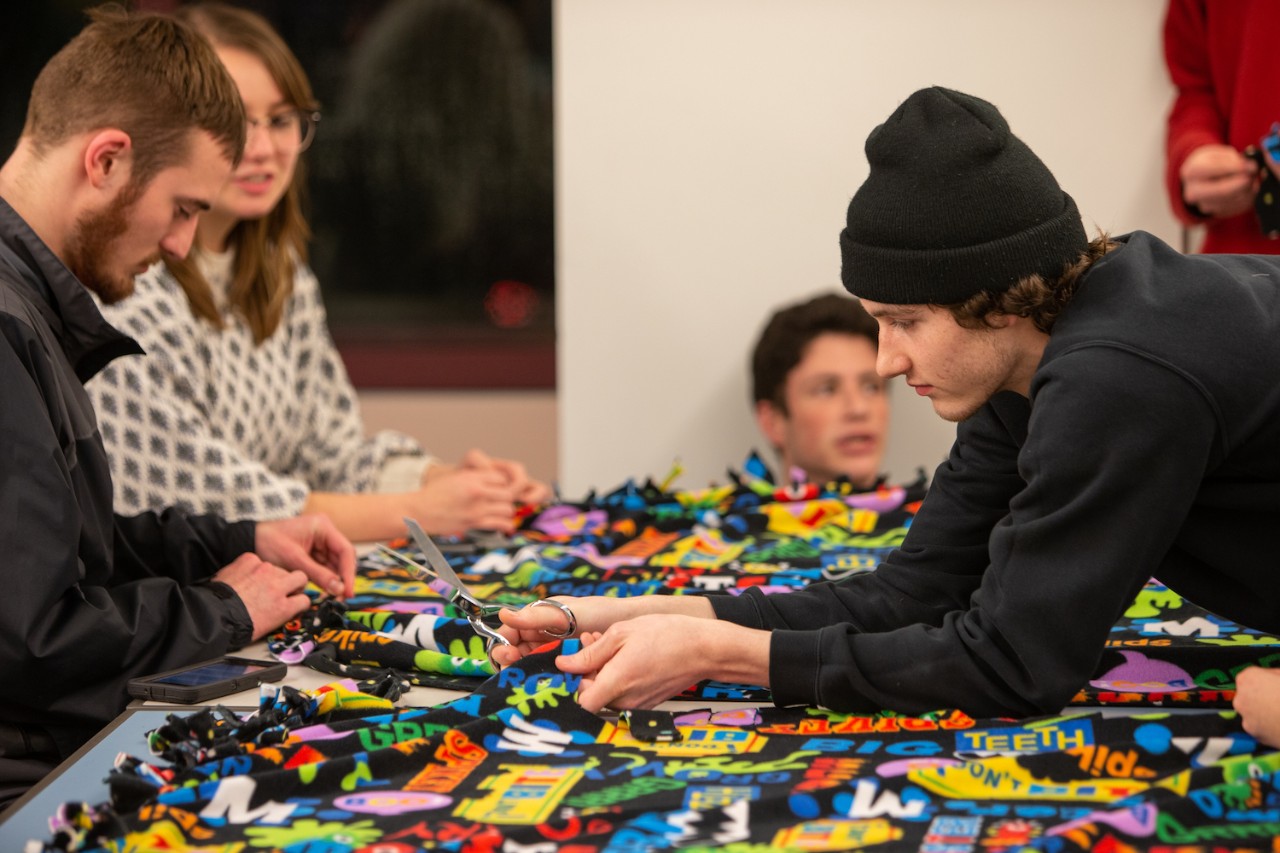 Staff from St. Joseph Orphanage were on hand to discuss the organization and how the night's efforts would directly impact children in the community.
"Those of us at St. Joseph Orphanage are very grateful to DAAP at the University of Cincinnati for organizing the make-a-thon," says Joelle Lugabihl, volunteer coordinator. "The blankets will directly benefit the children in St. Joseph Orphanage's Residential Treatment Program, and they'll use them to decorate their rooms. Since many of the children have very few possessions, receiving a blanket or hat is very special to them. It gives them the chance to own something that belongs just to them and to be responsible for it, and they greatly enjoy picking out the color and design that they like best."
Featured image at top: UC DAAP students participate in "make-a-thon" to create blankets and other items for local kids in need. Photo/Andrew Higley/UC Creative Services
Become a Bearcat

Apply online or get more information about undergraduate enrollment by calling 513-556-1100. Learn more about UC's many undergraduate and graduate programs
Next Lives Here
The University of Cincinnati is classified as a Research 1 institution by the Carnegie Commission and is ranked in the National Science Foundation's Top-35 public research universities. UC's graduate students and faculty investigate problems and innovate solutions with real-world impact. Next Lives Here.
1
DAAP's Step Up to Art cuts ribbon on Fig Alley and Ohio Avenue...
October 2, 2023
In 2019, DAAP's grant accelerator program paired Bonansinga, a professor and director of UC's School of Art, within the College of Design, Architecture, Art, and Planning, with Muhammad Rahman, an assistant professor of design, to research and develop a community enrichment program. The result was Step Up to Art.
2
Architecture co-ops give Josh Bennett a better idea of what...
September 26, 2023
Fourth-year architecture major Josh Bennett reflects on his undergraduate experiences with co-op. Bennett hails from Louisville, Kentucky, but came to UC after a visit during his high school years. Three co-ops later he says his architectural style leans more toward the modern world.
3
Finding DAAP: One student's perfect fit
September 22, 2023
Growing up in a small farming town in northwest Ohio, Abra Riley '26, aspired to a more expansive environment. Riley, a first-generation college student from a single-parent family, achieved that goal with her acceptance into DAAP.
Debug
Query for this