UC helps nations plan for climate change
Professor Patrick Ray and his students are applying his unique risk model to build better water projects around the world
When the U.S. Army Corps of Engineers wants to know how climate change will affect a proposed levee, it turns to University of Cincinnati professor Patrick Ray.
Ray, an assistant professor in UC's College of Engineering and Applied Science, is an expert in evaluating how water projects will stand up to flooding, drought or the other ravages of climate change. He rose to international prominence in 2015 after developing a new method to assess climate change risk for the World Bank Group, a lender that finances public infrastructure.
Today, Ray and his students are helping governments and development banks around the world gauge the risk from climate change for massive projects such as hydroelectric dams.
As a teenager, Ray worked on a reservoir project during a church trip to Zimbabwe.
"I knew that I wanted to be a water engineer and work in international development. You can see the difference these projects make. It's profound," Ray said.
Ray's projects demonstrate the impact the university's commitment to research is having in the world as part of UC's strategic direction called Next Lives Here.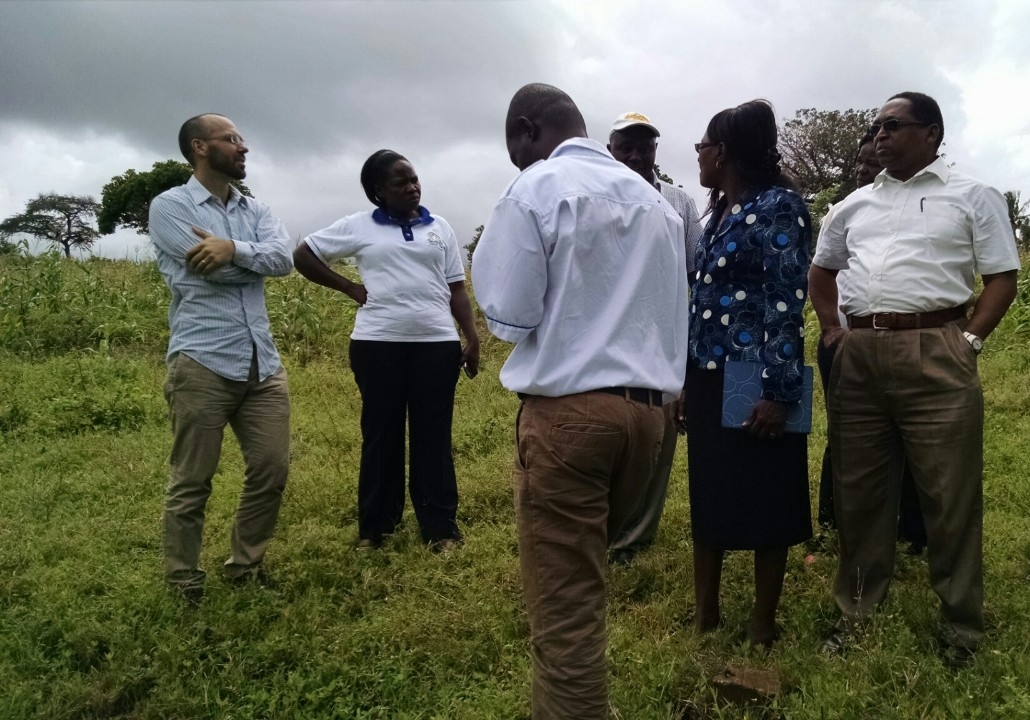 Ray earned master's and doctoral degrees in water resources engineering and studied water projects in Jordan as a Fulbright fellow. Later he worked on projects with the United Nations and the Millennium Challenge Corporation, an  international development agency.
But, "it all comes down to mentors," he said. "I had a good mentor."
Ray got his big break when engineering professor Casey Brown at the University of Massachusetts asked him to draft a new climate change policy for the World Bank. Ray published his results in a 2015 book that now serves as a how-to manual for assessing the risk of climate change for planners around the world, from California to Mexico to Nepal.
"I had the technical skills, but I had never done something like this," Ray said.
It's the happiest thing in my life.
UC professor Patrick Ray on giving his students the chance to influence huge international projects
For generations, governments, banks and insurance companies would use historic data to gauge how a dam or water-retention pond would fare. If you knew that major flooding occurred about once every 100 years, you could plan your water project accordingly, Ray said.

But climate change has created chaos in these models. How can you know if a retention pond will fail in the face of unpredictable disasters like hurricanes or floods? Just in the past year, the United States witnessed the devastation of massive western wildfires, heat waves, a blizzard in the northeast and two catastrophic coastal storms, hurricanes Florence and Michael.
Ray literally wrote the book on climate change in risk assessment with his 125-page "Confronting Climate Uncertainty in Water Resources Planning and Project Design." The World Bank provided $1 million in grants to develop the method and apply it to pilot projects in Nepal, Mexico City, Kenya and Indonesia.
"It was a new concept," Ray said. "During the early 2010s, there were years of record-setting heat — perceivable change. Institutions such as the U.S. Army Corps of Engineers, the European Bank for Reconstruction and Development and the World Bank that build water infrastructure began taking climate change more seriously."
The U.S. Army Corps of Engineers called Ray's method a thoughtful and useful guidebook for water resources practitioners. The Center for Watershed Sciences in California said the book presents "a more understandable approach" to exploring the vulnerabilities of water projects.
Since its publication in 2015, Ray's methods have been adopted by diverse planning and infrastructure agencies around the world.
The California Department of Water Resources turned to Ray last year for vulnerability assessments in its system that provides drinking water to 27 million Californians.
"Climate assessments typically go from top-down — a global climate model downsized to the region that is applied to a hydrological model and system model of the project," said John Andrew, assistant deputy director for the California Department of Water Resources.
"But you can't get any sense of likelihood or probability with that approach," Andrew said. "The value of what Casey and Patrick developed is a bottom-up approach where you look at your system first. You stress test it to find out what the thresholds are where the performance breaks."
Water is one of California's most valuable and contentious resources. Being able to predict with some confidence how climate change could affect resources was critical to making smart decisions, Andrew said.
"We were very pleased with the results and partnership," Andrew said. "We're continuing to use that tool in other applications. We used it for the delivery and storage of water. We're also interested in using it for flood management."
How does Ray's risk assessment system work? He describes it using a flow chart called a decision tree.
First, planners ask if a project is sensitive to climate change. If not, no further analysis is needed. But most water projects anywhere in the world are influenced by the climate. Phase 2 solicits basic information about the project, gathering local data to determine if climate is a dominant factor. If not, no more analysis is needed. But if climate is a potential issue, Phase 3 requires an exhaustive climate risk analysis using historical data and UC's custom climate and hydrologic modeling techniques applied to the project's infrastructure performance model and financial cost-benefit analysis.
Ray and his students then run these models using incremental climate variables within an informed range of possibility.
"They're not random scenarios. We're making them in intelligent ways," Ray said. "We make smart climate models."
The final phase examines whether a project like a culvert or retention pond will be able to cope with the most likely climate scenarios.
"Say you want to build a culvert, and it's designed to handle anything up to a 10-year flood. So every 10 years or so it will fail, but it's not a big deal if it overflows every 10 years. It would cost much more to build a bigger one. At the end of the day when the World Bank asks us if it's a good idea or not, we describe for them the conditions under which it is and isn't," Ray said.
It feels like our voice and research really matter.
Asphota Wasti, UC engineering student and research assistant
Video link: https://www.youtube.com/embed/4UjBc5alhdc?rel=0
Now Ray is giving his students the same opportunities to influence major projects around the world.
"It's the happiest thing in my life," Ray said. "I am trying to reproduce what Casey did for me. Casey had me try this and, boom, it blew up my life."
UC engineering student Asphota Wasti is working with companies from the European Union on hydroelectric dams in her native Nepal. She traveled to the Netherlands to talk to company officials and went home to Nepal with Ray to work with planners.
Their modeling predicted that glaciers would melt at such an advanced rate over the coming decades that hydroelectric companies could build a bigger project to a capitalize on the increasing flow of water.
"Increasing climate change actually would make the plant more profitable for 10 to 15 years because of the melting glaciers," Wasti said.
Ray said the effects of climate change will affect people in uneven ways. Some places will see tangible benefits; others grievous losses.
"There's an opportunity here," Ray said. "The glaciers are going to melt into the ocean. Why not use them while they're running? It always feels dirty to say we're capitalizing on climate change. If the climate winners share with climate losers, we can achieve a better world."
UC student Jacob Tracy is helping Mexico City deal with a water shortage in the face of a growing population and an inadequate infrastructure. The city draws water from deep underground and from distant sources outside the city to serve the region's 21 million residents. But there are regular water shortages, especially during droughts.
"All the water around is tapped out. They're running out of options," Tracy said.
The city was built on a lake bed that is slowly subsiding, in part because of the continuous draining of its underground aquifers, Tracy said.
"They pump water from an aquifer, but the land is unstable and sinking. So you have road dips and depressions and buildings are crumbling," Tracy said.
"I'm developing a series of mathematical solutions to figure out where you should pump more or less to get the same amount of water while trying to stop the sinking of the city," he said.
Tracy, who speaks English, Spanish and Portuguese, helped lead workshops with residents to understand their biggest concerns.

"It's a lot of listening. I take a hands-off approach and will gently steer a conversation," he said. "I heard a lot of amazing conversations about governance and equality and what constitutes a well-functioning system."
Tracy said he feels the weight of responsibility his research carries.
"It is crazy to think the World Bank could move millions of dollars based on our work. It's scary, especially because people trust you pretty early in the process," Tracy said.

Wasti agreed. "It's so scary. You go to these workshops and they trust your opinion so much."
But she is confident the system Ray developed leads to more informed decisions.
"The future is uncertain with climate change. The approach for robust optimization is not to make a design based on a single scenario but to have a system that could perform well in a wide variety of scenarios to hedge your risk," she said.
Wasti said she is excited that her research at UC is contributing solutions to the world's pressing problems.
"You really feel like you are in charge of something important," Wasti said. "It feels like our voice and research really matter."
Featured image at top: UC engineering students Asphota Wasti, left, and Jacob Tracy work side by side in their computer lab in UC's College of Engineering and Applied Science. Photo/Joseph Fuqua II/UC Creative Services
Next Lives Here
The University of Cincinnati is classified as a Research 1 institution by the Carnegie Commission and is ranked in the National Science Foundation's Top-35 public research universities. UC's graduate students and faculty investigate problems and innovate solutions with real-world impact. Next Lives Here.