Cincinnati Business Achievement Awards honor Lindner's legacy
Annual awards program is Cincinnati's longest-standing event recognizing business achievements and service to UC, regional community
The University of Cincinnati's Carl H. Lindner College of Business held its 34th annual Cincinnati Business Achievement Awards on Thursday, March 7.
Presented by the Lindner College of Business Alumni Board of Governors, the program celebrated the accomplishments of individuals and business partners who have made a significant impact within the college, Greater Cincinnati region and the global business world.
In his opening remarks, UC President Neville Pinto discussed the legacy of learning, innovation and achievement of the Lindner College of Business and thanked the business community for their support of the college and UC as a whole.

"At its core, the Lindner College of Business always has been, and always will be, focused on impact and innovation," he said. "As we take the first steps into UC's next 200 years, the College of Business will help drive innovation on campus to achieve what's next and generate life-changing impact on the future. Thank you to all of you in the business community … in co-creating the future with us at the Lindner College of Business and the University of Cincinnati."
At its core, the Lindner College of Business always has been, and always will be, focused on impact and innovation.
University of Cincinnati President Neville Pinto
Yet another highlight of the evening took place during the evening's opening remarks by Interim Dean Nick Williams, who shared a recent example of how current Lindner students are carrying on the legacy of Carl H. Lindner Jr. Last year, Lindner Honors-PLUS student Mohamed Emlemdi '21 was informed by doctors that his kidneys were barely functioning. His diagnosis brought his usual life to a sudden and terrifying halt, as he was forced to spend nearly 15 hours a day on dialysis. When Mohamed's freshman roommate and fellow Lindner Honors-PLUS peer, Julian Litvak '21, learned that his friend needed a kidney, he was tested and turned out to be a great match. In December, Julian donated his kidney to Mohamed — a remarkable gift that transformed both of their lives.

"Julian and Mohamed embody the spirit of giving that has always been a part of the Lindner family and the Greater Cincinnati community and set an inspiring example for all of us," said Williams, as he gestured to the two young scholars who were honored with a standing ovation.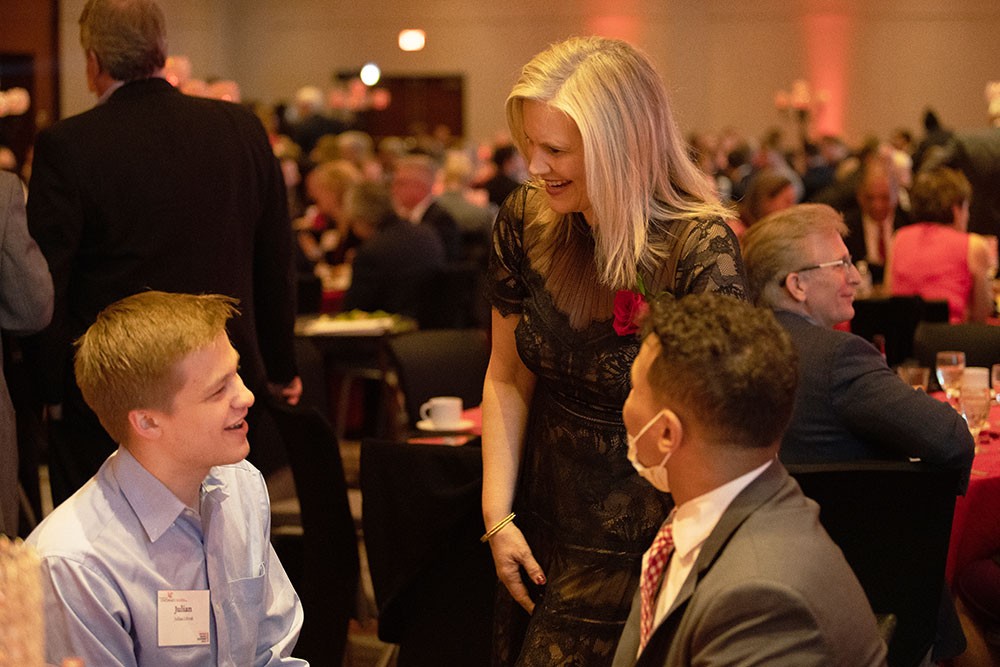 Among this year's honorees, eight alumni, supporters, students and business partners were recognized for their contributions before a crowd of nearly 400. 

Kirk Perry, '90, president of Brand Solutions at Google and a longtime supporter of UC, received the college's highest honor: The Carl H. Lindner Award for Outstanding Business Achievement. The award, presented to him by his longtime friend and UC Trustee, Phil Collins '89, is given to a Lindner College of Business graduate who best exemplifies an entrepreneurial spirit with commitment to business, community and the highest level of success within one's profession.
"It is my sincere honor and privilege to bestow upon Kirk Perry the 2019 Carl H. Lindner Award for Outstanding Business Achievement," said Collins. "Kirk, your tireless commitment and passion for the University of Cincinnati, the city of Cincinnati and the entire community validates your achievement."
Two Distinguished Service Awards were bestowed to Lori Beer, global chief information officer of JPMorgan Chase, and Laurence Jones '00, president of RiskVersity. Beer and Jones were recognized for their commitment to the college, UC and the community.
Ameritas was honored with a Business Partnership Award for its strong support of the Lindner College of Business and local communities. This year's recipient was hailed for participating in college networking events and career fairs, encouraging its employees to serve as guest speakers for business classes, and providing ongoing career opportunities for business students and graduates. Ameritas' President, Steve Valerius '79, accepted the award on the company's behalf.
In recognition of alumni who personify Lindner's PACE (professionalism, academics, character and engagement) ideals in their careers, two awards were given to Christina Beer '15 and Makeda Matthews '14. Beer is the daughter of this year's Distinguished Service Awardee, Lori Beer, and a Technical Program Manager for GE Aviation; and Matthews is a Sourcing Category Manager at Grange Insurance.
As one of the oldest scholarships at UC that bears the Lindner name, this year's Carl H. Lindner Outstanding Junior Scholarship was awarded to Angela Brown '20 in recognition of her service to the UC and Cincinnati communities, as well as her involvement with Lindner's Business Fellows and Circle of Excellence programs.
Chandler Rankin '20, a Kolodzik Business Scholar and Business Fellow, was honored with the Heart of William J. Keating Leadership Award for his service and student leadership in making UC a better place than it was when he first stepped foot on campus.
"If you knew my dad, this was his life's purpose: To make his community a better place for the next generation," said Liz Keating, daughter of Bill Keating, Jr., who presented the award to Rankin. "My dad's legacy is in good hands with Chandler."
Rankin shared how receiving this honor has rejuvenated his passion just past the midpoint of his college career.
"Mr. Keating had a keen understanding of the intersection between dedication to service and his family, and how a combination of the two could make for a beautiful symbiotic relationship," said Rankin. "I challenge all of us to think about these things in the context of our own lives and take action on what we can do."
Join us in congratulating all of this year's honorees:
Kirk Perry '90, President, Brand Solutions, Google – Carl H. Lindner Award for Outstanding Business Achievement
Lori Beer, Global Chief Information Officer, JPMorgan Chase & Co. – Distinguished Service Award
Laurence Jones '00, President, RiskVersity – Distinguished Service Award
Ameritas – Business Partnership Award
Christina Beer '15, Sr. Technical Program Manager - SAP, GE Aviation – PACEsetter Award
Makeda Matthews '14, Sourcing Category Manager, Grange Insurance – PACEsetter Award
Angela Brown '20 – Carl H. Lindner Outstanding Junior Scholarship
Chandler Rankin '20 – The Heart of William J. Keating Leadership Award


The Lindner College of Business would also like to thank this year's sponsors and partners:
Platinum Sponsor: 
Great American Insurance Group
Gold Sponsors:
Ameritas
Phil and Lela Collins
Western & Southern Financial Group
Silver Sponsor:
Morgan Stanley, Troy Neat, Senior Vice President, Financial Advisor
1906 Sponsors: 
Cincinnati Bell
David J. Joseph Company
Enerfab, Inc.
EY
GE Aviation
Google, Inc.
Johnson Investment Counsel
RKCA/The Tokarz Group Advisers
Total Quality Logistics
UC Center for Business Analytics
UC Investment Office
Red & Black Sponsors:
Cincinnati Financial Corporation
Clark, Schaefer, & Hackett, CPA
Deloitte
Erick D. Schmidt
JP Morgan Chase Bank
Keating, Muething & Klekamp, P.L.L.
RiskVersity
The Cincinnati Insurance Company
Premier Partners:
Great American Insurance Group
PNC