Chef Jean-Robert de Cavel joins round table discussion on international cuisine in the Midwest
UC Department of Romance and Arabic Languages and Literatures (RALL) sponsors food and culture panel featuring renowned local chef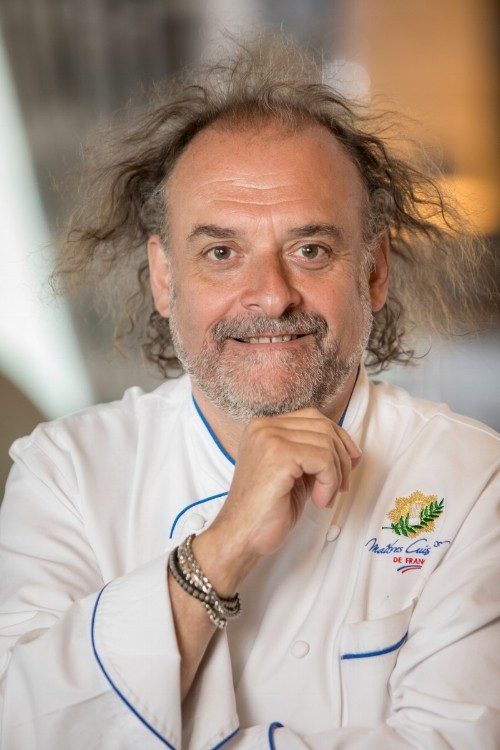 Discussing "The Challenges of Integrating International Cuisine in a Midwestern region," Chef Jean-Robert de Cavel joins a food and culture panel at the University of Cincinnati, sponsored by Romance and Arabic Languages and Literatures.
The event is part of both the 2019 Cincinnati Romance and Arabic Languages and Literatures Conference and the UC Bicentennial Community Day.
De Cavel, a celebrity chef in Cincinnati, has served as chef de cuisine and executive chef at two upscale eateries. He currently operates Jean-Robert's Table, Le Bar a Boeuf and French Crust Café. He has also been the chef-in-residence at the Midwest Culinary Institute since 2009.
Other food and culture panelists include UC faculty Joyce Miller, Maria Ortiz and Grace Thome. Panel topics explore international cuisine in a globalized world. De Cavel's roundtable will be followed by an informal discussion and opportunity to ask questions.
The RALL food and culture sessions are scheduled for Saturday, April 6 from 11:20 a.m. to 12:45 p.m. in the Old Chemistry Building, Room 701. 
Featured image at top: A traditional Arabic meal with biryani rice.

1
PAC brings special events to UC
September 25, 2023
Find fun, free things to do on campus. UC's Programs and Activities Council (PAC), a student-run organization responsible for special events and concerts and bringing speakers and comedians to campus, offers activities for student engagement throughout the year.
2
WVXU: Tech CEOs talk AI with lawmakers
September 22, 2023
Professor Richard Harknett is a guest speaker on WVXU's Cincinnati Edition on the topic of AI and the need, or lack thereof, for government regulations. Professor Harknett is the head of UC's School of Public and International Affairs and is an often sought out media resource on technology, cybersecurity and governmental affairs.
Debug
Query for this