UC team places third in national robotics competition
A team of students from the University of Cincinnati placed third earlier this month at the 2019 American Society of Mechanical Engineers Student Design Competition. It was the first time UC placed in the competition in more than a decade.
The annual competition challenges students to design, fabricate and showcase a robot prototype that solves a unique problem. This year's challenge was a "pick-and-place" race. Teams had to create a robot that could quickly collect different sized balls from a field of play and place the balls in a designated area.
Teams competed head-to-head against other teams in a tournament-style bracket. In each round, the team that gained the most points by collecting and placing balls would advance in the competition. Overall, the UC team finished third out of 47 teams.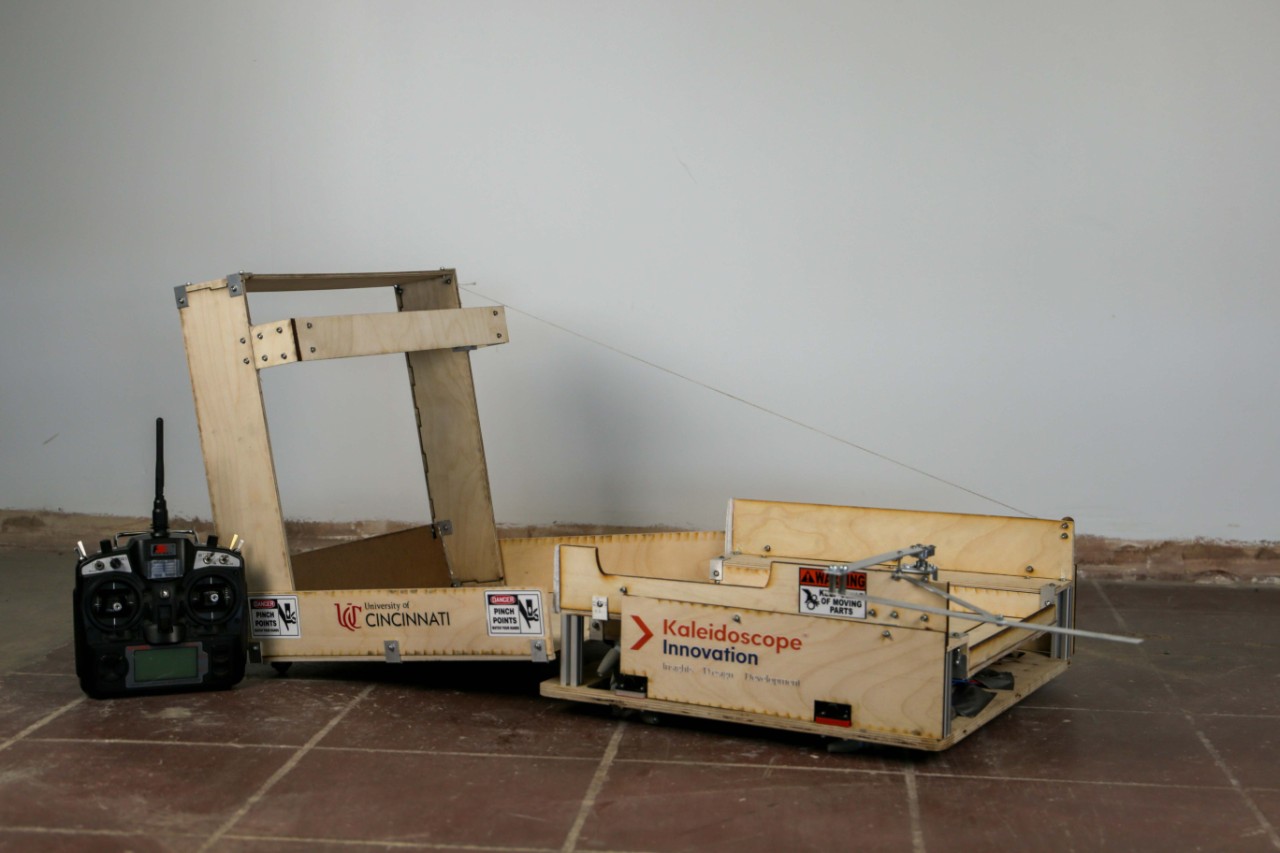 "I think our group was very dedicated and we had a really good work ethic," said UC student Jonathan Boiman, speaking to the team's success. 
The team designed every part of the robot from scratch, which included 3D printing parts and laser cutting the plywood frame. The team programmed and wired the motors and electronics so that everything was remotely controlled. The competition required the robot to fit in a small box, so the team even designed the robot to fold out once the competition started.
"We wanted to maximize storage volume, so we wouldn't have to keep going back and forth," said Marcella Miller, another student on the project.
The team also designed the robot to stay low to the ground. The robot drove around the field of play, knocked over stands that held the balls and stored the balls in its extended carrier. The robot then used a string and pulley system to manipulate a corral, which works like a rack on a pool table, to place the balls in the designated area.
The students drew from skills they learned in class and through their cooperative education rotations. They also relied on the support of the UC community: UC's chapter of American Society of Mechanical Engineers and product design and development firm Kaleidoscope Innovation funded the team, and UC's 1819 Innovation Hub provided the team with advanced tools and a large workspace. 
Featured image at top: The UC team designed and built this robot, which placed third in the 2019 American Society of Mechanical Engineers Student Design Competition. 
Become a Bearcat
The University of Cincinnati continues to gain national and international recognition for outstanding academic programs, world-class faculty and successful co-op partnerships around the globe. See what everyone's talking about, and schedule a visit today.