UC College of Pharmacy and Walgreens partner to educate specialty pharmacists
Walgreens establishes its first specialty pharmacy residency in Ohio with an assist from UC's James L. Winkle College of Pharmacy.
The University of Cincinnati (UC) James L. Winkle College of Pharmacy and Walgreens are collaborating to develop Ohio's first Walgreens specialty pharmacy residency.    
"Specialty pharmacy is the fastest growing segment of pharmacy practice, and we are proud to assist in the creation of a residency program whereby postdoctoral students gain exemplary training at a Walgreens specialty pharmacy in Cincinnati," says Bethanne Brown, PharmD, associate professor of pharmacy practice and residency director for UC's Winkle College.   
Specialty pharmacies, Brown says, focus on medication therapy for patients with complex disease states such as cancer, multiple sclerosis, HIV, Crohn's disease, fertility issues and transplantation. Specialty medications at these types of pharmacies may be given intravenously by injection or taken orally, cost more than traditional medications, require special storage and handling and require strict scheduling for distribution. These types of pharmacies also offer support programs and services to help patients receive the most benefit from their medication.
"A typical community pharmacist in a retail setting might see 300 to 400 patients a day, while a specialty pharmacist might have 20 to 30 patients, but their medications are more sophisticated and might cost 10 times that of the typical patient," says Brown.

Increasingly, as the role of the pharmacist expands, Doctor of Pharmacy graduates are seeking out residency programs to further their education and training. It's partnerships like the one Brown has formed with Walgreens that are prime examples of the university's academic excellence platform, one of the key platforms of Next Lives Here, UC's strategic direction.
Although residency programs already exist across the country in hospitals and retail stores, residencies in specialty pharmacies are starting to gain momentum. This is due to the growing complexities of disease states and the high cost of medications for those with one or more chronic or critical illnesses, says Dan Hein, Walgreens area health care supervisor.
Specialty pharmacists, he says, not only dispense medications, but they also provide medication management therapy and help patients navigate insurance costs and find funding through grants and other programs to cut out-of-pocket costs.
Hein will be one of five preceptors who work with Brown and the first resident Vaidehi Desai, who graduates with a doctor of pharmacy (PharmD) degree from Butler University College of Pharmacy and Health Sciences in May 2019 and starts her residency at the Cincinnati specialty pharmacy in 2019.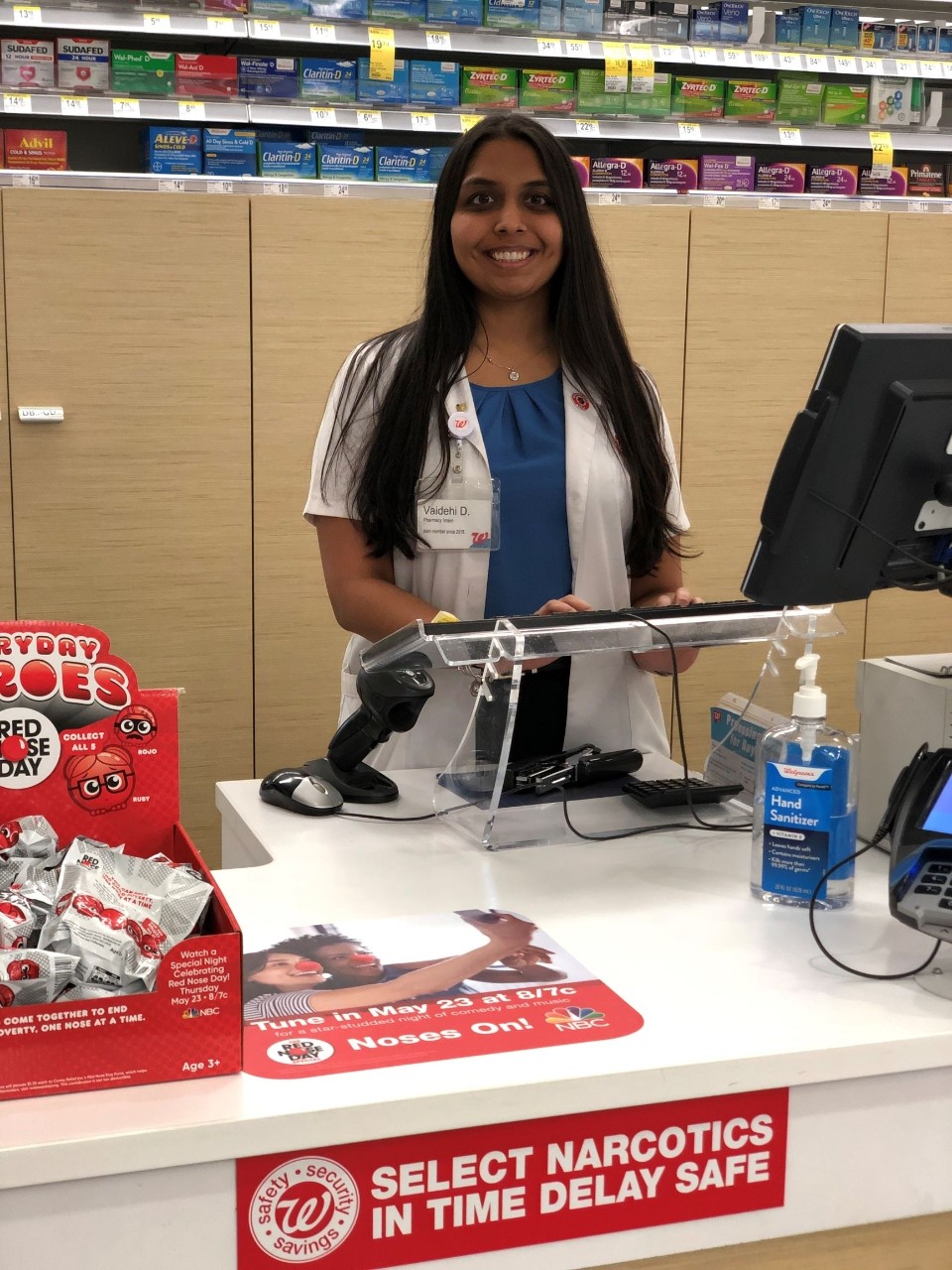 "This area of pharmacy is very interesting to me because the patients are so engaged, because they have disease states that have to be managed carefully," says Desai who began working for Walgreens as a pharmacy technician in training in 2012, prior to applying for pharmacy school.

During her studies, she became a pharmacy technician and then began an internship at a Walgreens retail site.  

Desai says she developed an interest in specialty pharmacy while on rotation at a specialty pharmacy during her junior year, which strengthened her belief that this was her professional career path. 

"Desai is perfect for the residency because she is eager to help people … it's all about patient care," says Hein.   

Desai participated in the competitive National Match Day process where candidates apply and complete an all-day, on-site interview. The final step in the process is when both candidate and residency program rank their preferences. Match results were released nationally on March 15.   
"Desai is perfect for the residency because she is eager to help people … it's all about patient care," says Hein.   
Photos of Bethanne Brown and Dan Hein at the specialty Walgreens/Colleen Kelley/UC Creative Services. Bottom photo of Desai/provided. 
2
Widespread naloxone distribution not enough to impact overdose...
September 28, 2023
The highest ever number of opioid-related overdose deaths in the United States was recorded in 2020 at 68,630, a 68% increase in just two years. Naloxone is a medicine that can rapidly reverse an opioid overdose, but a new study out of the University of Cincinnati finds that widespread community distribution of naloxone through a take-home naloxone program did not significantly impact the median monthly opioid overdose rates.
Debug
Query for this