UC researcher treats water with visible light
Researchers at the University of Cincinnati are altering a catalyst used in water treatment to be triggered by visible light like sunshine. The sunshine-triggered catalyst attacks and destroys contaminants in water. When applied to wastewater treatment, the process is more sustainable than the traditional practice of using ultraviolet light.  
"The focus for this project is to utilize the technology for water reuse, to make it simpler, more long lasting and more affordable," said UC Ph.D. candidate Wael Abdelraheem, who is leading the project.
Abdelraheem recently received two awards from the American Chemical Society for this work: the 2019 Graduate Student Award and the 2019 C. Ellen Gonter Environmental Chemistry Award. He will present the project this August at the American Chemical Society Meeting in San Diego.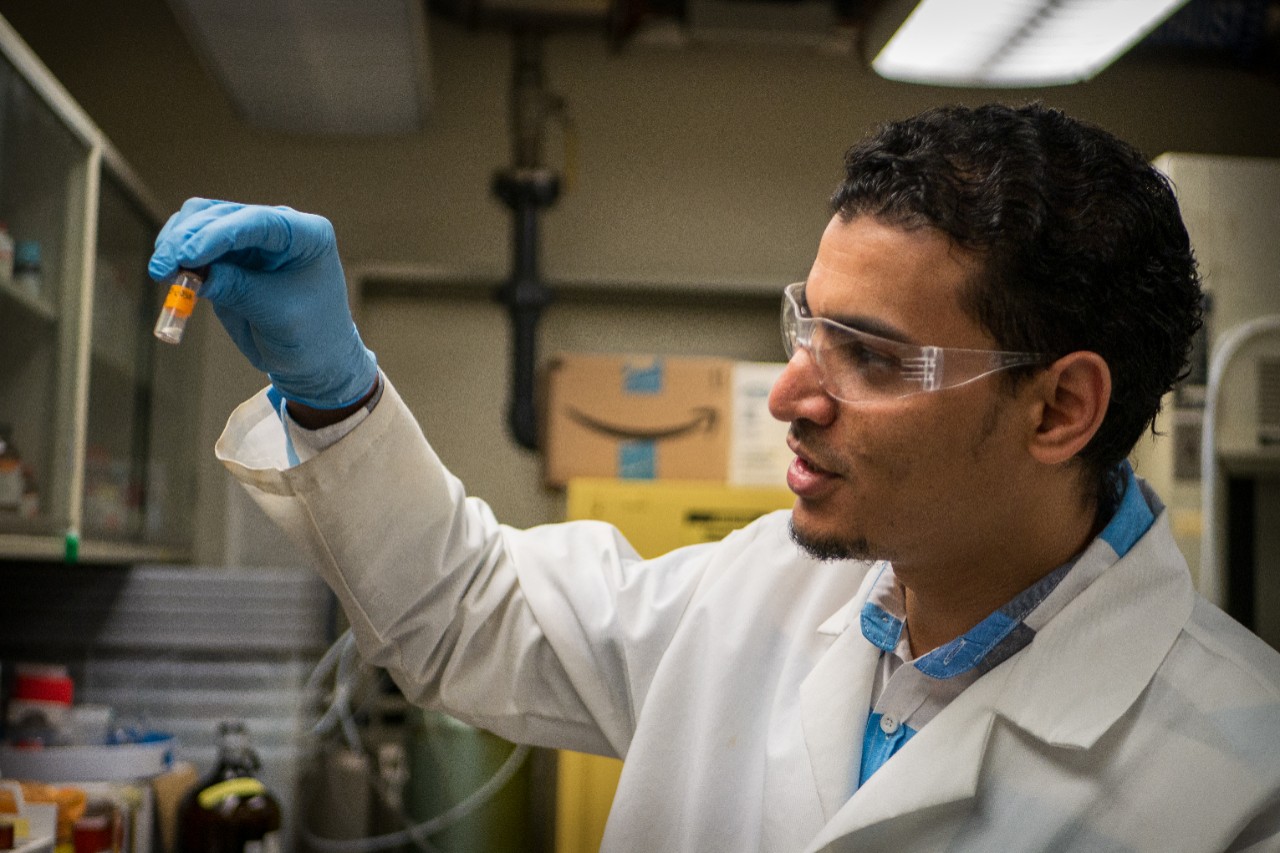 With its creative approach to solving solving real-world problems, the work reflects UC's strategic direction, Next Lives Here. 

For the project, Abdelraheem focuses on organic contaminants in water, like pharmaceuticals, personal care ingredients, hormones and pesticides.
"With dissolved contaminants like organics and inorganics, you don't know what is there and it's a very small amount. To deal with them, you need a very sophisticated technology," said Abdelraheem.
Abdelraheem works with the catalyst titanium dioxide. Titanium dioxide is easily reproducible and has little to no effect on the environment. When light interacts with titanium dioxide in water, it creates highly active atoms that attack organic contaminants and convert them into nontoxic byproducts like water and carbon dioxide. 
The focus for this project is to utilize the technology for water reuse, to make it simpler, more long lasting and more affordable.
Wael Abdelraheem, UC Ph.D. candidate
The problem with titanium dioxide, however, is that it traditionally needs to energy-intensive ultraviolet light to work. Abdelraheem solves this problem by introducing a small amount of nitrogen and boron to titanium dioxide, which alters the catalyst's composition and photocatalytic properties.
With these new properties, the catalyst can be triggered by visible light, which is cheaper to generate than ultraviolet. The process is also more energy efficient and sustainable.
"With this kind of treatment you can just use a solar light and the same catalysts every time, collect it and treat it again," said Abdelraheem.
Abdelraheem has published 12 papers in advanced water treatment technologies and hopes for this to be his 13th. His passion stems from his experience in his home country, Egypt, a country with little rainfall and without money to pump aquifers or desalt water. To survive, Egypt must find innovative ways to use the little water it has.
Abdelraheem sees his light-treating process as one solution for Egypt and other arid African countries facing water problems.
"We've based our economy for a long time on water and agriculture, and now that we're getting dry, a lot of problems coming up," said Abdelraheem. "This is going to be a huge challenge for people in the future, and we need to focus on alternative and sustainable solutions." 
Featured image at top: UC Ph.D. candidate Wael Abdelraheem removes contaminants from a container. Abdelraheem studies different processes for wastewater treatment. 
Next Lives Here
Discover UC's commitment to Next Lives Here, the strategic direction with designs on leading urban public universities into a new era of innovation and impact.